Russia's defence minister has expressed concern about what he called an unprecedented increase in US and NATO military activity near Russia's borders.
Sergei Shoygu and urged the US defence secretary to help "turn down the rhetoric" over the Ukraine crisis.
Mr Shoygu held a "candid" hour-long telephone conversation with Chuck Hagel and the men agreed to remain in contact, the Russian ministry said in a statement that suggested no other agreement emerged from the call.
Russia has massed forces near Ukraine's border after annexing the Crimea region and reserved the right to send them in to protect Russian-speakers.
The move has raised fears in the West that Moscow could invade  to support separatists in eastern Ukraine.
However, the US Defense Department said tonight that Russia has assured the United States that it will not invade Ukraine.
"Secretary of Defense (Chuck) Hagel spoke today by phone with Russian Minister of Defense Sergei Shoygu (and) Shoygu reiterated his assurance that Russian forces would not invade Ukraine," spokesman Rear Admiral John Kirby said.
Mr Shoygu also told Mr Hagel that Russian forces which had further alarmed the West by starting drills near the border last week after Ukraine began an operation against the separatists had since returned to their permanent positions, the Russian ministry said.
But it gave no indication of whether the overall number of Russian troops deployed near the Ukrainian border, which NATO has put at about 40,000, along with tanks, aircraft and other equipment, had been reduced.
Mr Shoygu said there had been an "unprecedented" increase inactivity by US and NATO armed forces near Russia's borders, accompanied by "anti-Russian hysteria" in the Western media.
US hits Russia with fresh sanctions over Ukraine
The United States has imposed sanctions on seven Russian officials and 17 firms linked to President Vladimir Putin's inner circle to punish what it said were "provocative acts" in Ukraine.
Washington is also tightening licensing requirements for certain high-tech exports to Russia that could have a military use, the White House announced in a statement.
Russia has vowed to deliver a "painful" response to the fresh sanctions.
"We will, of course, respond," Russian Deputy Foreign Minister Sergei Ryabkov told the Interfax news agency.
"We are certain that this response will have a painful effect on Washington."
"The United States has taken further action today in response to Russia's continued illegal intervention in Ukraine and provocative acts that undermine Ukraine's democracy and threaten its peace, security, stability, sovereignty, and territorial integrity," said White House spokesman Jay Carney.
He said Russia had done nothing to meet the terms of a deal agreed in Geneva with Ukraine, the European Union and the US and designed to rein in pro-Moscow separatists in eastern Ukraine.
"Russia's involvement in the recent violence in eastern Ukraine is indisputable," he said.
The sanctions follow up on previously announced measures targeting other members of Mr Putin's political and inner circle and a Russian bank.
They do not, however, specifically target sectors of the Russian economy, such as energy and mining.
The White House said those measures would only be imposed by the US and its European allies if Russia actually invades Ukraine.
The companies sanctioned include Avia Group limited, the Severny Morsoy Bank, InvestCapital Bank, Transoil, Volga Resources Group, SMP Bank, Sobin Bank and Zest Leasing.
Individuals hit with visa bans and asset freezes include Oleg Belavantsev, who was named presidential envoy to Crimea by Mr Putin in March.
Sergei Chemezov, director general of Rostec, the state development manufacturing and export programme for high-tech exports, is also on the list.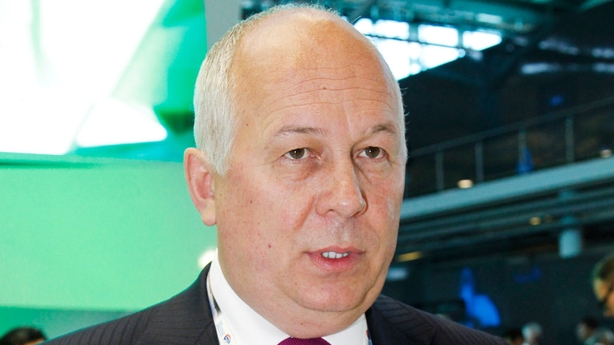 The US Treasury said Mr Chemezov is a trusted aide to Mr Putin.
Deputy Prime Minister Dmitry Kozak is hit by sanctions, along with Evgeniy Murov, director of Russia's Federal Protective Service.
State Duma Deputy Aleksei Pushkov is among those named along with Igor Sechin, president and chairman of the Management Board for Rosneft, Russia's top petroleum company and one of the world's largest publicly-traded oil companies.
"Sechin has shown utter loyalty to Vladimir Putin - a key component to his current standing," the Treasury said.
The leaders of the G7 nations agreed on Saturday to swiftly impose further sanctions on Russia over the Ukraine crisis.
The European Union is also expected to announce sanctions as early as today targeting individuals and companies.
US President Barack Obama said the new sanctions represent a calibrated effort to change Russia's behaviour in the crisis, but he conceded that he is not sure they will work.
He said Russia has a path for the peaceful resolution of the crisis, but so far it has not chosen to move in that direction.
Assassination attempt on Kharkiv mayor
The mayor of Ukraine's second biggest city was shot in the back, the highest profile assassination attempt in eastern Ukraine since a standoff between Moscow and Kiev began two months ago.
              
Gennady Kernes underwent two hours of surgery after the attack in Kharkiv, one eastern city where police have managed to dislodge pro-Moscow militants.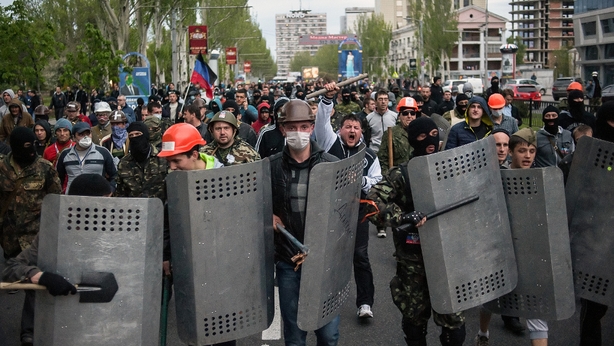 The separatists have also have set up barricades in the town, which is located between Slaviansk and Donetsk.
Pro-Russian rebels have already proclaimed an independent "people's republic" in Donetsk.
Armed fighters yesterday seized the headquarters of regional television and ordered it to start broadcasting a Russian state television channel.
OSCE irresponsible to send monitors - envoy
Rebels seized eight monitors from the Organisation for Security and Cooperation three days ago and are holding seven of them at a heavily fortified base in Slaviansk.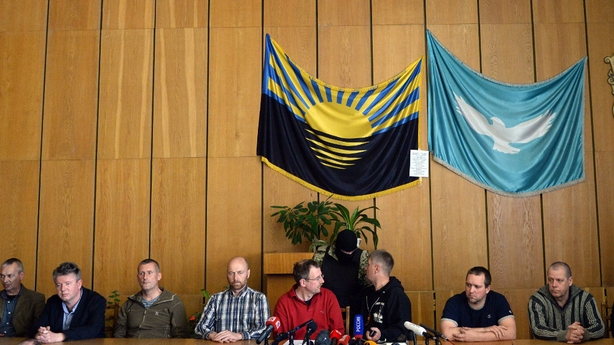 A Swede was freed for medical reasons but the others are still being held, described by the rebel leader as "prisoners of war" and NATO spies.
A Russian ambassador said it had been "extremely irresponsible" to send the monitors to eastern Ukraine.
Andrey Kelin, Moscow's ambassador to the Vienna-based OSCE, said however it would be a good step towards easing the conflict to release the monitors.
Asked what Russia was doing to help achieve that, Mr Kelin told reporters: "We are doing some steps, not only by statements, but also in practice." He gave no further details.
A senior US diplomat called on Russia to secure the "unconditional and immediate release" of the German-led team.
The captives - from Germany, the Czech Republic, Denmark, Poland and Sweden - were paraded before reporters yesterday and said they were in good health.