US Secretary of State John Kerry has expressed concern to Russian Foreign Minister Sergei Lavrov about "provocative" Russian troop movements along Ukraine's border, a US official said.
In a telephone call with his counterpart, Mr Kerry "expressed continued concern that Russia's provocative troop movements on Ukraine's border, its support for separatists and its inflammatory rhetoric are undermining stability, security and unity in Ukraine," said the senior State Department official.
Earlier, Ukrainian Prime Minister Arseny Yatsenyuk said Russian military aircraft had crossed the country's airspace seven times "to provoke Ukraine to start a war".
"Russian military aircraft today overnight crossed and violated Ukrainian airspace seven times.
"The only reason is to provoke Ukraine to start a war," he told journalists at a briefing in Rome, following a meeting with Pope Francis and Italian Prime Minister Matteo Renzi.
He said the seizure of 13 Organization for Security and Co-operation in Europe observers by pro-Kremlin rebels who accuse them of being "NATO spies" was "another proof and evidence that these so-called peaceful protesters with Russian ideas are terrorists".
Russia earlier pledged to help free the observers, who were sent to Ukraine to monitor a 17 April accord signed in Geneva between Russia, Ukraine, the United States and the European Union that was meant to de-escalate the crisis in the ex-Soviet republic.
The Pro-Russian rebels holding the observers have vowed to continue detaining them.
"Yesterday, we arrested some NATO spies... they will be exchanged for our own prisoners. I don't see any other way they will be freed," Denis Pushilin, the head of the insurgents' self-declared Donetsk Republic, said.
Mr Pushilin was speaking in front of the SBU security services building in rebel-held Slaviansk, where the OSCE team was being held.
The town has become the centre of tensions between pro-Russian protesters and Ukrainian authorities in the eastern part of the country where pro-Kremlin rebels have seized a string of towns.
Late last night, German Defence Minister Ursula von der Leyen confirmed that pro-Russian separatists had arrested 13 mission members, including the observers, their interpreter and driver.
Four of the team are Germans, including three members of the German military.
The US has called for the immediate release of the OSCE team and State Department spokeswoman Jen Psaki insisted "there is a strong connection between Russia and these separatists".
The interior ministry in Ukraine said that the OSCE observers were stopped at a rebel-held checkpoint as they were entering Slaviansk yesterday and were taken to the SBU building.
The OSCE told AFP in Vienna, where it is based, that all the observers in its main mission on the ground in Ukraine were accounted for.
However, the detained group appears to be part of a separate, smaller unarmed military verification mission under German command.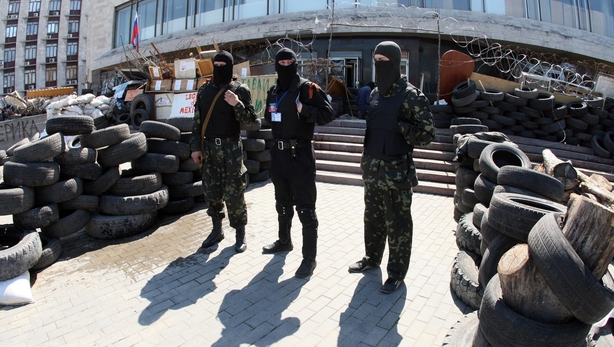 Mr Yatsenyuk, who is cutting short his trip and will miss the canonisation of John Paul II and John XXIII because of rising tensions in the eastern part of the ex-Soviet country, said "Russian aggression aims to undermine global stability".
"We urge Russia to pull back its security forces. We urge Russia to leave us alone," he said, amid fears that Russia could be about to invade.
G7 leaders back further sanctions
Meanwhile, the leaders of the Group of Seven major economies have agreed to swiftly impose further sanctions on Russia over the crisis in Ukraine.
The United States could announce new punitive measures as early as Monday, officials said.
"We believe that these sanctions will have a significant impact," US Deputy National Security Advisor for Strategic Communication Ben Rhodes said this morning.
President Barack Obama spoke to four European leaders last night about new sanctions against Russia, stressing the need to move quickly, Mr Rhodes told reporters aboard Air Force One, as Mr Obama flew from South Korea to Malaysia on an Asian trip.
"There was quick agreement about the need to move forward with a sequence of steps," said Mr Rhodes.
"The sequence that was agreed to in the leaders' call last night was that the G7 would express its support for targeted sanctions against Russia. The US and EU would move out on their own."
A senior U. official said each G7 country would decide which targeted sanctions to implement and while the measures would be coordinated they would not necessarily be identical.
Mr Rhodes said sanctions are possible on individuals or companies with influence in specific sectors of the Russian economy such as energy and banking.
He said such sanctions have consequences "when you start to get at the cronies, the individuals who control a large part of the Russian economy, you are imposing a larger economic impact than sanctioning an individual."
The new sanctions are intended to punish Russia for failing to comply with an international agreement to help defuse the crisis, according to a statement from G7 leaders released by the White House.
"Given the urgency of securing the opportunity for a successful and peaceful democratic vote next month in Ukraine's presidential elections, we have committed to act urgently to intensify targeted sanctions and measures to increase the costs of Russia's actions," the statement said.
Sources familiar with the matter said the US list of individuals is expected to include "cronies" of Russian President Vladimir Putin.
The G7 leaders told Russia that "the door remains open to a diplomatic resolution of this crisis" on the basis of the Geneva accord and urged Moscow to take that path.
But they also warned that "we continue to prepare to move to broader, coordinated sanctions, including sectoral measures, should circumstances warrant."
"Everybody understood that if Russian troops on the border invade Ukraine then sector sanctions will be a response. We need to have a spectrum of sanctions we can impose," said Mr Rhodes.
"We understand that there is unease about the economic consequences of increased sanctions on a large economy like Russia.
"Our response is that the long-term consequences of allowing Russia to engage in this type of destabilising activity is going to carry its own type of economic costs."