Ukraine's acting president Oleksander Turchynov has called on Russia to pull troops back from their border, stop interfering in Ukraine's internal affairs and end its "permanent threats and blackmail".
Mr Turchynov broadcast his brief address to the nation after Russia said it had begun military exercises near the border in response to escalation by Ukraine.
He told the nation that Russia was "demonstratively concentrating armed forces" on the frontier.
"We will not give into terrorist threats and will go on taking measures to protect the lives of our citizens," Mr Turchynov said.
"We demand Russia end its interference in the internal affairs of Ukraine, its permanent threats and blackmail, and withdraw its troops from the eastern border of our country."
Ukrainian Interior Ministry and Defence Ministry forces were in action against pro-Russian separatist rebels near the eastern city of Slaviansk earlier today and said they killed "up to five".
Russian President Vladimir Putin, who has promised to protect Russian-speakers in Ukraine, said there would be consequences if the authorities in Kiev used the army against their own people.
"If Kiev really began to use the army against the country's population ... that is a very serious crime against its own people," Mr Putin said, calling the current pro-West authorities a "junta".
"That is simply a punitive measure that will without question have consequences ... including for our inter-governmental relations."
Ukraine's military launched an assault on Slaviansk sending in armoured vehicles and a helicopter.
Several armoured personnel carriers drove past an abandoned rebel roadblock in flames to take up position at the entry to the town.
Shooting was heard as a helicopter flew overhead. Pro-Russian gunmen in the town retreated to defensive positions.
A spokeswoman for the separatists, Stella Khorocheva, said that all civilians had been ordered out of the town hall.
"The armed men handling the defence of the town hall will remain," she said.
#INFOGRAPHIC Russia starts border army drill after Ukraine attacks rebels http://t.co/5rpLqpsJV1 via @YahooNews pic.twitter.com/wSJXV1YDhD

— Agence France-Presse (@AFP) April 24, 2014
Russia has ordered new military exercises in Russian regions bordering Ukraine in response to the operation against militants.
"We are compelled to react to such a situation," Defence Minister Sergei Shoigu was quoted as saying by Russian news agencies at a meeting of the defence ministry.
"From today, military exercises have started in regions bordering Ukraine involving battalions of tactical forces of the southern and western military districts," he said.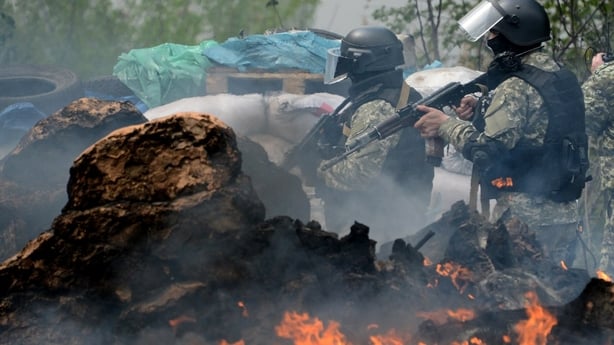 He said that the exercises were a forced measure in response to fatalities during Ukraine's military operation against separatists who have occupied eastern cities close to the Russian border.
"The situation in Ukraine provokes serious concern. From 22 April the new Ukrainian leadership has begun the so-called active phase of an operation in the southeastern borders of Ukraine. There are already people killed," Mr Shoigu said.
"A start has already been made in using weapons against peaceful citizens of their own country. If this war machine is not stopped today, then it will lead to a large number of dead and wounded."
Earlier, the Ukrainian government said soldiers had regained control of the town hall in the southeastern port city of Mariupol and repelled an attack on an army base in the eastern town of Artemivsk.
Ukraine's military clashed with pro-Russian separatists in two eastern towns overnight, the interior and defence ministries said today.
Separatist sources confirmed the loss of the town hall in Mariupol, a city with a population of nearly 500,000.
The city was the scene of a rebel attack on troops last week that left three militants dead.
The separatists had held the town hall since 13 April.
"The town hall is liberated and can function normally," Interior Minister Arsen Avakov said on his Facebook page.
In Artemivsk, the defence ministry said that nearly 100 separatists "opened fire with automatic weapons, machine guns and used grenades" in the attack on the military base.
In a statement, it said a soldier was wounded, but not critically.
Kerry accuses Russia of deception in Ukraine 
US Secretary of State John Kerry has accused Russia of deception and destabilisation in Ukraine.
Mr Kerry said tonight that Russia had not taken 'single step' to meet the deal agreed in Geneva last week.
He said it is "stoking the very instability" in Ukraine that it says it wants to quell and said it was engaged in a "full-throated effort" to actively subvert democratic process in the country.
Mr Kerry warned that it would be an expensive mistake if Russia continued its actions and said the window to change course is closing.
US President Barack Obama earlier said that Russia is not abiding by agreements aimed at defusing the crisis in Ukraine, in his first public comments since the Geneva meeting.
President Obama, who was speaking in Tokyo at the start of a four-nation tour of Asia, said he had been pessimistic from the off that Russia would stick to what was agreed in Geneva.
He said: "There was some possibility that Russia could take the wiser course after the meeting in Geneva. So far at least we have seen them not abide by the spirit or the letter of the agreement in Geneva.
"Instead, we continue to see malicious, armed men taking over buildings, harassing folks who are disagreeing with them, destabilising the region and we haven't seen Russia step out and discouraging it.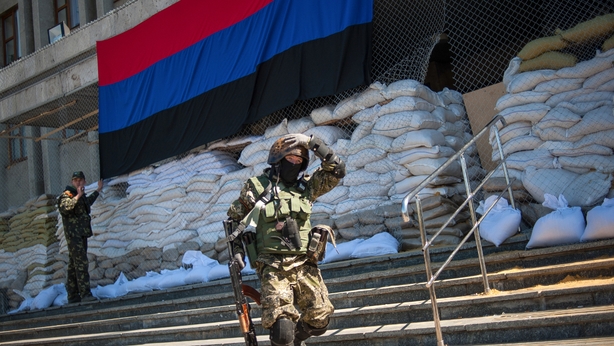 "On the other side you have seen the government in Kiev taking very concrete steps, introducing amnesty law, offering the whole range of reforms with respect to the constitution, that are consistent with what we discussed in Geneva. 
"We have already applied sanctions that have had an impact on the Russian economy. We have continued to hold out the prospect, the possibility to resolve the issue diplomatically.
"We've been very clear about the fact that there is not going to be a military solution to the problem in Ukraine."
However, he warned, if Russia did not play its part, there would be "consequences and we will ramp up further sanctions".
Russia expects that the Geneva agreement will be implemented in practical steps, Foreign Minister Sergei Lavrov was quoted as saying this morning.
"Russia expects that the Geneva accords will be implemented in practical actions in the near future," Russian news agencies quoted him as saying.
However, Mr Lavrov also accused the US and the European Union of being behind a popular uprising that ousted Ukrainian president Viktor Yanukovych in Ukraine in February.
"In Ukraine, the United States and the European Union tried to stage - let's call things what they are - another 'colour revolution', an operation to unconstitutionally change regime," Interfax quoted him as saying.
Meanwhile, US reporter Simon Ostrovsky who was being held by militants in eastern Ukraine has been released.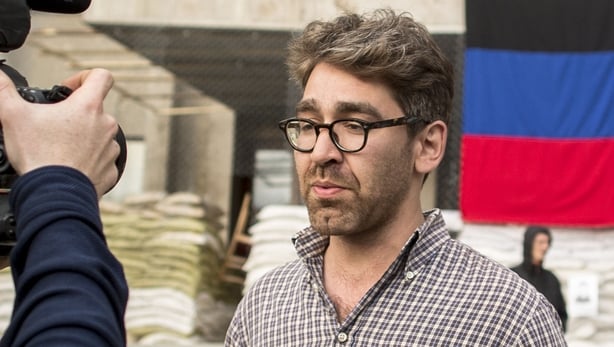 The US State Department said it was "deeply concerned" yesterday over reports that the journalist was kidnapped by pro-Russian separatists in Ukraine.
Pro-Moscow insurgents in Slaviansk held Mr Ostrovsky who was working for Vice News, as well as a Ukrainian journalist working for a pro-Kiev outlet, Irma Krat.
There is no word on whether Ms Krat was freed.
Mr Ostrovsky said by telephone that he was fine, although he had been beaten after being grabbed late on Monday in Slaviansk and was initially kept tied up and blindfolded.
"After a day-and-a-half they took off the blindfold and untied my hands, then they treated me normally," he said.
He said he believed the separatists in the town had been looking for him specifically when they seized him at a checkpoint in town's main square.
"They had my picture, they were looking for me," he said.
When they released him, "they just came to me and told me take your things and go away", he said.
He spoke as he was leaving Slaviansk, on his way to the eastern regional hub of Donetsk, where a Vice News team was waiting for him.
The mayor of rebel Slaviansk, Vyacheslav Ponomaryov, had accused Mr Ostrovsky of being a "journalist provocateur" and took exception to his reporting.