Syria will hold a presidential election on 3 June, state media reported.
The vote will likely to give President Bashar al-Assad a third term.

Mr Assad is battling a three-year-old rebellion against his rule.
Over 150,000 people have died and millions have been forced from their homes.
International powers who back his opponents have described plans to hold the election as a "parody of democracy".
Yesterday, President Assad visited an ancient Christian town recaptured from rebels last week.
He is trying to persuade minorities that the government is their best protection against hardline Islamists.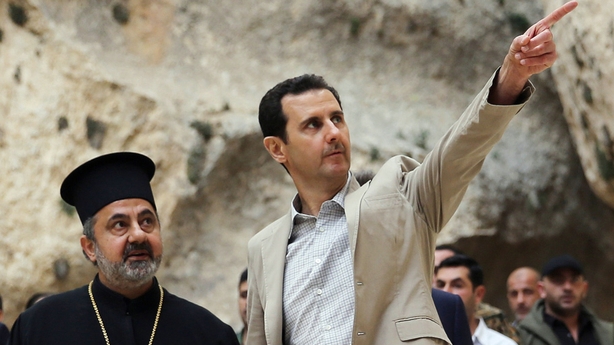 Mr Assad's Easter visit to Maaloula - a rare appearance outside central Damascus - also highlighted growing government confidence in recent gains against insurgents around the capital and along the Lebanese border.
Islamist fighters, including some from the al Qaeda-linked Nusra Front, had taken over part of Maaloula in December and held several nuns captive until releasing them in March in a prisoner-exchange deal.

Government forces retook the town last Monday.
Maaloula is roughly 60km north of Damascus and has changed hands multiple times, the latest in a series of advances against rebels in the Qalamoun mountains region.

During his visit, Mr Assad inspected Mar Sarkis - a Greek Orthodox monastery dating to the 4th Century - and damage caused "at the hands of terrorists," state news agency SANA said, using the government's customary term for the rebels.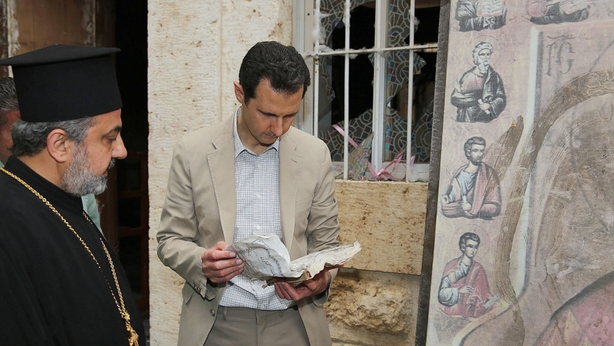 The agency said he also visited the Mar Thecla monastery, which also suffered damage during fighting for the town.

Images published by SANA showed Mr Assad waving and examining antiquities as he toured the area with church officials.
Maaloula's churches and monasteries attracted both Christian and Muslim pilgrims before the conflict.
Some of its inhabitants still speak Aramaic, the language of Christ, and the monastery of Mar Thecla has a reputation among believers for miraculous cures.