South Korean President Park Geun-hye said the actions of some crew of a ferry that sank with hundreds feared dead were tantamount to murder.
The death toll from last Wednesday's sinking of the Sewol ferry stands at 64 with 238 missing, presumed dead.
Most of the victims are high school children.
The ferry's captain Lee Joon-seok, 69, and two other crew members were arrested last week on negligence charges.
Prosecutors announced four further arrests today - two first mates, one second mate and a chief engineer.
Several crew members, including the captain, left the ferry as it was sinking, ahead of the passengers, witnesses have said.
Ms Park said the crew's desertion was tantamount to murder.
"Above all, the conduct of the captain and some crew members is unfathomable from the viewpoint of common sense, and it was like an act of murder that cannot and should not be tolerated," she told aides.
The ferry captain took part in a promotional video six years ago in which he said marine transport was safe as long as passengers followed orders.
Survivors said the crew instructed them to stay in their cabins even as the Sewol listed dramatically, delaying evacuation that could have saved many lives.
Parents of the children missing in what is likely to turn out to be one of South Korea's worst maritime disasters sit exhausted from days of grief, waiting for the almost inevitable news that their loved ones had died.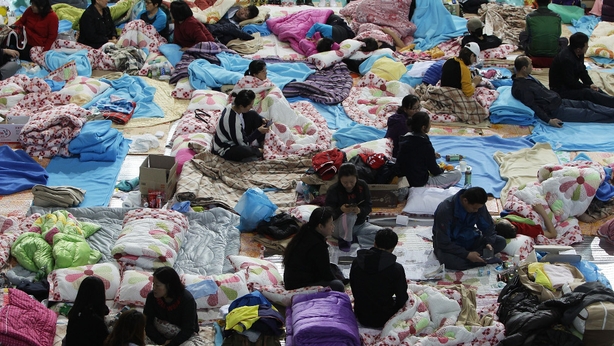 The have spent all their time since the accident in a gymnasium in the port city of Jindo, taking it in turns to vent their anger at the crew's inaction and slow pace of the rescue operation.
Divers are retrieving the bodies at a faster pace and some parents have moved from the gymnasium to the pier to await news.

Others stay put on their mattresses in the gym, where one by one, parents are informed that a body matches the family DNA swab, prompting wailing and collapses as others look on in silence.

A father of one of the missing said parents no longer trusted the news or government or even each other.
Two US underwater drones have been deployed in the search for bodies, a coastguard official said. Strong tides hampered operations overnight but the weather outlook was better for today.