An Australian ship searching for a missing Malaysia Airlines jetliner has picked up signals consistent with the beacons from aircraft black box recorders.
Search officials said it was the most promising lead yet in the month-long hunt.
The US Navy towed pinger locator connected to the Australian Ocean Shield ship picked up the signals in an area approximately 1,600km northwest of Perth.
Analysis of sporadic satellite data has determined this area as the most likely place the Boeing 777 went down.
"I'm much more optimistic than I was a week ago," Angus Houston, head of the Australian agency coordinating the search, told a news conference in Perth.
However, he cautioned that the wreckage still needed to be found.
"We are now in a very well defined search area, which hopefully will eventually yield the information that we need to say that MH370 might have entered the water just here," he said.
"If the signals can be narrowed further, an autonomous underwater vehicle will be sent to attempt to locate wreckage on the sea floor to verify the signals," said Mr Houston.
The black boxes record cockpit data and may provide answers about what happened to the Malaysia Airlines plane.
The aircraft, which was carrying 227 passengers and 12 crew, vanished off radar on 8 March and flew thousands of kilometres off its Kuala Lumpur-to-Beijing route.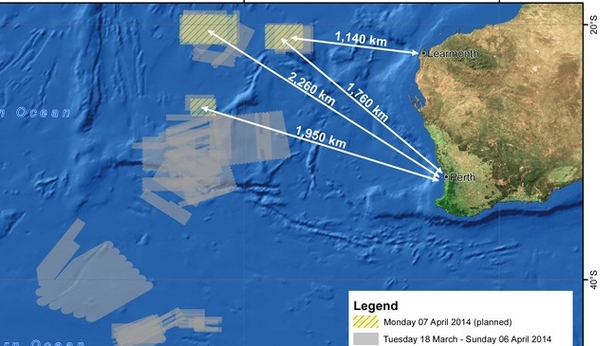 Authorities have not ruled out mechanical problems as a cause of the plane's disappearance but say evidence, including loss of communications, suggests it was deliberately diverted.
The first "ping" signal detection was held for more than two hours before the Ocean Shield lost contact, but the ship was able to pick up a signal again for around 13 minutes, Mr Houston said.
"On this occasion two distinct pinger returns were audible. Significantly, this would be consistent with transmissions from both the flight data recorder and the cockpit voice recorder," he said.
The black boxes, thought to be lying on the ocean floor, are equipped with locator beacons that send pings.
However, the beacons' batteries are thought to be running out of charge by now, a month after Flight MH370 disappeared.