Search teams picked through mud-caked debris for a fifth day looking for scores of people still missing from a deadly Washington state landslide.
Local officials fended off criticism of property development in the area after previous slides.
The known death toll stood at 24, with as many as 176 people still unaccounted for near the rural town of Oso.
On Saturday, a rain-soaked hillside collapsed and cascaded over a river before engulfing dozens of homes on the opposite bank.
Residents of the stricken community and nearby towns braced for an expected rise in the casualty count as hope faded that anyone else would be plucked alive from the cement-like muck and debris that blanketed an area covering about 2.6 sq/km.
Crews painstakingly combing through the disaster zone under cloudy skies took advantage of a break from yesterday's rain showers to push ahead in their search for more victims.
At the same time, authorities sought to whittle down their list of unaccounted for individuals.
Missing-persons detectives from the Snohomish County Sheriff's Office are working to resolve likely redundancies on a roster of people whose fate remained unknown.
County officials also started to address criticism for allowing new home construction on parts of the disaster site after a 2006 landslide in the same vicinity, which itself followed numerous reports detailing the risks of slides dating back to the 1950s.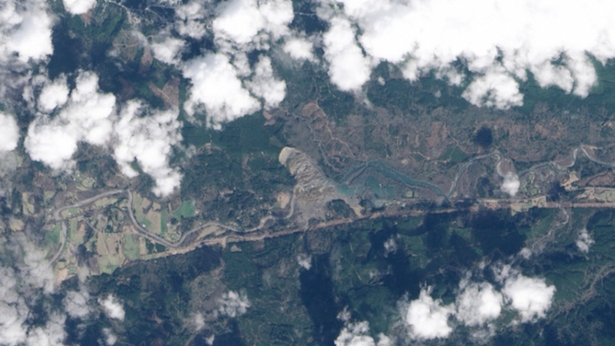 A 1999 study by geologist Daniel Miller for the US ArmyCorps of Engineers had warned of the potential for a "large catastrophic failure" in the area, about 90km northeast of Seattle.
Speaking to reporters today, the county's emergency management director, John Pennington, said local authorities had spent millions of dollars on work to reduce landslide risks in the area after the 2006 event.
He suggested that while officials and residents were aware of vulnerability to unstable hill slopes, Saturday's tragedy came out of the blue.
"We really did a great job of mitigating the potential for smaller slides to come in and impact the community," Mr Pennington said.
"So from 2006 to this point, the community did feel safe; they fully understood the risks."
But he also said: "People knew that this is a landslide-prone area. Sometimes big events just happen. Sometimes large events that nobody sees happens. And this event happened, and I want to find out why. I don't have those answers right now."
Search and rescue operations tapered off overnight butramped up to full strength again at first light on Wednesday.Searchers used dogs to pinpoint possible locations of victims,as well as electronic equipment such as listening devices andcameras capable of probing voids in the debris.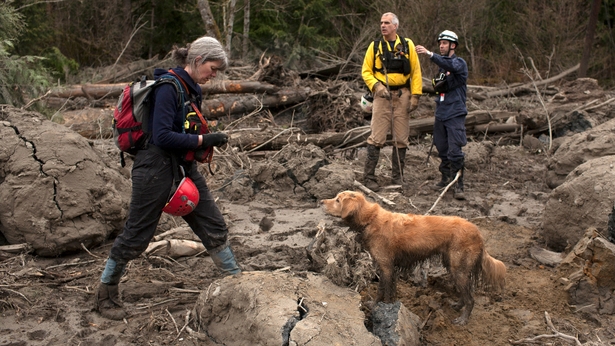 "We're not backing off. We're still going at this with all eight cylinders to get everyone out there who is unaccounted for," local fire chief Travis Hots said.
The tally of known dead rose last night from 14 to 24 when county officials reported that search crews labouring in a steady drizzle had recovered two more bodies from the disaster zone and located the remains of eight additional victims.
The rising death toll added to a deepening sense of gloom in the cluster of river front towns near the site of the mudslide.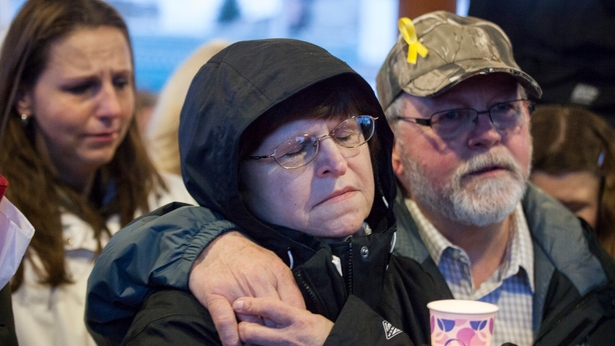 Officials said they were still hopeful that many of those listed as missing would turn out to have been double-counted or were slow to alert family and officials of their whereabouts.
Eight people were injured in the slide, including a 22-week-old baby boy rescued with his mother and listed in critical condition, though hospital officials said the baby was improving.
The mother and three other survivors also remained hospitalised.
Although authorities have said chances were low of finding more survivors in the thick mud blanketing the landscape, Fire Chief Hot said about 50 more searchers had been brought in to sift through the disaster zone in hopes of a miracle.
The slide already ranks as one of the worst in the United States.
In 1969, 150 people were killed in landslides and floods in Nelson County, Virginia, according to the US Geological Survey.
Mr Pennington said he expected President Barack Obama would soon issue a formal disaster declaration for landslide victims, making direct federal assistance available to survivors of the tragedy.