Rescue workers combed through muck and rubble left by a devastating weekend mudslide in Washington state that killed at least 14 people and left scores more missing.
Authorities said they expected the death toll to rise.
Around a dozen workers searched overnight for as many as 176 people reported missing after a rain-soaked hillside collapsed on Saturday, swallowing dozens of homes near the town of Oso, Snohomish.
News video showed rescuers equipped with chainsaws climbing over flattened houses.
Shards of wood and tangled brush covered the devastation zone that once contained a meandering river, a state road and rural homes.
With no change overnight in the number of people missing, local fire chief Travis Hots said he expected the fatality count to rise throughout the day in the slide area, about 90km northeast of Seattle.
"The operational plan for the day is going to be challenging. The weather's changed and we've got some rain coming in. That's going to make it even more challenging for our folks that are on the ground there," he told reporters.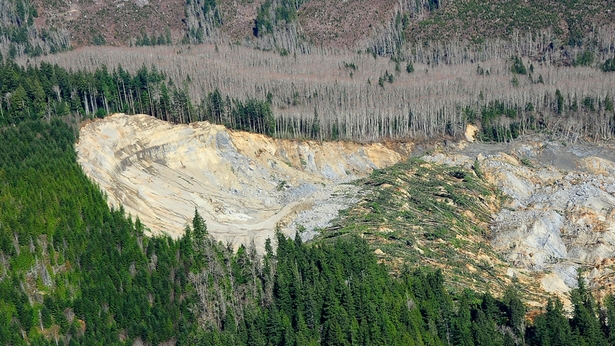 The disaster ranks as one of the deadliest US landslides since ten people died when falling earth engulfed homes in the coastal community of La Conchita, California, in 2005.
Authorities said they were hoping the number of people listed as missing would decline as some may have been double-counted or were slow to alert family and officials of their whereabouts.
Eight people were injured.
"I believe in miracles and I believe people can survive these events," John Pennington, Snohomish County's director of emergency management, told reporters.
But after three days, the operation was shifting from a rescue operation to a recovery mission, officials said. Rescuers failed to locate any more people in the rubble by early today local time.
Chief Hots said authorities were also turning back many volunteers due to unstable ground conditions and fears of another landslide that could sweep away people searching the mud and debris. More than 100 properties were hit by the mudslide.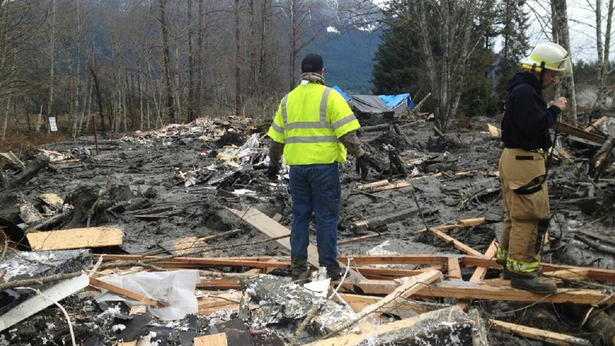 "The last thing that we want to have happen is people showing up in their cars and sneaking up on the pile, andt hey're up there working independently on their own," he said.
Search crews and volunteers were "dealing with devastation" on the ground, said Mr Pennington, noting they cannot use heavy equipment because of the conditions, and must work by hand.
President Barack Obama, who was in Europe for a meeting with world leaders, signed an emergency declaration ordering US government assistance to supplement state and local relief efforts, the White House said.
Speaking at The Hague, where he was attending a summit,Mr Obama began a news conference today by addressing the disaster in Washington state and asking Americans to "send their thoughts and prayers" to those affected by the disaster.
"We hope for the best, but we recognise this is a tough situation," he said.
Compounding the sense of urgency was fear of flooding as water levels rose behind a crude dam of mud and rubble dumped into the North Fork of the Stillaguamish River by the slide.
The river was rising with rain today, but had cut a channel through fresh mud and debris, lessening the chance of flooding, officials said.
Meanwhile, a 22-week-old baby hurt in the slide remained in critical condition at Harborview Medical Center in Seattle after being taken there by helicopter along with his mother, who was also hurt, the hospital said.
The landslide was not the first to hit an inhabited area in Washington state. More than 100 houses were destroyed by a slow-moving landslide in the town of Kelso in the late 1990s.But that was in a different part of the state.
In looking for what might have led to the mudslide, authorities have identified a small 1.1 magnitude earthquake that occurred in the area on 10 March.
"It could be related, but it probably at this point is more likely not related," said Bill Steele, spokesman for the PacificNorthwest Seismic Network.
A total of 156 workers were taking part in search and recovery efforts and 50 National Guard members were expected to join later in the day.
Quicksand-like conditions forced rescue workers to suspend their efforts at dusk on Sunday. Some workers, mired in mud up to their armpits, had to be dragged to safety.
Search crew workers were forced again to retreat briefly yesterday from the western edge of the slide area after movement as detected along a 460m stretch of earth.