European Union leaders have agreed to widen the list of Russian officials subject to personal sanctions over Moscow's seizure of Crimea from Ukraine.
They have asked the European Commission to prepare for broader economic sanctions if the crisis escalates.
Ms Merkel said the EU was ready to support Ukraine's new government financially, provided it reached a deal with the International Monetary Fund, on which she said talks had made substantial progress and a deal was expected soon.
She told a news conference after the first day of an EU summit in Brussels that the EU was prepared to send an observer mission to Ukraine but would prefer the pan-European security watchdog OSCE to send monitors if Russia will agree on a mandate.
Ms Merkel declined to say how many names would be added to the EU blacklist of people subject to visa bans and asset freezes but said they were of the same level as the 21 mid-ranking Russian and Crimean officials sanctioned last week.
Meanwhile, the European Parliament head Martin Schulz said the crisis has brought back the fear and risk of war in Europe.
"War could become a genuine possibility in a country which shares a border with the European Union," Mr Schulz told the opening of the summit of the 28 EU leaders.
At a press conference later Mr Schulz said EU leaders did feel the weight of history on them and felt that "something has changed".
The EU must send a message to show that Russia will pay a price for its actions and leaders must explain to their people the possible costs involved for them, he added.
Earlier US President Barack Obama hit high-profile Russian political and business figures with fresh measures.
Russia responded in kind only minutes later, imposing sanctions on several close Obama aides and prominent US senators.
Moscow's blacklist includes presidential aides Caroline Atkinson, Daniel Pfeiffer and Benjamin Rhodes; senators Mary Landrieu, John McCain and Daniel Coats; and Speaker of the House of Representatives John Boehner.
In a posting on his Twitter account, Mr Boehner said: "Proud to be included on a list of those willing to stand against Putin's aggression."
Senator McCain made light of the sanctions, tweeting: "I guess this means my spring break in Siberia is off. Gazprom stock is lost and secret bank account in Moscow is frozen."
Meanwhile the Senate Foreign Relations Committee approved a bill to send financial aid to Ukraine and sanctions on Russia.
The committee's chairman, Senator Robert Menendez is another featuring on Mr Putin's sanction list.
He warned that Russia's "totally unacceptable" annexation of Crimea "sadly returns us to a period of Cold War aggression and hostility."
Mr Obama cleared the way for possible sanctions on key sectors of the Russian economy in response to Moscow's seizure of the Crimea region.
The US president also said Russia's threats to southern and eastern Ukraine posed a serious risk of escalation of the crisis.
Later in the day Russian Defence Minister Sergei Shoigu promised his US counterpart Chuck Hagel that Moscow would not assault eastern Ukraine.
In a telephone conversation Mr Hagel voiced concern about Russian movements, but Mr Shoigu assured that "the troops he has arrayed along the border are there to conduct exercises only" Pentagon spokesman Rear Admiral John Kirby told reporters.
EU ready to increase pressure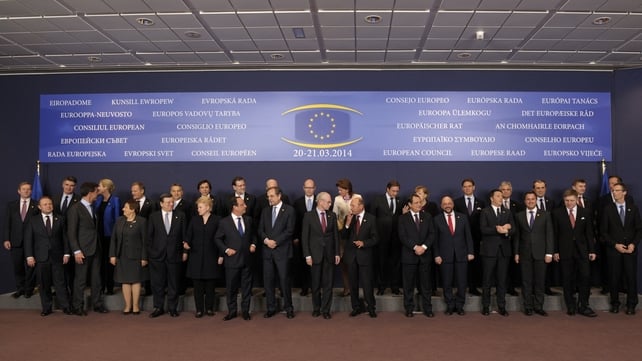 Ms Merkel said the Group of Eight format, which includes Russia, was effectively dead so long as the diplomatic showdown with Moscow continued.
Russia has the presidency of the G8 and had been scheduled to hold a summit in Sochi in June.
European heads of government are also expected to look at ways to reduce Ukraine's and Europe's dependency on Russian oil and gas.
The summit is taking place against the backdrop of deep unease among European governments that Mr Putin has single handedly and, with brutal speed, up-ended the post war architecture of Europe.
Moscow says the annexation of Crimea is historically just.
Europe and the US have struggled to keep pace with events, and to calibrate a response that is commensurate, but that will not escalate tensions.
Germany has approved plans for EU leaders to sign parts of the association agreement with the new pro-Western government in Kiev.
British Prime Minister David Cameron has proposed that Russia be expelled from the G8 and is expected to table a number of measures to make Europe less dependent on Russian energy.
The proposals will include the use of imported shale gas from the US.
The rhetoric between east and west has sunk to a level not seen since the cold war.