The United States has warned Moscow it was on a "dark path" to isolation after Russian troops stormed Ukraine's naval headquarters in the Crimean port of Sevastopol and raised their flag.
The seizure came as Russia and the West dug in for a long confrontation over Moscow's annexation of Crimea.
"As long as Russia continues on this dark path, they will face increasing political and economic isolation," said US Vice President Joe Biden.
He was referring to reports of armed attacks against Ukrainian military personnel in Crimea.
Mr Biden was in the Lithuanian capital Vilnius, part of a quick trip to reassure Baltic allies worried about what an emboldened Russia might mean for their nations.
Lithuania, along with Estonia and Latvia, are NATO members.
"There is an attempt, using brutal force, to redraw borders of the European states and to destroy the post-war architecture of Europe," Lithuanian President Dalia Grybauskaite said.
United Nations chief Ban Ki-moon will meet Russian President Vladimir Putin in Moscow tomorrow and travels to Kiev on Friday.
Elsewhere, the head of Ukraine's state television channel was assaulted by three members of parliament and forced to write a letter of resignation.
The three, from the far right Svoboda party, attacked the station chief because he broadcast the treaty-signing ceremony between Russian President Vladimir Putin and Crimean leaders.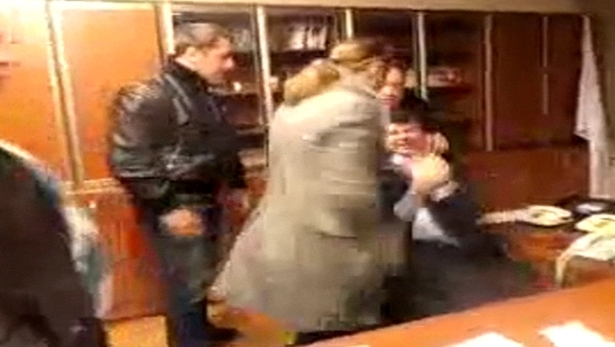 The incident was condemned by the Ukrainian prime minister who said it was unacceptable in a democratic society.
Russian politicians have raced to ratify the treaty making Crimea part of Russia by the end of the week, despite threats of further sanctions from Washington and Brussels.
The Russian military moved swiftly to neutralise any threat of armed resistance in the region.
"This morning they stormed the compound. They cut the gates open, but I heard no shooting," said Oleksander Balanyuk, a captain in the navy, walking out of the compound in his uniform and carrying his belongings.
"This thing should have been solved politically. Now all I can do is stand here at the gate. There is nothing else I can do," he said.
Ukrainian military spokesman Vladislav Seleznyov said the commander of the Ukrainian navy, Admiral Sergiy Gayduk, was driven away by what appeared to be Russian special forces.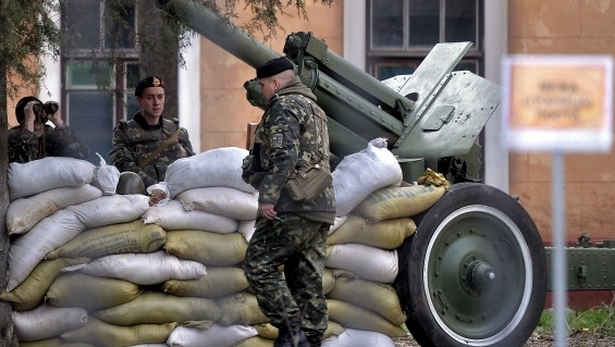 Deadline set for release of Ukrainian navy chief
In Kiev, acting President Oleksander Turchynov threatened to take action if pressure on Ukrainian forces in Crimea did not stop.
"If by 2100 all provocations against Ukrainian troops have not stopped and Admiral Gayduk and all other hostages ... are not released, the authorities will take appropriate measures, including of a technical and technological nature," he said in a statement posted online.
Most of Crimea's electricity, water and food is supplied from the Ukrainian mainland and Mr Turchynov's comments suggest Kiev could be prepared to squeeze the supplies.
"The Russian military is cynically refusing to negotiate ending the provocations and releasing the hostages," Mr Turchynov said.
In Washington, the White House condemned Russian moves to seize Ukrainian military installations, saying they are creatin ga dangerous situation.
NATO accused Russia of trying to "redraw the map of Europe".
Russia sent thousands of soldiers to Crimea in the buildup to a weekend referendum in which the Russian-majority region voted overwhelmingly to leave Ukraine and join Moscow, reflecting national loyalties and hopes of higher wages.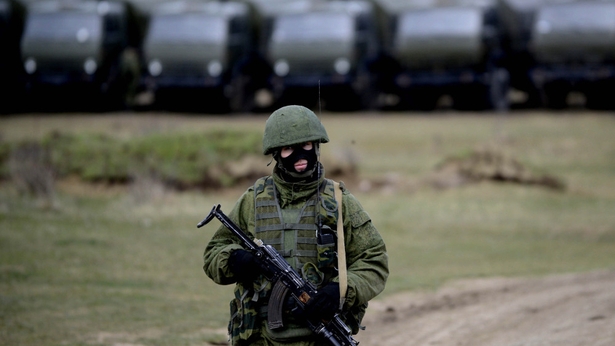 Local authorities attached new, Russian letters spelling "State Council of the Crimean Republic" on the building of the local assembly.
Kiev wants Crimea declared a demilitarised zone
Ukrainian security chief Andriy Parubiy said the Kiev government would urge the United Nations to declare Crimea a demilitarised zone.
"The Ukrainian government will immediately appeal to the United Nations to recognise Crimea as a demilitarised zone and take necessary measures for Russian forces to leave Crimea and prepare conditions for re-deployment of Ukrainian forces," Mr Parubiy said.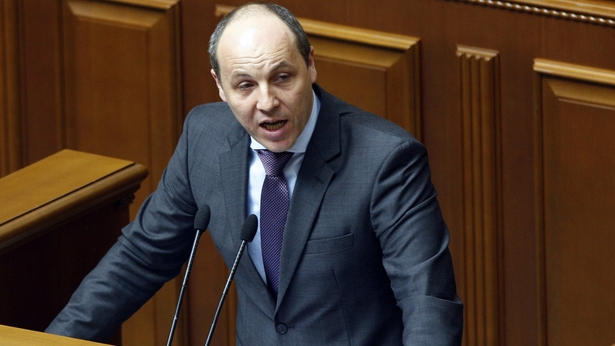 Ukraine announced plans to introduce visas for Russians, and Russia said it might respond in kind.
Mr Putin said his move to annex Crimea was justified by "fascists" in Kiev who overthrew pro-Moscow president Viktor Yanukovych last month.
Ukraine and Western governments have dismissed the referendum as a sham, and say there is no justification for Mr Putin's actions.
Germany's cabinet has approved EU plans for closer political cooperation with Ukraine, a government source said, clearing the way for Chancellor Angela Merkel to sign part of a so-called association agreement at an EU summit later this week.
The 28-member bloc is expected to sign a more far-reaching trade accord with Ukraine later.
But Russia accused Western states of violating a pledge to respect Ukraine's sovereignty and political independence under a 1994 security assurance agreement, saying they had "indulged a coup d'etat" that ousted Mr Yanukovych.
Moscow, which has said it will retaliate for so far largely symbolic Western sanctions targeting Russian officials, announced today it was closing its military facilities to the Organisation for Security and Cooperation in Europe for the rest of the year.
The Russian Defence Ministry was quoted as saying the signatories of a 2011 OSCE agreement had exhausted their quotas to inspect Russian military facilities and a planned inspection in the coming days would be the last.
European Union leaders will consider widening the number of people targeted by personal sanctions when they meet on tomorrow and Friday, diplomats said, as well as signing the political part of an association agreement with Ukraine's interim government.
EU officials say they have identified more than 100 potential targets.
Support for further consequences for Russia
Britain and Germany agreed that the European Union should impose further consequences on Russia, building on travel bans and asset freezes agreed earlier by European foreign ministers.
British Prime Minister David Cameron called German Chancellor Angela Merkel this afternoon to discuss the EU's response to events in Ukraine ahead of a European Council meeting tomorrow.
A spokeswoman for Mr Cameron said they "reiterated that Sunday's referendum in Crimea and Russia's subsequent actions to annex Crimea are both illegal.
"They also agreed that the EU should keep working with the US and other international partners to de-escalate the situation and to deter Russia from embarking on any more action that could further destabilise Ukraine."
The two political leaders also agreed that the international community should do all it could to provide Kiev with the economic assistance it needed, saying that "a strong and successful Ukraine is in all our interests".