Syria's government has said it will establish a "space agency" to conduct scientific research despite the civil war that has torn the country apart and devastated its economy.
State news agency SANA said the cabinet had approved a project to create the so-called Syrian Space Agency, "with the goal of using space technology for exploration and observing the earth."
SANA said the government hopes to employ such technology "in the service of development."
The three-year civil war has destroyed the economy and seen Western sanctions imposed on Damascus, raising questions about how Syria would fund the new research initiative.
Prime Minister Wael al-Halqi had earlier estimated that the country had suffered $31 billion in damage from the war, a figure nearly equivalent to its GDP.
"The damage caused by the war in Syria stands at 4.7 trillion Syrian pounds," or $31.3 billion dollars (€22.5bn), Mr Halqi told the ruling party's Al-Baath newspaper.
He did not say whether he was referring exclusively to property damage or to some broader measurement.
The Economist Intelligence Unit has forecast that GDP will reach $34 billion this year.
Syria's uprising began in March 2011 in the form of peaceful protests against President Bashar al-Assad but escalated into a full-blown insurgency after the regime launched a brutal crackdown.
Over the last three years, an estimated 146,000 people have been killed and millions have fled the country.
US shuts down Syrian embassy, missions
The United States closed down Syria's embassy to Washington and ordered its remaining diplomatic staff to leave the country if they were not US citizens.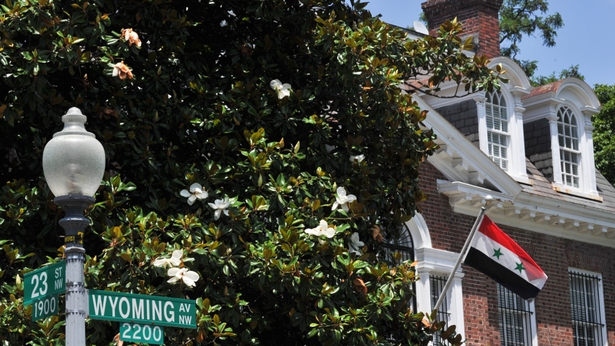 Washington also notified Damascus that it would no longer be able to operate its two consulates in Troy, Michigan, and Houston, Texas, after the embassy announced last week it would no longer provide any consular services.
US Secretary of State John Kerry said the decision was taken because "the illegitimacy of the Assad regime is so overwhelming."
In the three-year war to topple Syrian President Bashar al-Assad more than 140,000 people have been killed and the regime was "indiscriminately attacking civilians," Mr Kerry said.
"So we just felt the idea that this embassy is sitting here with representation that we could take seriously is an insult, and we closed it. It's that simple."
The Syrian embassy in the US capital had been operating for some time without an ambassador, who left the US in December 2011, leaving only a few low level staff who had been providing limited consular services.
US special envoy to Syria Daniel Rubinstein insisted however that "despite the differences between our governments, the United States continues to maintain diplomatic relations with the state of Syria as an expression of our longstanding ties with the Syrian people, an interest that will endure long after Bashar al-Assad leaves power."
A message on the embassy website today said: "Please Note that Embassy of Syria would not be able to proceed any consular services starting Tuesday March 18, 2014. Thank you for understanding."
Washington also said Syrian diplomats at the embassy, who were not US citizens or permanent residents, were no longer allowed to work in the United States and must leave the country by 31 March.
State Department spokeswoman Jen Psaki said this would likely affect about a handful of diplomatic staff and their families.
She confirmed however that the Syrian mission to the United Nations based in New York would continue to operate, as part of US obligations for hosting the UN.
Late last month however, the US restricted the movement of Syria's UN ambassador, Bashar Jaafari, limiting him to a 25-mile radius around New York City.
The Coalition for a Democratic Syria, an association of Syrian-American groups, had accused Mr Jaafari of trying to fuel sectarian divisions among Syrians in his public appearances in the United States.