St Patrick's Day is being celebrated with parades around the world and across the country.
Over 500,000 people turned out to enjoy Ireland's largest parade in Dublin, where the theme was 'Let's Make History'.
More than 3,000 performers participated in this year's Festival Parade, with Irish sporting hero, cyclist Stephen Roche holding the honorary position of Grand Marshal.
In Limerick city, an estimated 70,000 spectators lined the route of Ireland's largest regional parade.
The Munster team of Special Olympians took pride of place this year as Grand Marshals of Limerick's parade. The city is celebrating its year as National City of Culture, so culture, drama, history and sport were popular themes for parade participants.
Cork's parade celebrated the theme of 'Legends', while more than 70,000 people were expected to attend Galway's parade - where the theme was 'The Sea'.
As well as celebrations at home, St Patrick's Day is being marked in various ways around the world.
Over 100 international landmarks are "going green" to mark the occasion.
The Great Wall of China, the Leaning Tower of Pisa and South Africa's Table Mountain are all being illuminated today.
At home, the GPO, Four Courts, Convention Centre and Government buildings have all taken on a green glow.
Members of the Defence Forces will also celebrate St Patrick's Day in 17 countries around the world.
Over 400 Irish soldiers are currently deployed on peace and support missions overseas including in Somalia, Syria and Lebanon.
New York parade row
Taoiseach Enda Kenny took part in the New York city parade today saying he was proud to do so, despite an ongoing controversy over the rights of LGBT rights organisations to carry banners.
Last night Guinness became the latest corporate sponsor to withdraw support for the parade.
Mr Kenny had a breakfast meeting this morning with New York mayor Bill de Blasio.
Mr de Blasio refused to march in the world's oldest and biggest St Patrick's Day parade because although the organisers allowed LGBT people to march, they did not allow them to march with banners promoting equality.
Speaking at the meeting with Mr de Blasio, Mr Kenny pledged to that the Irish community of the city would work with him to improve the rights of the people of the city.
Speaking about the parade controversy yesterday, Mr Kenny said he had been invited to take part in the parade and had no control over the marching conditions.
He walked alongside the GAA delegation, to mark the 100th anniversary of the GAA in New York.
Serving members of the Police Service of Northern Ireland also marched in the parade for the first time.
Six police officers marched with An Garda Síochána in what was described as a show of mutual respect.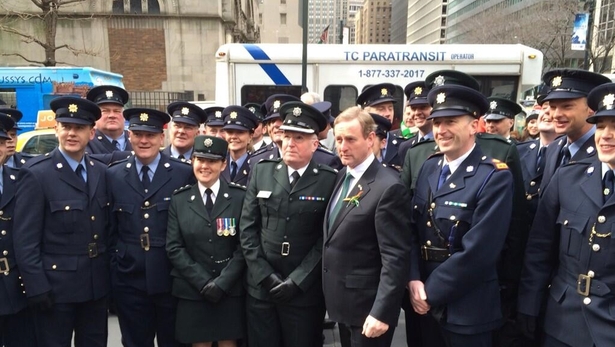 Send us your photos/videos via email at stpatricksday@rte.ie or on Twitter @rtenews.