Crimean leader Sergiy Aksyonov has told a cheering crowd of thousands on Lenin Square in Simferopol that the region was "going home" after a referendum to join Russia.
The crowd sang the Russian anthem after preliminary results showed the disputed vote had come out 95.5% to break from Ukraine and become part of Russia.
Referendum commission chairman Mykhaylo Malyshev said 3.5% had voted to remain in Ukraine with wider autonomous powers and 1.0% were "spoiled ballots".
The final tally is expected in a day or two.
Crimea's regional government will make a formal application tomorrow to join the Russian Federation, the local pro-Moscow leader has said.
"The Supreme Soviet of Crimea will make an official application for the republic to join the Russian Federation at a meeting on March 17," Mr Aksyonov said in a tweet earlier.
Polling stations in Crimea closed at 6pm Irish time and the preliminary results were known about two hours later. Another Russian news agency, Interfax, said voter turnout had exceeded 80%.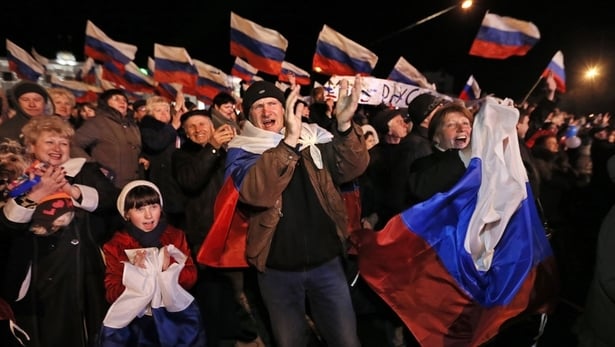 The US rejected the vote in Crimea and called Russian actions in the crisis "dangerous and destabilising."
The White House said Russia will face "increasing costs" for military intervention, violation of international law
"We are long past the days when the world would stand quietly by while one country forcibly seizes the territory of another", a spokesperson said.
France demanded Russia immediately take measures to reduce "pointless and dangerous" tensions in Ukraine, calling the secession referendum held in the Crimea region illegal.
President Vladimir Putin told US President Barack Obama the referendum on Crimea  was fully legal, but the two leaders also agreed to work together to find ways out of the Ukraine crisis, the Kremlin said.
A telephone conversation between Mr Putin and Mr Obama, which the Kremlin said was held at the initiative of the American side, came amid soaring US-Russia tensions.
The Kremlin statement said the referendum took into account "the well-known precedent of Kosovo", which has been recognised by more than 100 countries, including the US and all but five EU members since declaring independence from Serbia in 2008.
But the statement said the two leaders also agreed that "despite the differences in assessment it is necessary to jointly search for ways of stabilising the situation in Ukraine".
Mr Putin also told the US president that any Organisation for Security and Co-operation in Europe monitoring mission should cover "all Ukrainian regions" and not just Crimea.
German Chancellor Angela Merkel told Mr Putin earlier today that she backed a bigger role in Ukraine for the OSCE, in particular in the tense east of the country.
The Russian leader, who has not recognised the new pro-West authorities in Kiev after the fall of president Viktor Yanukovych last month, told Mr Obama that Moscow was unhappy with the Ukrainian government's failure to crack down on "ultra-nationalist and radical groups".
He said such groups were "destabilising the situation and terrorising peaceful inhabitants as well as the Russian-speaking population".
The White House said Mr Obama told Mr Putin the referendum "would never be recognised" by the US and the international community.
Mr Obama said the crisis can still be resolved diplomatically, but only if Russian military stops incursions into Ukraine.
He asked Mr Putin to accept international monitors in border areas.
Caught in an East-West crisis reminiscent of the Cold War, Kiev said Russia's build-up of forces in the Black Sea region was in "crude violation" of an international treaty, and announced plans to arm and train 20,000 members of a newly-created National Guard to defend the nation.
US Secretary of State John Kerry told Moscow that Washington would not accept the outcome of the vote.
The White House also warned Moscow to expect sanctions while foreign ministers from the European Union, which has major trade ties with Russia, will decided on possible similar action in Brussels tomorrow.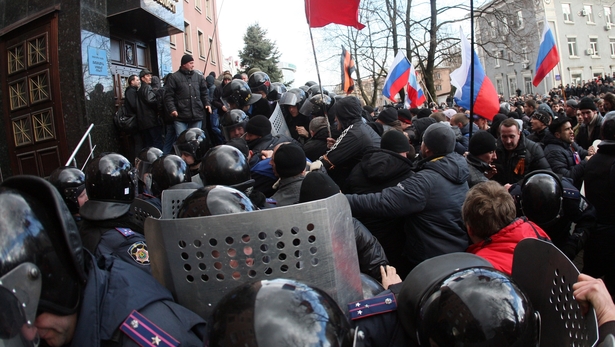 In Kiev, Prime Minister Arseny Yatseniuk threatened dire consequences for the Crimean politicians who had called the vote, saying separatist "ring leaders" wanted to destroy Ukrainian independence "under the cover of Russian troops".
"We will find all of them - if it takes one year, two years - and bring them to justice and try them in Ukrainian and international courts. The ground will burn under their feet," he told a cabinet meeting.
Kiev's pro-European rulers, who took power after last month's fall of Moscow-backed President Viktor Yanukovych to popular unrest, have been as powerless as Western governments to prevent the referendum or build up of Russian forces on Ukrainian territory.
Ethnic Tatars - Sunni Muslims who make up 12% of Crimea's population - said they would boycott the vote despite promises by the regional authorities to give them financial aid and proper land rights.
Crimea's 1.5 million voters had two options: union with Russia or giving their region, which is controlled by pro-Kremlin politicians, the broad right to determine its own path and choose relations with whom it wants - including Moscow.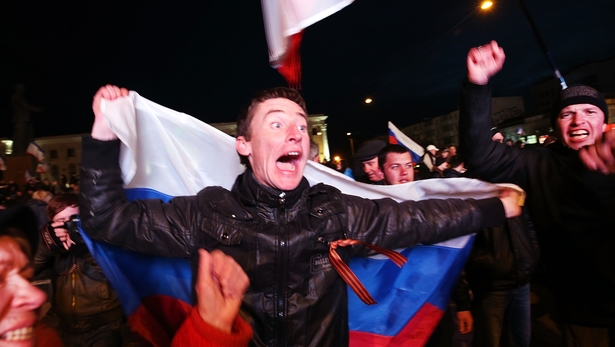 Russia has the right to keep forces on the Black Sea peninsula, including at its naval base in the port of Sevastopol, under a treaty signed after Ukraine gained independence from the Soviet Union in 1991.
But Ukrainian acting defence minister Ihor Tenyukh accused Moscow of going far beyond an agreed limit on servicemen - which he said was 12,500 for 2014.
This figure had risen from 18,400 on Friday.
Mr Tenyukh later said that the defence ministries in Kiev and Moscow had declared a truce until 21 March during which Russian forces, who have been arriving by boat and helicopter, would leave Ukrainian military facilities untouched.
Many Crimeans hope union with Russia will bring better pay and make them citizens of a country capable of asserting itself on the world stage.
But others see the referendum as a land grab by the Kremlin from Ukraine, whose new rulers want to move the country towards the European Union and away from Russia's sway.