Russia has vetoed a United Nations Security Council draft resolution that declares tomorrow's referendum in Crimea as invalid.
Russia's ambassador to the UN Vitaly Churkin told the Security Council in opening remarks in New York today.
"It is a secret to no one that the Russian Federation will vote against the resolution," Mr Churkin told the Security Council before the vote was to be held.
While Russia voted against the resolution China abstained, isolating Moscow further on the Ukraine crisis.
The draft resolution, which says tomorrow's referendum would have no validity, got 13 votes in the 15-member Council.
However, it was rejected when permanent member Russia exercised its veto.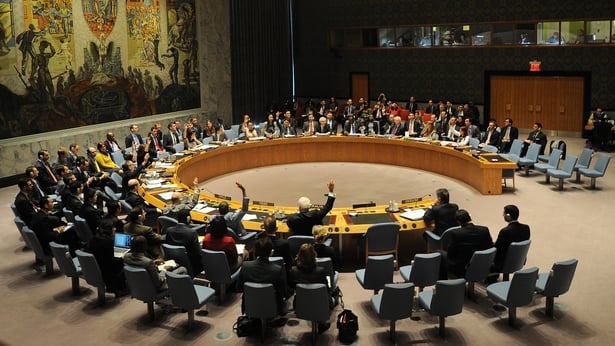 It comes after Ukraine's military scrambled aircraft and paratroops this afternoon to repel an attempt by Russian forces to enter a long spit of land belonging to a region adjacent to Crimea, Ukraine's defence ministry has said.
"Units of Ukraine's armed forces today... repelled an attempt by servicemen of the armed forces of the Russian Federation to enter the territory of Kherson region on Arbatskaya Strelka," a ministry statement said.
"This was repelled immediately."             
It said the Ukrainian military used aircraft, ground forces and its aeromobile battalion in the operation.
The territory in question is a long spit of land running parallel to the east of Ukraine's Crimean peninsula, now controlled by Russian forces.
Earlier, Ukraine's acting president accused "Kremlin agents" of fomenting deadly violence in eastern cities.
His claim is one of the most direct and highest-level criticisms aimed by Ukraine at Russian President Vladimir Putin to date.
From his speaker's chair in parliament, interim head of state Oleksander Turchynov referred to three deaths in two incidents this week in Donetsk and Kharkiv.
He told opposition politicians: "You know as well as we do who is organising mass protests in eastern Ukraine - it is Kremlin agents who are organising and funding them, who are causing people to be murdered."
Mr Turchynov has warned of a risk of a Russian invasion of the east following Russia's occupation of the Crimean peninsula.
Ukrainian officials have called on people in the mainly Russian-speaking cities of the industrial east not to rise to provocation that Russia might use to justify sending in troops.
Russia says to mull requests to defend peaceful citizens  
Russia is considering peaceful citizens' requests for defence in Ukraine, Moscow's foreign ministry said today, in a further sign that Russian military intervention in Ukraine may extend beyond Crimea.
Two weeks ago President Vladimir Putin was authorised by parliament to deploy armed forces in Ukraine to protect ethnic Russians and Russian-speakers after the fall of pro-Moscow president Viktor Yanukovych to mass protests.
"Russia is receiving numerous appeals with requests for defence of peaceful citizens. These appeals will be considered, "the foreign ministry statement said.
After talks in London yesterday with US Secretary of State John Kerry, Russian Foreign Minister Sergei Lavrov said Moscow "does not and cannot have" plans to invade eastern Ukraine.
However, his ministry also said Russia reserves the right to defend its compatriots.
In its statement today, the ministry said Ukrainian armed militants are continuing to act lawlessly, including from Right Sector, a Ukrainian nationalist group.
Two people were killed in clashes that broke out between pro-Moscow and pro-Kiev supporters in Ukraine's Russian-speaking city of Kharkiv, police said this morning.
One pro-Russia protester and a passerby were killed when Ukrainian nationalists opened fire on a group of men trying to storm their headquarters in the city late last night, police sources said.
The deaths have heightened tensions in the region, coming less than a day after Russia warned that it reserved the right to protect compatriots in the whole of Ukraine.
Police said events leading to the deaths began when a group of nationalists opened fire from inside a car at a pro-Russian protest being held on Kharkiv's central Svoboda (Freedom) Square.
No one was reported seriously hurt in the incident.
However, a group of several dozen pro-Russian protesters chased the car, tracking it to the headquarters of the Patrioty Ukrainy (Ukrainian Patriots) nationalist group.
The pro-Russians tried to storm the building and the nationalists opened fire, killing one of them along with a passerby, police said.
The Patrioty Ukrainy group then took several hostages from other offices inside the building as the police arrived, the police sources said.
Six people were injured in the ensuing gunfight, including a police offer who suffered serious wounds.
The nationalists eventually agreed to give up their arms and surrender. Police said they made 30 arrests.
It marked the second death in two days in Ukraine's east, where a pro-Kiev supporter was stabbed to death in the city of Donetsk late on Thursday.
Tensions have spiralled in the region ahead of tomorrow's vote in Ukraine's southern peninsula of Crimea on whether to secede from Ukraine and switch to Russian rule.
Armed police burst into Crimean hotel
Armed police burst into a hotel in Simferopol, the capital of Crimea, on the eve of a referendum aimed at deciding whether the Ukrainian region leaves Ukraine and becomes part of Russia.  
Witnesses saw around 30 men in balaclavas carrying automatic weapons inside the Hotel Moscow, a Soviet-era hotel popular with Western reporters covering Sunday's referendum.
The witnesses said the men burst in brandishing weapons and made their way to the building's fourth floor.
Crimean Defence Minister Valery Kuznetsov told reporters that police were reacting to an alert which turned out to be false.
"We received a false alarm. We came to check," he told reporters at the hotel.
"We have checked everything and it turned out to be bogus. There is an information war going on, being waged by Kiev ... So we have to check everything and be ready for any contingency."
By 9.40pm (7.40pm Irish time) the policemen had started to leave the hotel.
The incident occurred at a time when Russian state media has ratcheted up its anti-Western rhetoric, accusing the West of supporting what it says are fascist elements within Ukraine's provisional government.
Western reporters working in Crimea have complained of harassment by pro-Russian activists in recent days.
Some witnesses at the hotel said the raid appeared to be designed to intimidate journalists on the eve of the referendum.    
Pro-Russians attack security office in Ukraine's Donetsk
Meanwhile, pro-Kremlin protesters attacked a security service building in the Ukrainian city of Donetsk, demanding the release of their "governor" and their own right to vote on joining Russia.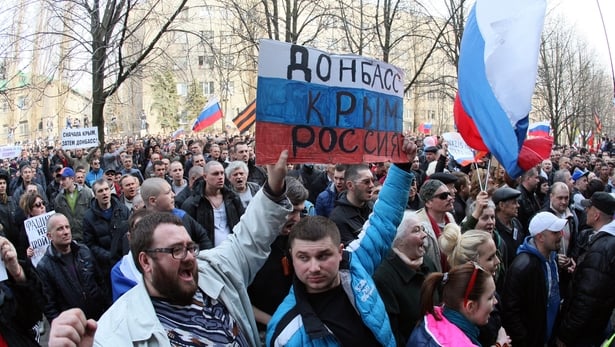 It illustrates the fine line that the new authorities in Kiev have to tread in the mainly Russian-speaking east.
"Referendum, Referendum," the crowd of at least 5,000 chanted in Lenin Square before marching on the headquarters of the SBU intelligence agency in Donetsk.
Two young men climbed on top of the entrance of the building, tore down the Ukrainian flag and replaced it with one in the colours of Russia's and emblazoned with the words "Donetsk Republic".
The crowd was demanding the release of Pavel Gubarev, the self-declared "people's governor" of the Donetsk region, whom the Ukrainian authorities arrested on March 6 and are investigating for separatism.
"The people are angry with the police and government, who are clamping down on our protesters," said Robert Donia, who describes himself as Mr Gubarev's deputy.
"They freed the Maidan protesters (pro-Europeans who ousted Yanukovych) but have kept ours in jails. Why do their laws work only for them?" he said.
A tense stand-off ensued before the demonstrators gave the security chief inside the building a five-minute deadline to agree on Gubarev's release.
But when this passed unanswered, tempers flared and some furious protesters barged through the front door and smashed glass panels of the SBU building.
Some demonstrators at the back of the crowd urged them to stop, before Mr Donia appeared and declared that he had negotiated an agreement for Mr Gubarev's release tomorrow.
"If they don't free him tomorrow, we'll be back with twice as many people," he told the crowd.
Kidnapping reports raise tensions
Ukraine's Greek Catholic Church has said a priest was seized by armed men from a chapel in Sevastopol today, shortly after a pro-Russian group reported one of its leaders had been abducted.
The two incidents are the latest in a series of kidnapping reports in Crimea, often involving activists for and against the referendum to be held on Sunday to decide whether the region should break away from Ukraine and join Russia.
Father Mykola Kvich, a chaplain with Ukraine's armed forces, was taken from a parish near the city cemetery, the Church said.
But according to local police, the priest was detained and later released, and 10 bullet proof vests were found in his residence during a search.
The Greek Catholic Church is particularly strong in the mostly Ukrainian-speaking west of the country and has been in favour of the Maidan protests that brought the current pro-West government in Kiev to power last month.
The priest's chaplain role "could be the reason for these actions by the armed self-defence groups in Crimea," said Father Lyubomyr Yavorskiy, an official in the Church's military chaplaincy department.
Earlier today a pro-Russian leader in Sevastopol - home to Russia's Black Sea Fleet since the 18th century - was reported kidnapped.