The United States and Russia found no middle ground on the Ukrainian crisis, after six hours of talks in London.
Russia said it would respect an independence referendum in Crimea, while the US vowed to impose sanctions if they do.
After talks with Russian Foreign Minister Sergei Lavrov, US Secretary of State John Kerry warned of "an even greater response" if Russia sent troops into eastern Ukraine.
"The foreign minister made it clear that [Russian] President [Vladimir] Putin is not prepared to make any decision regarding Ukraine until after the referendum on Sunday," Mr Kerry told reporters.
"We believe the referendum is contrary to the constitution of Ukraine, contrary to international law, is in violation of that law, and is illegitimate.
"I was clear with Foreign Minister Lavrov that the President (Barack Obama) has made clear there will be consequences if Russia does not find a way to change course, and we don't say that as a threat, we say that as a direct consequence of the choices that Russia may or may not choose to make here," Mr Kerry said.
US officials said the door was open for more talks and Mr Kerry said he would keep in touch with Mr Lavrov in the coming days.
Washington has said it will be ready to move on Monday to impose visa bans and asset freezes, involving Ukrainian and Russian officials, if the referendum goes ahead and it leads to the annexation of Crimea.
The European Union and other Western powers have said they will match US sanctions.
During their meeting at the US ambassador's residence in London, Mr Kerry raised concerns over Russian troop movements.
"Neither we nor the international community will recognise the results of this referendum and we also remain deeply concerned about the large deployments of Russian forces in Crimea and along the eastern border", he added.
"Right now, given this particular climate, we really need to hear more declarative policy in order to make clear where Russia is proceeding with respect to these troops and exercises."
Mr Kerry said the next steps would depend on a final decision by Mr Putin after the referendum.
Ratification of the referendum by Russia's parliament, the Duma, would amount to the "backdoor annexation of Crimea," he said.
Speaking after the talks, Mr Lavrov said Russia had no plans to invade southeastern Ukraine but made clear that the Kremlin would respect the result of the referendum.
He said there was still no common vision with the West over Ukraine and that Russia needed no international structure to help mediate with Kiev.
"We will respect the expression of the will of the Crimean people in the upcoming referendum," Mr Lavrov said.
"The Russian Federation does not and can not have any plans to invade the southeastern regions of Ukraine."
The US has posed several questions to Moscow in a one-page letter that explores whether Moscow would be willing to calm tensions by withdrawing its forces back to barracks and agreeing to international monitors in Crimea.
Ukraine has said it is willing to negotiate with Russia and is prepared to guarantee autonomy for Crimea within Ukraine.
Crimea has an ethnic Russian majority and many in the province of two million people favour rule from Moscow.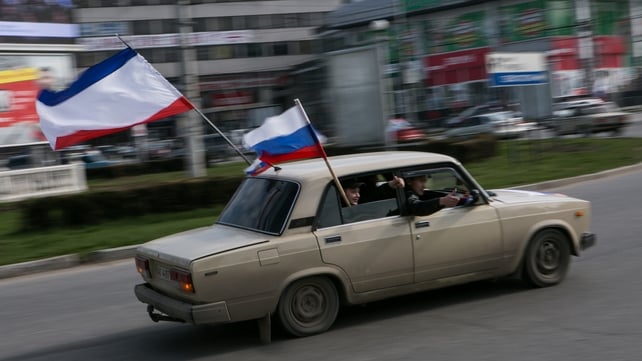 Responding to the death of at least one protester in Ukraine's eastern city of Donetsk, the Russian Foreign Ministry repeated President Putin's declaration of the right to invade to protect Russian citizens and "compatriots".
"Russia is aware of its responsibility for the lives of compatriots and fellow citizens in Ukraine and reserves the right to take people under its protection," it said, alluding to what it says are threats from Ukraine's new pro-Western leaders.
Ukrainian health authorities say one 22-year-old man was stabbed to death and at least 15 others were being treated in hospital after clashes in Donetsk, the mainly Russian-speaking home city of Ukraine's ousted President Viktor Yanukovych.
Organisers of the anti-Moscow demonstration said the victim was from their group and the new pro-Western governor of Donetsk said Russians were behind the clashes.
Moscow denies that its forces are intervening in Crimea, an assertion Washington ridicules as "Putin's fiction".
Journalists have seen Russian forces operating openly in their thousands over the past two weeks, driving in armoured columns of vehicles with Russian licence plates and identifying themselves to besieged Ukrainian troops as members of Russia's armed forces.
A Reuters reporter watched a Russian warship unload trucks, troops and at least one armoured personnel carrier at Kazachaya bay near Sevastopol this morning.
Trucks drove off a ramp from the Yamal 156, a large landing ship that can carry more than 300 troops and up to a dozen APCs.
In nearby Simferopol, around 300 Tatars protested against the referendum.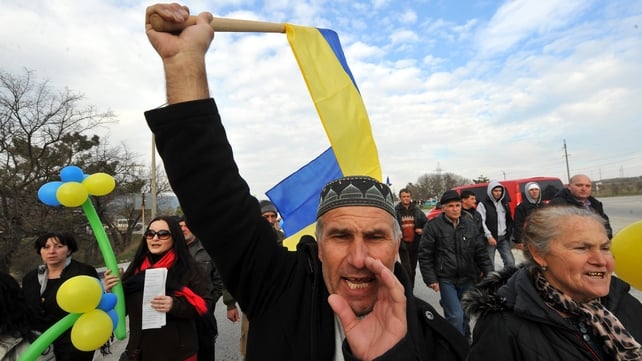 Tatars, a majority in Crimea until Soviet leader Josef Stalin deported them en masse for alleged collaboration with the Nazis in World War II, are strongly anti-Russian.
Russian troops seized the Black Sea peninsula two weeks ago as a pro-Moscow regional government took power there.
The new regional authorities intend to secede from Ukraine and join Russia in a vote described in the West as illegal.
Mr Putin declared on 1 March that Russia had the right to invade its neighbour, a week after its ally Mr Yanukovych fled the Ukrainian capital following three months of demonstrations that ended with about 100 people killed in the final days.
In further signs of Moscow's belligerent posture ahead of the Crimea vote, the Defence Ministry announced on Friday it would hold exercises with fighter jets and helicopters over the Mediterranean Sea.
Yesterday, it announced artillery drills near Ukraine's border.
Crimea holds referendum Sunday on independence from Ukraine. Here's @AFP's #infographic with key stats pic.twitter.com/qqDWIZq3z8

— Agence France-Presse (@AFP) March 14, 2014