Tánaiste and Minister for Foreign Affairs Eamon Gilmore has held talks with French President Francois Hollande on Ireland's legacy bank debt.
They discussed a range of economic matters and the upcoming European elections at a meeting in Paris.
Mr Gilmore said he reminded Mr Hollande of the agreement by eurozone leaders in June 2012 to break the link between sovereign and bank debt and to deal with the Irish situation separately.
Mr Gilmore said France has been consistent in its support for Ireland on this matter.
He said he told President Hollande that Ireland needs to have the issue resolved and hoped the EU will make progress on the banking union proposals so legacy bank issues can be looked at.
Mr Gilmore and the French president also discussed their joint support for the candidacy of Martin Schultz for President of the European Commission.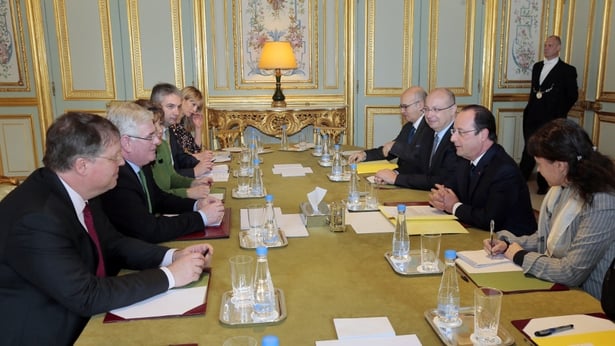 He said the European elections will decide the future direction of the EU.
The Tánaiste said that for the first time there are named candidates for the presidency. He said by voting for parties who are affiliated to groupings who are supporting various candidates, individual voters will be able to influence who leads the European Commission for the next five years.
Mr Gilmore said Mr Schultz as president of the European Parliament had come to Ireland in the middle of the economic crisis and had spoken very forcibly about support for Ireland.
He described him as a friend to Ireland when "we didn't have many friends".
Mr Gilmore also met French Prime Minister Jean Marc Ayrault.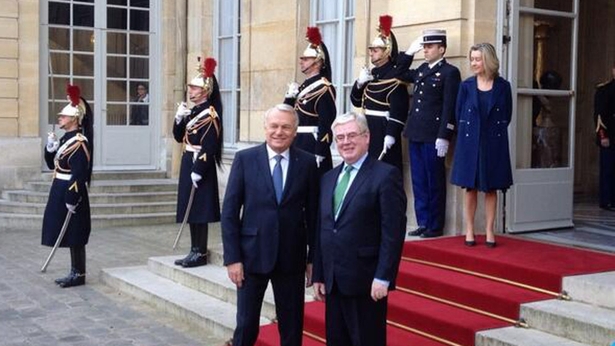 He said they agreed to ask their officials and agencies to look at ways in which they can promote the exchange of trainees and apprentices with a particular emphasis on the tourism and agri-food sectors.
Read Political Correspondent Martina Fizgerald's blog on Mr Gilmore's visit to Paris.