China says that one of its satellites has detected three large "floating objects" in a region of the sea where it suspects the missing Malaysia Airlines flight MH370 had an accident.
China's state science and technology administration said that a Chinese satellite had seen the objects in a "suspected crash sea area" on the morning of 9 March.
It said that the images were being analysed.
The objects are said to be spread across an area with a radius of 20km, in sizes that appeared to be 13 x 18 metres, 14 x 19 metres and 24 x 22 metres.
Malaysian authorities earlier today denied their efforts to find the missing passenger jet were now mired in "chaos".
At a combative news conference on the fifth day of the search, Transport Minister Hishammuddin Hussein said they would "never give up hope" of finding Malaysia Airlines flight MH370 and its 239 passengers and crew.
Asked whether the search had now collapsed into confusion, he said: "I don't think so. It's far from it. It's only confusion if you want it to be seen as confusion.
"I think it's not a matter of chaos. There are a lot of speculations that we have answered in the last few days."
Air Force chief Rodzali Daud said authorities were investigating an unidentified flying object about 320km northwest of the Malaysian state of Penang around the time the plane vanished early Saturday.
That is hundreds of kilometres to the west of the plane's planned Kuala Lumpur-to-Beijing flight path.
Authorities have said radar data records indicated the "possibility" that the plane may have attempted to "turn back" to Kuala Lumpur shortly before its disappearance, but have not revealed the specifics of the data.
"The last plot happened at 0215 (am)... 200 miles northwest of Penang. We are corroborating this. We are not saying this is MH370. It's an unidentified plot," Air Force chief Rodzali said.
But the officials admitted they still did not know where the plane was despite repeatedly expanding the search area.
The hunt involving the navies and air forces of multiple nations had focused on Vietnam's South China Sea coast where the plane last made contact Saturday.
Malaysian authorities have expanded the search to the Andaman Sea north of Indonesia, hundreds of kilometres away, fuelling allegations that the response is in disarray and lacking coordination.
Officials have angered passengers' relatives and sparked international ridicule for a series of contradictory and vague statements regarding the plane's possible fate and circumstances surrounding its disappearance.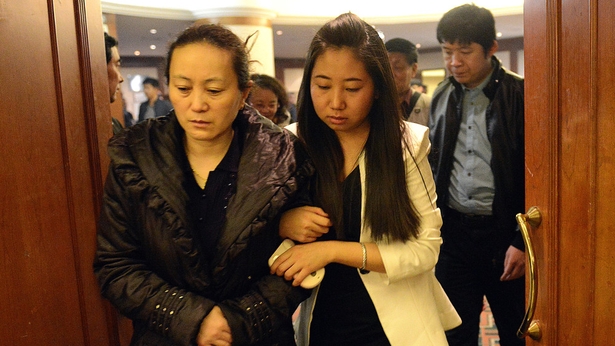 "We are still doing search-and-rescue operations and we still have hope," said civil aviation director Azharuddin Abdul Rahman.
"Chances of survival depend also on a lot of criteria because we don't know where the aircraft is."
Vietnam earlier said it had suspended its air search for flight MH370 and scaled back a sea search as it waited for Malaysia to clarify the potential new direction of the multi-national hunt.
"We've decided to temporarily suspend some search and rescue activities, pending information from Malaysia," deputy minister of transport Pham Quy Tieu said.
He said boats were still searching the area, but on a smaller scale.
Meanwhile, a senior Malaysia Airlines' executive said the airline has "no reason to believe" that any actions by the crew caused the disappearance of flight MH370.
Hugh Dunleavy, the commercial director of Malaysia Airlines, said that "we have no reason to believe that there was anything, any actions, internally by the crew that caused the disappearance of this aircraft".
The airline will give $5,000 (€3,609) per passenger to cover hotel expenses of relatives awaiting news, Mr Dunleavy said.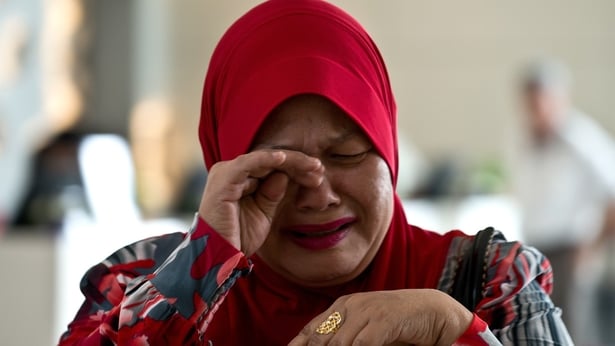 The relatives, who have been staying at hotels near a Beijing airport since the plane went missing on Saturday, have angrily accused the airline of keeping them in the dark.
Mr Dunleavy also said he was sceptical of a report by a South African woman who said the co-pilot of the missing plane, Farid Ab Hamid, had invited her and a female travelling companion to sit in the cockpit during a flight two years ago, in an apparent breach of security.
"Because just getting into that area requires you to go through the secure doors that we have in the cabin all the time," he said.
"And not only would that have been unusual, but it also would have meant you'd have to walk by our cabin crew as well, and have the code to get through.
"So I'm dubious, but I'm going to let the authorities investigate and tell us what happened."
The airline earlier said it was taking seriously the report by the woman, Jonti Roos, who said in an interview with Australia's Channel Nine TV that she and her friend were invited to fly in the cockpit by Mr Fariq and the pilot of a flight between Phuket, Thailand, and Kuala Lumpur in December 2011.
The TV channel showed pictures of the four apparently in a plane's cockpit.
Malaysia Airlines said at least 152 of the 227 passengers on flight MH370 were Chinese.
Malaysia has also sought India's help to locate the missing plane.
India's foreign ministry said: "Malaysia and India are in contact on this since yesterday and contact points are being discussed.
"These contact points will ascertain what assistance is required and what India can offer."
A spokesman said it had not yet been decided what area India would search in.
India has a large military command in its Andaman and Nicobar islands and its navy patrols in the straits of Malacca.
#INFOGRAPHIC Updated map of the search area for #MH370, adds search vessels on either side of Malaysia @AFP http://t.co/nWoVSi5J3r

— Agence France-Presse (@AFP) March 12, 2014