Malaysia's military believes a jetliner, missing for almost four days, turned and flew hundreds of kilometres to the west after it last made contact with civilian air traffic control off the country's east coast.
A massive search operation for the Malaysia Airlines Boeing 777-200ER has so far found no trace of the aircraft or the 239 passengers and crew.
Malaysian authorities have previously said flight MH370 disappeared about an hour after it took off from Kuala Lumpur for the Chinese capital, Beijing.
"It changed course after Kota Bharu and took a lower altitude. It made it into the Malacca Strait," the senior military officer told Reuters.
That would appear to rule out sudden catastrophic mechanical failure, as it would mean the plane flew around 500km at least after its last contact with air traffic control, although its transponder and other tracking systems were off.
A non-military source familiar with the investigations said the report was one of several theories and was being checked.
At the time it lost contact with civilian air traffic control, the plane was roughly midway between Malaysia's east coast town of Kota Bharu and the southern tip of Vietnam, flying at 10,670 metres (35,000ft).
The Strait of Malacca, one of the world's busiest shipping channels, runs along Malaysia's west coast.
Malaysia's Berita Harian newspaper quoted air force chief Rodzali Daud as saying the plane was last detected at 2.40am local time by military radar near the island of Pulau Perak at the northern end of the Strait of Malacca.
It was flying about 1,000 metres lower than its previous altitude, he was quoted as saying.
There was no word on what happened to the plane thereafter.
The effect of turning off the transponder is to make the aircraft inert to secondary radar, so civil controllers cannot identify it.
Secondary radar interrogates the transponder and gets information about the plane's identity, speed and height.
It would however still be visible to primary radar, which is used by militaries.
Police had earlier said they were investigating whether any passengers or crew on the plane had personal or psychological problems that might explain its disappearance, along with the possibility of a hijack, sabotage or mechanical failure.
There was no distress signal or radio contact indicating a problem.
In the absence of any wreckage or flight data, police have been left trawling through passenger and crew lists for potential leads.
"Maybe somebody on the flight has bought a huge sum of insurance, who wants family to gain from it or somebody who has owed somebody so much money, you know, we are looking at all possibilities," Malaysian police chief Khalid Abu Bakar told a news conference.
"We are looking very closely at the video footage taken at the KLIA (Kuala Lumpur International Airport), we are studying the behavioural pattern of all the passengers."
The airline said it was taking seriously a report by a South African woman who said the co-pilot of the missing plane had invited her and a female travelling companion to sit in the cockpit during a flight two years ago, in an apparent breach of security.
A huge search operation for the missing plane has been mostly focused on the shallow waters of the Gulf of Thailand off Malaysia's east coast, although the Strait of Malacca has been included since Sunday.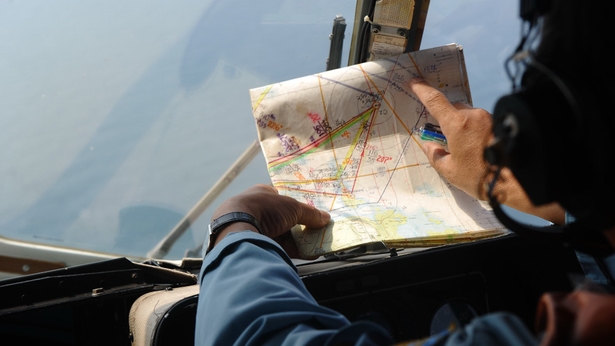 Navy ships, military aircraft, helicopters, coastguard and civilian vessels from ten nations have criss-crossed the seas off both coasts of Malaysia without success.
The fact that at least two passengers on board had used stolen passports has raised suspicions of foul play.
But Southeast Asia is known as a hub for false documents that are also used by smugglers, illegal migrants and asylum seekers.
Interpol Secretary General Ronald Noble named the two men as Iranians, aged 18 and 29, who had entered Malaysia using their real passports before using the stolen European documents to board the Beijing-bound flight.
"The more information we get, the more we are inclined to conclude it is not a terrorist incident," Mr Noble said.
In the United States, the Central Intelligence Agency said intelligence officials could not rule out terrorism as a factor.
"You cannot discount any theory," CIA Director John Brennan said.
About two-thirds of the 227 passengers and 12 crew now presumed to have died aboard the plane were Chinese.
Other nationalities included 38 Malaysians, seven Indonesians, six Australians, five Indians, four French and three Americans.
China has deployed ten satellites using high-resolution earth imaging capabilities, visible light imaging and other technologies to "support and assist in the search and rescue operations", the People's Liberation Army Daily said.
US government officials from the National Transportation Safety Board and the Federal Aviation Administration have arrived in the region to provide "any necessary assistance" with the investigation, White House spokesman Jay Carney said.
The Boeing 777 has one of the best safety records of any commercial aircraft in service.
Its only previous fatal crash came on 6 July last year when Asiana Airlines Flight 214 struck a seawall on landing in San Francisco, killing three people.
Boeing has declined to comment beyond a brief statement saying it was monitoring the situation.