Russian troops have opened fire with automatic rifles during a takeover of a Ukrainian naval post in Crimea.
Interfax news agency reports a Ukrainian officer has said Russian troops broke in to the base near the inland town of Bakhchisaray some time after 2pm.
The Russian troops took mobile phones and began trying to remove vehicles.
None of the Ukrainian troops were hurt and the base commander was trying to negotiate an end to the action.
Russian forces who have taken control of a number of military installations across the Black Sea peninsula have not so far exchanged fire in anger with Ukrainian troops.
Earlier, Russian troops took over a military hospital and a missile base as officials geared up for a referendum on the region's future.
Pro-Russian militias and Russian troops seized the hospital in Simferopol, the peninsula's main administrative city, and herded staff into a hall to "apparently meet the institutions' new directors".
It said 20 patients in the building were seriously ill.
In the port of Sevastopol, Russian soldiers disarmed servicemen at a Ukrainian army missile base, a Ukrainian military spokesman in Crimea said.
Vladislav Seleznyov told Fifth Channel television that about 200 soldiers aboard 14 trucks moved on the building in the early hours of the morning and threatened to storm it if the Ukrainian soldiers failed to give up their weapons.
Ukraine is bracing itself for more street protests following violent clashes yesterday between demonstrators wishing to join the Russian Federation and rival supporters who are calling for the unity of the country.
Last night, troops sealed off the military airbase near the village of Saki.
Russian forces also fired warning shots as they seized a Ukrainian border post. There were reports of the Ukrainian air force coming under fire from Russian troops on the ground.
Across the peninsula, Ukrainian personnel remain besieged inside their bases.
Meanwhile, the pro-Russian authorities in Simferopol are continuing preparations for a referendum to be held next Sunday, to decide if Crimea should join the Russian Federation.
The head of the referendum commission, Michail Malyshev, said ballot papers would be ready on Thursday.
At a news conference last night, he said that Ukrainian troops would be permitted to leave their bases to vote in the referendum.
The poll has been condemned by Europe and the US as illegal and violating Ukraine's constitution.
However, Russian President Vladimir Putin told German Chancellor Angela Merkel in a telephone call that the referendum complied with international standards and guaranteed what he called the "legal interests of the population".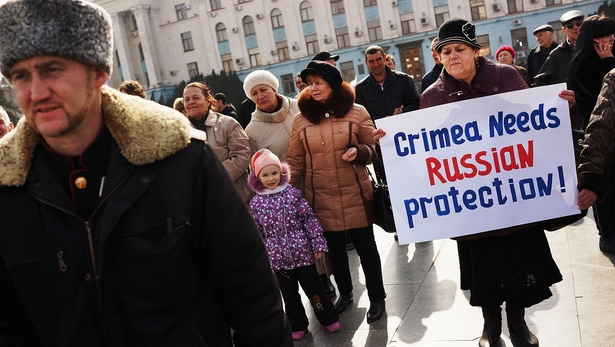 Crimean leader pledges choice of passports
Crimea's pro-Russian prime minister has said he will give people living there the choice of taking Russian or Ukrainian passports if the Ukrainian territory becomes part of Russia.
Sergei Aksyonov, who declared himself provincial leader almost two weeks ago after Russians seized the parliament building, told Russian news agency RIA that Crimea would also encourage the use of two languages - Russian and Crimean Tatar.
Crimea's two million population has a narrow ethnic Russian majority, but also includes more than 250,000 indigenous Tatars, who have returned since the 1980s after being deported by communist leader Joseph Stalin. They oppose Russian annexation.
"We will not insist on the necessity of returning Ukrainian passports," Mr Aksyonov said.
"Everyone will have the opportunity to develop their own language. We do not want to limit the Crimean Tatars."
Mr Putin has defended the breakaway moves, saying they are legitimate, and says Russia has the right to invade Ukraine to protect Russian citizens.
Russia's seizure of the Black Sea peninsula, which Mr Putin denies, began 12 days ago.
While bloodless, the move has caused the worst face-off between Russia and the West since the Cold War.
Crimea, home to Russia's Black Sea fleet, was administered as part of Russia within the Soviet Union until 1954.
Many residents have Russian passports and support the Russian takeover, but hundreds of thousands do not.
US open to Crimea autonomy without 'barrel of a gun'
The US would support greater autonomy for Crimea as long as this does not happen "under the barrel of a gun", the US ambassador in Kiev said today.
"The United States believes that Crimea is and should remain a part of Ukraine," Geoffrey Pyatt told reporters in Kiev, stressing that the US would not recognise the referendum.
But he also recognised Russia had "legitimate interests" on the peninsula.
"I have been encouraged to see comments from prime minister Yatsenyuk ... indicating the Ukrainian government is open to enhanced levels of autonomy for the people of Crimea," he said.
"But this is something that Ukrainians have to decide within their own constitutional framework and it can't happen under the barrel of a gun."
Ukrainian Prime Minister Arseny Yatsenyuk is to meet US President Barack Obama at the White House this week.
US officials including FBI agents are in Kiev helping a Ukrainian-led investigation into corruption under ousted president Viktor Yanukovych, Mr Pyatt said.
"We are doing what we can to unpack the enormous kleptocracy which surrounded the Yanukovych government," he said.
"We have already on the ground here in Ukraine experts from the FBI, the Department of Justice and the Department of the Treasury."
Mr Pyatt also said there were "a variety of other international governments" assisting in the Ukrainian investigation "to uncover the financial crimes that were committed by the previous regime and to see what can be done to recuperate some of those assets".
The European Union last week froze the assets of Mr Yanukovych, ex-premier Mykola Azarov and 16 former ministers, businessmen and security chiefs - all on grounds of fraud.
Swiss authorities have also ordered a freeze on the assets of both Mr Yanukovych and his multi-millionaire son Oleksandr, as well as 18 other former ministers and officials.
Ukraine ranks 144th out of 177 countries on Transparency International's corruption perceptions index.
Elsewhere, Polish Prime Minister Doland Tusk said Germany's reliance on Russian natural gas poses a threat to European sovereignty, amid rising East-West tension over Ukraine.
"Germany's reliance on Russian gas can effectively limit European sovereignty. I have no doubt," Mr Tusk told reporters days ahead of a Warsaw visit by Ms Merkel.