Venezuelan security forces and demonstrators faced off in streets blocked by burning barricades in several provincial cities as protests escalated against the government.
At least five people have died since the unrest turned violent last week, with scores of injuries and arrests.
The demonstrators, mostly students, blame the government for violent crime, high inflation, product shortages and allegedrepression of opponents.
They want President Nicolas Maduro to resign.
In middle-class areas of Caracas overnight, security forces fired teargas and bullets, chasing youths who threw Molotov cocktails and blocked streets with burning trash.
It was one of the worst bouts of violence the capital has seen in nearly three weeks of unrest across Venezuela, and trouble also flared in other urban centres.
Many Caracas residents banged pots at windows in a traditional form of protest, and knots of demonstrators were out again early today.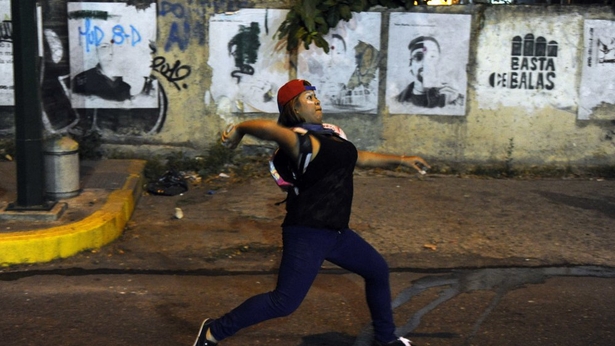 "I declare myself in civil disobedience," read one banner held up by demonstrators spread across a Caracas road.
The government said a funeral parade for folksinger Simon Diaz, a beloved figure who died yesterday aged 85, was held up due to "violent groups" blocking roads.
There was unrest too in the western Andean states of Tachira and Merida that have been especially volatile since hardline opposition leaders called supporters onto the streets earlier this month demanding Mr Maduro's departure.
In the city of San Cristobal, which some residents are describing as a "war zone", many businesses remained shut as students and police faced off in the streets again today.
Mr Maduro said "special measures" would be taken to restore order in Tachira. "We won't let them turn it into a Benghazi," he said.
Tensions have escalated since opposition leader Leopoldo Lopez turned himself in to troops this week.
He is being held in Caracas' Ramo Verdejail on charges of fomenting the violence.
Local TV channels are providing almost no live coverage of the unrest, so Venezuelans are turning to social media to swap information and images, though falsified photos are circulating.
Both sides rolled out competing evidence of the latest violence today, with ruling Socialist Party governorsshowing photos and video of charred streets and torched vehicles, while the opposition posted footage of brutal behaviour which they said was by national guard troops.
Mr Maduro, narrowly elected last year to succeed socialist leader Hugo Chavez after his death from cancer, has said Mr Lopez and others are in league with the US government and want a coup.
He said "fascist groups" are trying to create a crisis to topple his administration.
"There is an international campaign to justify a foreign intervention in Venezuela," he said in a combative, nationally televised address late last night.
Speaking in Mexico, US President Barack Obama criticised Mr Maduro's government for arresting protesters and urged it to focus on addressing the "legitimate grievances" of its people.