Venezuelan security forces arrested opposition leader Leopoldo Lopez on charges of fomenting unrest that has killed at least four people.
The arrest brought tens of thousands of angry supporters onto the streets of Caracas.
Crowds of white-clad protesters stood in the way of the vehicle carrying the 42-year-old Harvard-educated economist after he made a defiant speech, said an emotional farewell to his family, and gave himself up to soldiers.
The vehicle eventually reached a military base.
Opposition leaders hope Mr Lopez's arrest will galvanize street demonstrations against President Nicolas Maduro, though there is no immediate sign the protests will topple the socialist leader.
"I am handing myself over to an unfair justice system," the protest leader told supporters, standing on a platform next to a statue of Cuban poet and independence hero Jose Marti.
"May my imprisonment serve to wake the people up."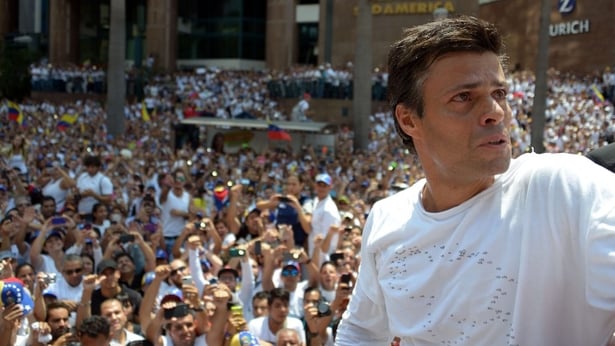 The crowd lifted his wife up to give him a final embrace and hang a crucifix around his neck.
Minutes later, he surrendered to military officers, pumping his fist and then stepping into the military vehicle with a Venezuelan flag in one hand and a white flower in the other.
Supporters impeded the vehicle's progress for several kilometres and later gathered at the gates of the La Carlota air-base where he was taken. They disbursed in the late afternoon as a tropical downpour broke out.
In a speech to a rival rally of his own supporters, Mr Maduro said he had sent the Vice President of the Socialist Party, Congress Chief Diosdado Cabello, to help transport Mr Lopez.
Mr Lopez's Popular Will party said he had been taken to court where authorities would formally read him the charges, which nclude murder and terrorism.
Mr Lopez says he is being made a scapegoat by a dictatorial government.
Earlier, in the coastal town of Carupano in eastern Venezuela, residents said a 17-year-old student died after being struck by a car during an anti-government demonstration.
That added to three fatal shootings in Caracas last Wednesday.
Student-led protests across the nation of 29 million people have become the biggest challenge to Mr Maduro since his election last year following socialist leader Hugo Chavez's death.
They demand Mr Maduro's resignation over issues ranging from inflation and violent crime to corruption and product shortages.
Mr Maduro's government accuses opponents backed by the US of seeking to promote a coup against him, similar to a botched attempt against Mr Chavez in 2002 when he was ousted for 36 hours.
The former bus driver and union activist this week expelled three US diplomats accused of recruiting students for the protests. The US said that was "baseless and false".