The European Union has agreed to impose sanctions on the Ukraine as at least 75 people have died in violent clashes between police and protesters in Kiev since Tuesday.
Opposition medics have said at least 60 protesters were killed in fresh clashes between thousands of demonstrators and heavily-armed riot police in the heart of the Ukrainian capital today. 
EuroMiadan Medical Centre coordinator Svyatoslav Khanenko told AFP that all the dead had gunshot wounds.
Kiev's city health department said 75 people had been killed since Tuesday, which means at least 47 died in today's clashes.
European Union foreign ministers have agreed to impose sanctions on Ukraine, including visa bans, asset freezes and restrictions on the export of anti-riot equipment, ministers and officials said.
The restrictions, to be drafted into law in the coming days,will apply to those involved with ordering or orchestrating the violence in Kiev. that has left nearly 60 people dead.   
"The EU decides as a matter of urgency on asset freeze and visa ban on those responsible for violence and excessive force in Kiev," Swedish Foreign Minister Carl Bildt said in a tweet.
He also said developments in Ukraine would determine the scope of the implementation of EU measures.

Scope of implementation of EU measures will be taken forward in light of developments in Ukraine.

— Carl Bildt (@carlbildt) February 20, 2014
Foreign ministers from France, Germany and Poland will continue talks with Ukrainian officials and opposition leaders through the night, a Polish foreign ministry spokesman said.
Opposition leader Vitaly Klitschko said no clear results have emerged from talks on ending the crisis, but he was hopeful a decision on a way forward could happen tonight.
Poland's Prime Minister Donald Tusk said that President Viktor Yanukovych has told EU envoys he was willing to hold early elections.
French foreign minister Laurent Fabius said no final decision had been made on how to end the crisis, but he and his German and Polish counterparts planned further talks with President Yanukovych tonight.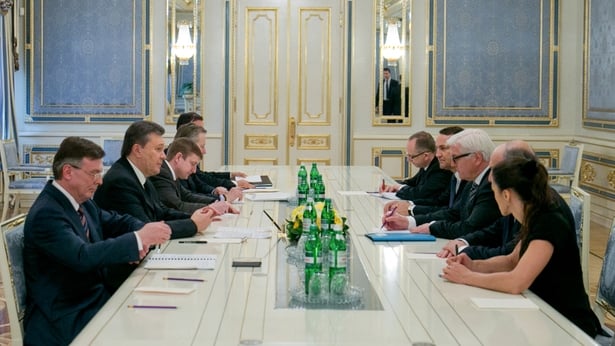 Earlier, Ukraine's acting interior minister said the police force has been armed with combat weapons.
"I signed an order and police have been given combat weapons, which will be used in accordance with the law," Vitaly Zakharschenko said in a statement published on the ministry website.
Police have confirmed that they have used firearms in "legitimate self-defence".
The Interior Ministry said anti-government protesters are holding 67 policemen hostage.
A further three policemen were unaccounted for.
In a statement on its website, the ministry said: "To free the hostages police have the right to use their weapons."
Three policemen have been reported killed and 50 others injured.
Video from this morning's clashes on the edge of the Kiev square, known as the Maidan or "Euro-Maidan" by protesters, showed both sides used firearms.
Riot police fired bursts from automatic rifles on the run as they covered retreating colleagues fleeing past a nearby arts centre just off the plaza.
An opposition militant in a helmet was filmed firing from behind a tree.
Other protesters used police riot shields for cover, while some fell wounded as the protest camp became a killing zone. 
Tánaiste and Minister for Foreign Affairs Eamon Gilmore said earlier that Ireland was contemplating supporting targeted sanctions on Ukraine. Mr Gilmore said he was appalled at this week's events.
"I wish to make it clear that Ireland is ready to contemplate measures including targeted sanctions, in order to restore calm and resolve the political crisis," he said.
"There is a particular responsibility on President (Viktor) Yanukovych and his government to chart a way forward through dialogue."
He added: "I would strongly encourage him to take those steps now."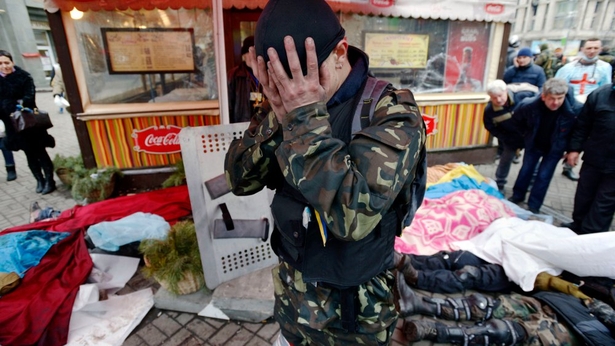 The White House has expressed outrage at images of Ukrainian police firing automatic weapons at "their own people".
Washington said the US will work with its European allies to hold accountable those responsible for the violence in Ukraine.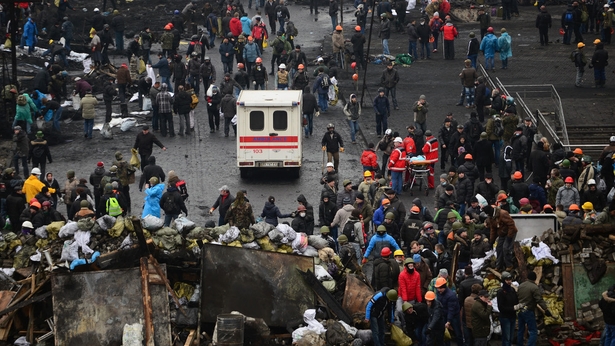 Russian President Vladimir Putin is sending a representative to Kiev at the request of President Yanukovych to act as a mediator in talks with opposition, Kremlin spokesman Dmitry Peskov said.
Mr Yanukovych called Mr Putin and "proposed that the Russian leader send to Kiev a Russian representative to participate as a mediator in the talks with opposition," Mr Peskov told Russian news agencies.
German Chancellor Angela Merkel urged President Yanukovych to accept an offer from the European Union, Germany and other partners to support talks between the Kiev government and opposition.
A spokesperson for the German leader said she outlined in a phonecall that: "Playing for time will fuel the conflict further and contains unforeseeable risks." 
Snipers seen firing into crowds of protesters
A Ukrainian presidential statement said dozens of police were wounded or killed during the opposition offensive hours, after Mr Yanukovych and opposition leaders had agreed on a truce.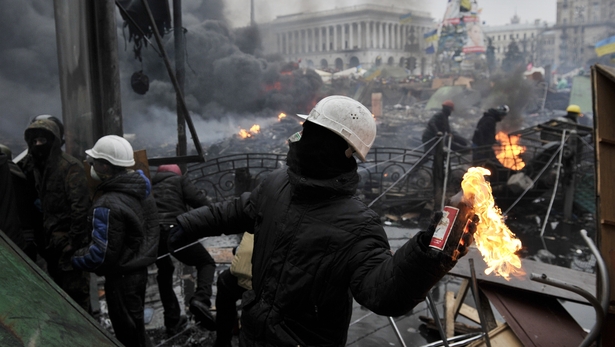 Witnesses said they saw snipers firing during the clashes.
Local media said more than 30 protesters were killed in today's flare-up. One opposition group doubled that estimate.
The protesters' medical service said it was too busy treating casualties to count the bodies.
The interior ministry's website advised citizens to avoid central Kiev because of the danger from "armed and aggressive individuals".
Schools and many shops were closed, the metro was shut down and bank machines were running out of cash.
A statement from Mr Yanukovych's office said organised gangs of protesters were using firearms, including sniper rifles.
Opposition leader Vitaly Klitschko urged politicians toc onvene in parliament and demanded that Mr Yanukovych call an immediate presidential election.
Legislators gathered in parliament, near the main square, but were a few members short of a quorum to take decisions.
Russia, which was due to release $2bn (€1.46bn) in aid to Ukraine this week, wants a strong government in Kiev, Prime Minister Dmitry Medvedev has said.
"We need partners who are in good shape and for the authorities that work in Ukraine to be legitimate and effective, so that people don't wipe their feet on the authorities like a doormat," Mr Medvedev said in televised remarks.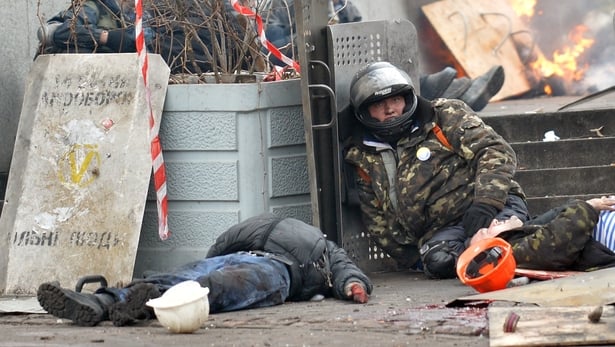 The protests began three months ago following the decision by President Yanukovych to reject a trade deal with the European Union and instead opt for closer ties with Russia.
The Obama administration placed 20 top Ukrainian officials on a visa blacklist and is also considering imposing sanctions on Ukraine.
Speaking in Mexico this morning, US President Barack Obama there should be moves towards a unity government and elections.
RTÉ's Paul Cunningham is in Kiev, where he has witnessed the violent, deadly morning first-hand. 
Read a timeline of today's deadly events 
On Twitter - RTÉ Correspondent Paul Cunningham @RTÉNewsPaulC