ESB Networks and Eircom crews are continuing to restore power and phone lines to tens of thousands of homes and businesses affected by this week's storm. 
ESB Networks has said 25,000 of its customers will be without power overnight.
35,000 faults were dealt with today.
Eircom crews have been dealing with up to 40,000 reported faults.
Up to 60,000 homes and businesses had no power overnight.
ESB Networks said efforts to restore supply will continue over the weekend.
The company said that they have 3,000 people working in the field trying to restore electricity in the south of the country.
The areas worst affected by power and phone line faults after Storm Darwin are in Co Clare, Co Co Limerick, Co Kerry, Co Cork, Co Kilkenny, Co Wexford and Co Laois.
However, some customers may not be reconnected until Tuesday or Wednesday.
A new fault last night cut electricity to all customers in the Inch and Dingle areas of west Kerry.
Electricity was restored to farms and homes on the Old Head of Kinsale at lunchtime. They had been without power for four days.
More than 260,000 customers were without power at one point on Wednesday after Storm Darwin battered large parts of the country.
The National Coordination Group met this morning to review the situation.
Met Éireann has said no new storms are forecast but sub-zero temperatures are expected tonight.
Rising water levels have caused extensive flooding around parts of south Galway.
Council staff and crews are on standby over the weekend to respond when necessary. The status of routes around the area is being monitored on a daily basis.
The Civil Defence has been mobilised and is working with council staff in evaluating the problems and providing remedies.
The army is also on standby to assist with transport for people whose homes are inaccessible due to rising water levels.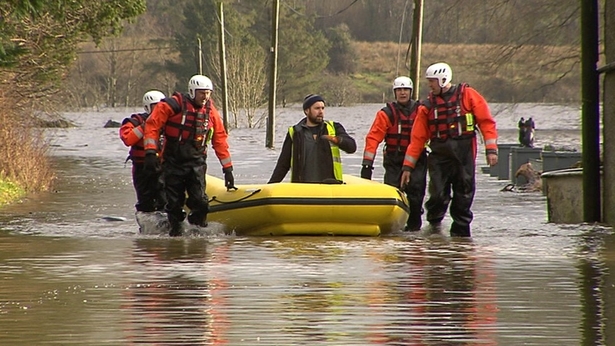 An agreed multi-agency action plan is in place should the need for widespread evacuation of properties arise.
An evacuation centre has been set up in Gort, where accommodation would be arranged and financial assistance provided.
Estimates suggest it will take weeks for flood waters to recede, as they have to drain through a network of natural underground channels.
'Grey Giant' blown down by storm
One of Ireland's oldest and tallest trees has become a victim of the storms.
The 200-year-old grey poplar on the Birr Castle Demesne, known locally as the Grey Giant, was blown down in strong winds on Thursday.
It was Ireland's entry in the European Tree of the Year contest this year and was considered to be the largest in Ireland and Britain.
Elsewhere, coastal fishermen have called for financial support from the Government and from the European Union because of the effect of the storms on their livelihoods.
Federation of Irish Fishermen Chairman Sean O'Donoghue said relentless bad weather, lasting two-and-a-half months, meant fishermen could not go out to work. 
Speaking on RTÉ's Countrywide this morning, Mr O'Donoghue said funds were available but needed to be tapped into.
He said: "There is provision under the new European Maritime and Fisheries Fund which is being finalised at the moment. 
"There is provision under that to compensate fisherman for bad or exceptional weather conditions and the beauty of that, even though it isn't actually fully agreed yet, it can be backdated to 1 January.
"It is causing extreme hardship for people in terms of paying their bills and paying their mortgages on the vessels." He said.