Up to 50,000 homes and businesses will remain without power for a third night as ESB Networks struggles to repair damage caused by Wednesday's violent storms.
Power has been restored to 200,000 customers but the ESB says problems persist in the south and west.
The company said it is working flat out to reconnect customers.
The National Co-ordination Group on Severe Weather has said the unsettled conditions will continue for the foreseeable future - but it won't be as severe as recent days. 
Chairman Sean Hogan said: "While none of today's threats are extreme they come at a time when our principal response agencies are attempting to clear up and restore services after Wednesday's storm.
"Obviously the conditions today are very difficult and will hamper those efforts and the progress those people can make today," he added.
A number of weather warnings are in place today, with flooding, strong winds, heavy rain and some snow forecast.
A nationwide status orange wind warning will be valid until 9pm.
Met Éireann warned that: "Further disruption is possible today as another Atlantic storm tracks over Ireland producing heavy precipitation and gales in places."
A status yellow wind warning has also been issued for Munster and Leinster, with gusts of 80-110km/h expected in coastal areas.
A countrywide status yellow rainfall warning is in place, with rainfall of 30-45mm predicted in the 24-hour period from 6am.
A snow ice-warning was in place earlier for Connacht and counties Cavan, Monaghan, Donegal, Kildare, Longford, Westmeath and Meath.
Snow accumulations of 3cm were expected in places.
ESB Networks says adverse weather conditions continue to hamper the restoration of electricity supplies to customers.
It says power will be restored to up to 30,000 customers by later this evening, but that an estimated 40,000 to 50,000 ESB customers will be without power tonight.
The worst-affected areas will include Arklow, Enniscorthy, Killarney, Dunmanway, Bandon, Ennis, Tralee, Limerick, Roscrea, Newcastlewest, Inch, Dingle and Tipperary.
Arklow, Bandon and Enniscorthy are expected to have power restored by tomorrow night.
Killarney and Dunmanway are expected to have power restored by Sunday night.
It said further information on the other affected areas will be published as soon as it becomes available.
Eircom said 65,000 customers are currently without a service due to the storms.
Connections were restored for about 35,000 customers in the last 24 hours.
A spokesperson for the company says it is currently focused on fixing major faults to restore power to exchanges, and to help reconnect large numbers of people.
The spokesperson said some of the more minor faults could take longer to fix.
Eircom says it may take days or even weeks for some customers to be reconnected.
Caravan blown in to the sea at Wine Strand #WestKerry pic.twitter.com/OrQAN73W3r

— Seán Mac an tSíthigh (@Buailtin) February 14, 2014
Travel disruption as roads close
In Co Donegal, up to 50 drivers were stranded for up to three hours on the Meenaroy Road between Letterkenny and Glenties due to heavy snowfall and a large truck jack-knifed on the road.
Donegal County Coucil deployed Gritters and Snow Ploughs and the road is now passable with care. The back of Errigal road between Termon and Dunlewey is now closed. 
In Castlebar, gardaí have warned motorists over road conditions after earlier heavy snow showers have turned to slush and extra surface water on roads. 
Limerick Fire and Rescue Service said it responded to over 220 weather-related emergency incidents during the past 48 hours.
The Army, Civil Defence and staff from Galway County Council are assisting residents in a number of parts of south county Galway, whose homes are threatened by flood waters.
A total of 24 roads in the area are closed due to flooding this evening. The local authority says four routes - at Skehanagh, Ballyboy, Grannagh and Caherglassaun - are impassable and members of the Defence Forces have been called in to assist homeowners in those areas.
Emergency accommodation will be provided if needed, for those who leave their homes.
Locals say it will take weeks for waters to recede, as the floods need to drain through the ground.
In recent days crews from Galway County Council have been raising roads to try and maintain access to farms and houses.
They will continue to monitor the situation over the weekend but with a break in rain forecasted, it's hoped there will be a slight improvement in the coming days. 
Authorities in Athlone say the level in the River Shannon remains high but has stabilised over recent days. 
They say based on current forecasts and the ESB model, it is predicted to rise over the next five days but to a level that will not cause flooding to the lowest-lying houses in Athlone.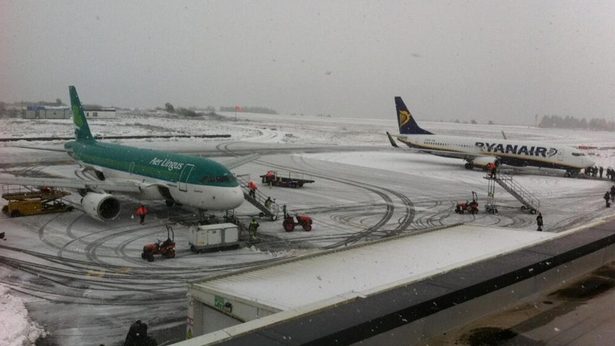 There were minor delays following snowfall at Ireland West Airport in Knock. 
Boil water notices in place
Irish Water said significant progress has been made in the restoration of supply impacted by power outages.
Of the 234 facilities affected, 176 have had power and supply restored.
In a statement issued this evening, Cork County Council said a precautionary boil water notice has been lifted in 47 areas in the county.
However, precautionary boil water notices are in place for some areas of Kerry, Cork, Limerick and south Tipperary.
In a statement Irish Water said: "Every effort is being made to rectify the situation as quickly as possible."
Clare County Council has confirmed that power has been restored to water treatment plants and reservoirs there with the exception of the Gallows Hill area of Cratloe and Cloonlaheen North in West Clare.
Tankered water is being provided to to the affected areas until such as time as supplies are restored.
Limerick house clean-up 'near completion'
Limerick City Council has said refurbishment work on 189 properties affected by floodwaters in the city on 1 February are nearing completion.
The privately owned and Local Authority owned houses in Kings Island, St Mary's Park and Corbally have been cleaned and sanitised and are currently being mechanically dried out by the Council employees.
The Council says that the majority of residents affected by the flooding have now moved back into their homes.
Meanwhile, the council says that 200 Local Authority owned houses in Limerick City and 100 houses in the County suffered infrastructural damage during Wednesday's storm, and emergency repair work is ongoing. 
Gallery: Storm Scenes
Send your weather images to yourphotos@rte.ie or via Twitter @rtenews