ESB Networks has said 187,000 customers are without power due to storm damage caused by winds of up to 160km/h.
Power has been restored to over 70,000 customers, but the ESB has warned that the majority of those still without power will not have it restored overnight.
Managing Director of ESB Networks Jerry O'Sullivan said: "We are dealing with a situation that is as bad if not worse than anything that we have seen in the past decade."
He said today's damage was of a different magnitude to disruption experienced in December, and that it will take longer to repair.
Gusts of 160km/h were recorded at Shannon Airport and Waterford Airport recorded winds of 150km/h.
Conditions are expected to improved tomorrow, although wind gusts of up to 109km/h are forecast overnight.
A major emergency plan, which was activated in Co Kilkenny due to damage caused by high winds, has been stood down.
Gardaí and county council officials have advised people to stay indoors and avoid any unnecessary travel.
Kerry County Council is urging people to stay inside, with reports of damaged tress, tiles and debris.
The storm brought high seas and damaging winds, especially in exposed coastal areas.
Eircom said 11,000 faults have been reported on its network as a result of the recent bad weather.
AA Roadwatch has said a number of roads have been blocked in the south and southeast by fallen trees, telephone poles and other debris.
Gardaí have appealed to motorists not to make unnecessary journeys as the storm tracks north and eastwards.
Emergency plan enacted in Limerick
A major emergency plan was enacted in Limerick as a result of the storm damage in the city and county, with many roads affected by fallen trees and debris.
The University of Limerick was on lockdown for several hours because of the weather conditions and students were advised to stay indoors.
All evening classes and lectures were cancelled.
The roof of Limerick Boat club along Sarsfield bridge blew off as a result of the wind.
Part of a building on nearby Sarsfield Street also collapsed, forcing the closure of Sarsfield bridge.
University Hospital Limerick is attempting to clear as many beds as possible to cope with an increased demand for services.
Elective surgery has been cancelled for tomorrow.
Falling trees create treacherous conditions
The driver of a transit van in Dublin had a lucky escape after a tree fell on his vehicle on the Clonshaugh Road.
The man was cut from the van and taken to Beaumont Hospital with minor injuries.
The road was closed for a time, but has now reopened.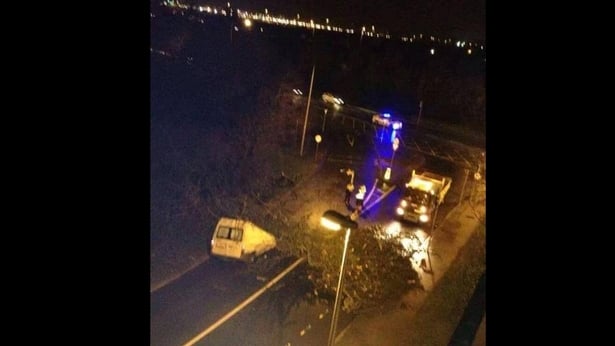 A family also escaped injury after a tree fell on their car on the Block Road in Portlaoise, Co Laois.
Two women and three children, one aged 14 weeks, were in the car when the incident occurred at around 4.30pm.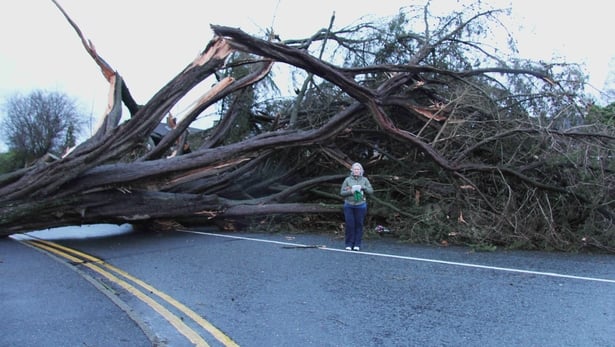 In Co Galway four fishermen were rescued by an RNLI crew in Clifden after getting into difficulty in the stormy conditions.
Video footage released by the RNLI shows the lifeboat team braving violent seas to reach the men, who were safely brought to shore.
Residents of penthouse properties in a Dublin apartment complex have been evacuated following serious damage to the roof of the building.
Around a third of the roof at the Waterways apartments in Ashtown was blown off in the wind.
A handful of residents have left their apartments. Gardaí have advised remaining occupants to stay inside until the bad weather subsides.
The Ashtown road is closed and motorists should use the River Road. 
Service is disrupted at a large number of Post Offices across Kerry, Limerick and Clare due to power outages.
An Post is warning that services across the country may be affected if the bad weather persists.
Cork Airport suspended operations for safety reasons while Shannon Airport has reopened following its closure earlier.
Dublin Airport is advising that it remains open but passengers are advised to keep in contact with their airlines as the weather situation changes.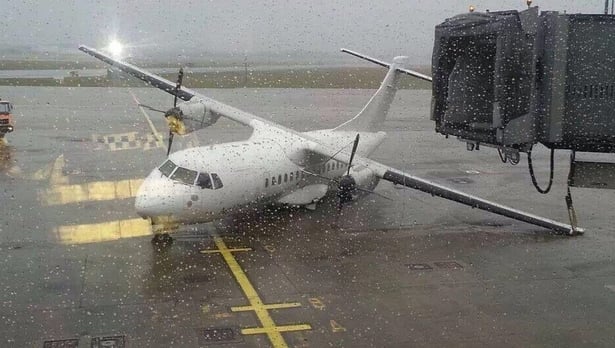 An empty Aer Arann regional aircraft, tipped over on its wing at Shannon (@comeraghphoto).
Iarnród Éireann said bus transfers will operate between Mallow and Tralee and Limerick and Athenry on Thursday morning.
Line maintenance crews will work through the night to remove debris and falling trees and maintenance trains will inspect all routes from 4am.
City and Expressway bus services in Galway have resumed after being suspended due to high winds.
The Westside Library in the city was evacuated after a number of windows at roof level were blown in.
The library has a number of large glass panes and there were fears more could be damaged in the strong winds.
Residents of the Killarney Nursing Home in Co Kerry were evacuated after the building was badly damaged.
It is understood that part of the roof of a neighbouring building was blown off and struck the nursing home on the Rock Road damaging a number of rooms.
Residents are being accommodated at a number of different locations in the town.
A section of the roof of a new, €7m swimming pool in New Ross was also blown off in the high winds.
Gallery: Weather Watch
Send your weather images to yourphotos@rte.ie or via Twitter @rtenews
Satellite image of the #ukstorm taken at 2pm today. Warnings information at http://t.co/PQe7z2ueZK pic.twitter.com/IK8diXCNfm

— Met Office (@metoffice) February 12, 2014
What has been described as a mini tornado has caused extensive damage to houses, cars, trees and some telephone poles in Roscommon town and the village of Athleague.
Fallen trees and debris have led to a number of roads being closed around the country as local authorities work to clear as many routes as possible.
The worst affected areas are Cork, Kerry, Limerick, Tipperary, Kilkenny, Kildare and Wicklow.
Trees have been cleared on the N71 Skibbereen to Cork road, but there are a number of fallen trees blocking the road between Bandon and Ballinhassig.
The Lee Road is impassable due to flooding and excess surface water has been reported on several roads in and around Cork city.
There are reports of debris, including shed roofs, in a number of areas on the Dingle Pensinsula.
Several roads in Limerick, Tipperary and Waterford are blocked or partially blocked due to fallen trees.
In Co Laois, the Monasterevin to Portarlington Road, the Block Road in Portlaoise and Ridge Road are all closed because of fallen trees and ESB lines.
In Co Wicklow, the Wicklow Gap and Sally Gap should be avoided due to blizzard like conditions and the Thornhill Road in Bray will be closed overnight because of a fallen tree.