British Prime Minister David Cameron insisted his government was in for the "long haul" to ensure the UK recovers from devastating weather.
He warned of the flood crisis: "Things may well get worse before they get better."
Mr Cameron said it was "going to take time before we get things back to normal" but said ministers would do everything possible.
"It is a huge challenge and we have had the wettest start to a year for 250 years, some of the most extreme weather we have seen in our country in decades," Mr Cameron said, as he saw for himself the damage to a railway line at Dawlish in Devon.
"We are in for the long haul but the Government will do everything it can to coordinate the nation's resources.
"If money needs to be spent, it will be spent; if resources are required we will provide them; if the military can help, they will be there.
"We must do everything but it will take time to put these things right."
Mr Cameron met Network Rail managers and engineering staff and was taken along the track to see for himself the damage caused by the waves.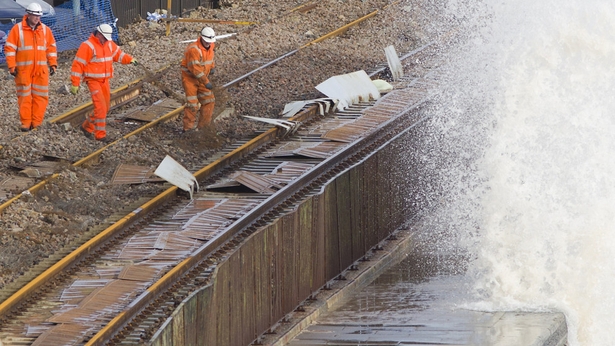 The stretch of railway, which connects Cornwall to the rest of the country, fell into the sea at Dawlish last week.
An 80-yard stretch of the sea wall was destroyed by high tides and stormy seas, leaving the county cut off by rail.
Around 30 residents from Dawlish had to be evacuated from their homes overnight during the incident.
Engineering work to repair the damage is expected to take at least six weeks, with passengers offered more flights and coach services as alternatives.
Labour leader Ed Miliband said flood defences should be made a higher priority for Government, even if it costs more money.
He urged ministers to stop "finger-pointing" and focus on getting assistance to communities affected by floods.