Hundreds of homes along the River Thames in London have been told to prepare for "significant flooding", as the number of severe flood warnings in the south of England swelled to 16.
Forecasters say there is little chance of the storms easing until at least next week.
UK Communities Secretary Eric Pickles told MPs there was a high risk that the Thames, the Severn and the Wye would all break their banks as water levels rise.
Efforts to deal with the flooding have been overshadowed by a bitter clash between ministers and the Environmental Agency, after Mr Pickles issued a barbed apology for relying on its advice.
Environment Secretary Owen Paterson - who was leading the response until being forced to undergo an eye operation - is said to have complained to Downing Street over his Tory colleague's intervention.
Both ministers have played down the apparent rift, insisting they are "working closely" to respond to the crisis.
But furious EA chairman Lord Smith used a round of broadcast interviews to hit back, saying his staff know "100 times more" than any politician about flooding.
He also squarely blamed Treasury funding rules for the failure to dredge rivers.
Attempting to take the heat out of the spat Prime Minister David Cameron said: "I am only interested in one thing, and that is making sure that everything government can do is being done, and will go on being done to help people through this difficult time.
"This is a time for everyone to get on with the jobs that they have. This is not the time to change personnel here. This is the time to get on, do everything we can. I back the EA, I back the work they are doing.
"Everyone's got to get on with the jobs they are doing."
Number 10 rejected suggestions that the cabinet was at war, with the Prime Minister's spokesman saying: "I don't think there is a difference between Eric Pickles and Owen Paterson on this."
He denied that there had been a lack of urgency in the government's response during the early stages of the flooding, when the emergency Cobra committee was sometimes chaired by a junior environment minister.
Labour leader Ed Miliband said: "It is a disgrace that you have government ministers today pointing the finger at each other when they should be rolling their sleeves up and helping those who are affected.
"The government needs to explain why their response to the flooding has been so slow to help the victims and why their planning has been so inadequate.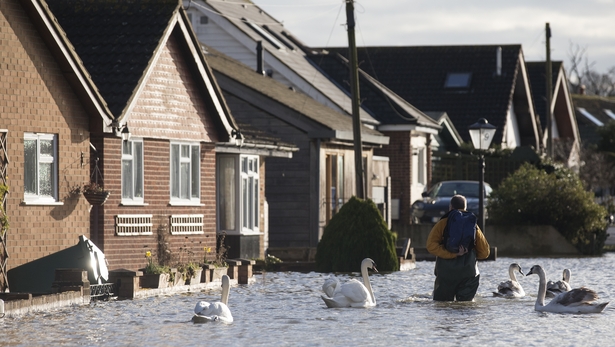 Of the severe flood warnings, 14 relate to a lengthy stretch of the Thames through Oxfordshire and Surrey, and two remain in place in crisis-hit Somerset Levels.
The Environment Agency said the Thames warnings stretched "from Datchet to Shepperton Green, including Ham Court and Chertsey, as river levels in the area are extremely high and are forecast to continue to rise".
The Thames Valley is due to bear the brunt of the storms this week, with the agency and emergency services working around the clock to minimise the damage.
The Met Office said strong winds forecast for the middle of the week could add to the problems facing the country.
Some 20-40mm of rain is expected by Friday night across many southern and western areas.
But some regions, including the already flood-hit south west of England, south Wales, western Scotland and Northern Ireland could have up to 70mm.
The EA's Pete Fox added: "The very latest figures suggest we have seen around 800 to 900 properties flooded since the end of last week.
"We are still looking and focusing our attention on the Thames. We urge people to look very carefully at the Environment Agency website and make sure they are signed up for free flood warnings.
"You might expect to see some hundreds of properties flooded over the course of the next two or three days."
Network Rail said disruption to lines and infrastructure could take "some months" to resolve.
Somerset County Council staff have worked alongside Royal Marines throughout the weekend to prepare a further 20,000 sandbags for use.
A Ministry of Defence spokesman said: "Military personnel, currently mostly Royal Marines, continue to provide support in Somerset in areas affected by floods as part of cross-Government and multi-agency relief efforts.
"As the Prime Minister has said, all available resources are being brought to bear to help those still struggling as a result of the floods."
The Ministry of Defence has put 1,600 personnel on six hours' notice to help in the south.
Surrey Police and Thames Valley Police have issued safety advice to residents in their area expected to be affected by flooding.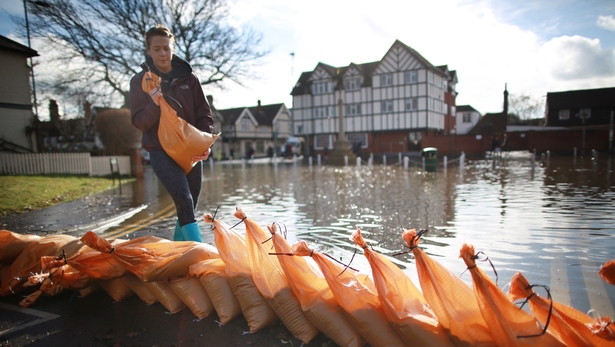 A spokesman for Surrey Police said up to 2,500 homes are at risk of flooding and added that military assistance is being provided.
Prime Minister David Cameron, speaking after chairing a meeting of the government's Cobra emergency committee yesterday, said he had "made clear again that every resource is available to the local communities affected".