The trial of the former chairman of Anglo Irish Bank and two former Anglo executives has continued for a third day at the Dublin Circuit Criminal Court.
Seán FitzPatrick, 65, from Greystones in Co Wicklow, 51-year-old Patrick Whelan of Malahide in Dublin and 63-year-old William McAteer of Rathgar in Dublin have pleaded not guilty to the charges.
The three men are charged with providing unlawful financial assistance to 16 people to buy shares in the bank.
Mr Whelan has also denied seven charges of being privy to the fraudulent alteration of a loan facility letter.
The former CEO of the Quinn group continued to be cross-examined by counsel for Mr Whelan this morning.
Liam McCaffrey told Senior Counsel Brendan Grehan he had some concerns about the investment product, known as Contracts For Difference (CFDs), which were used by Seán Quinn Snr to build up a large stake in Anglo Irish Bank.
He agreed that hundreds of millions were paid from Quinn companies to meet margin calls, which was money Mr Quinn was obliged to pay to brokers when the Anglo share price dropped.
CFDs are an investment product that involves betting on the performance of shares.
However, Mr McCaffrey would not agree that Mr Quinn was "gambling on Anglo shares".
He said he would not use that term but would say he was "dealing in highly leveraged derivatives".
The court also heard that Mr Quinn had sincerely apologised at a meeting with the Financial Regulator amid concerns about Quinn Insurance and said anything he told the regulator from now on about Quinn Insurance Life would be 100% true and that money would be restored to QIL immediately.
Mr McCaffrey agreed that the Financial Regulator had agreed to keep matters confidential.
The court also heard that at a second meeting with the Financial Regulator towards the end of February 2008, Mr Quinn admitted that he "needed to be reined in" and that he "had been greedy in terms of his involvement with CFDs".
Mr Quinn had expressed deep regret about the situation, but said it would not be in anyone's interest to sell off the shares quickly.
Mr Grehan asked Mr McCaffrey if he agreed that if Anglo had been brought down then other banks would have suffered.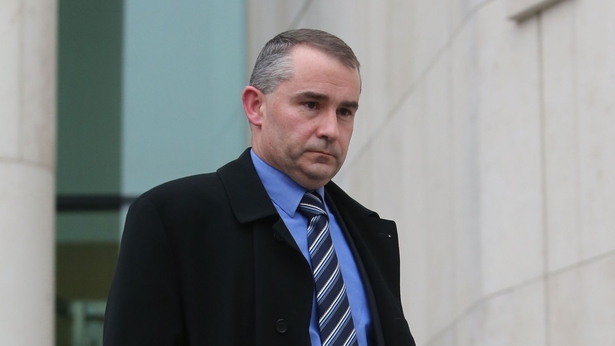 Mr McCaffrey said all banks were in trouble around the time.
He agreed he had said in a statement that there were no issues raised about the legality of the loans.
He said he was told by Anglo that legal advice was taken from Matheson Ormsby Prentice solicitors and that Morgan Stanley, which was executing the transaction, were experts in the area and would have raised any issues with the legality.
He said he was also aware that the Financial Regulator was aware of the transaction and raised no concerns about it.
He said he was of the view the regulator "was positive" about the plan.
He said he had no concerns about the legality of the transaction and following the execution of it the Quinn group issued a press release on 15 July 2008, which was run past Morgan Stanley and the regulator.
The press release said the Quinn family viewed their purchase of 15% of the shares in Anglo as a long-term investment and that Mr Quinn had been "highly impressed" with Anglo's performance.
The press release was followed by generally positive press coverage, according to Mr Grehan.
Mr McCaffrey agreed with Mr Grehan that in reality however the Quinns had no choice in the matter.
Mr McCaffrey also agreed that Mr Quinn lost at least €2.4bn through his investment in CFDs.
He said he paid a very high price for his investment.
Mr Grehan asked if he would agree Mr Quinn lost €2.4bn on "this spectacular punt" or "investment, if you could call it that". Mr McCaffrey replied "at least that".
Earlier, he said the transaction issuing loans to the Quinn family to buy up Anglo shares was carried out with a degree of panic that would not have been normal compared to when it was first discussed in March.
There were no face-to-face meetings, he said.
He agreed that Mr Quinn was not happy with the agreement and later wrote to former Anglo chief executive David Drumm to complain about how they had been treated.
Mr Quinn had been expected to give evidence today, but will not now start his evidence until Monday.