Householders in areas of Limerick have been warned about the dangers of contamination from flooding.
The Health Service Executive said anything that came into contact with flood waters should be disposed of.
It has contacted people whose homes were flooded, giving them advice on the steps that need to be taken.
Information leaflets are being distributed to affected areas and notices are being placed in local papers.
A huge clean-up operation is continuing in Limerick, five days after the River Shannon overflowed its banks, causing millions of euro worth of damage.
On Island View Terrace, ground floors were being stripped bare, to safeguard against contamination.
As homes were emptied, some residents started to burn furnishings in an attempt to dry out their homes.
Locals have called for assurances from Government that they will receive the assistance they need in the coming days and weeks.
Clean-up operations are also under way in Cork city and in other parts of the country after households and businesses were flooded again last night.
Met Éireann is forecasting further gales and a rainfall warning remains in place for southern counties.
ESB crews were working to restore power to about 1,000 homes and businesses this evening. ESB Networks said about 150 households might be without a supply overnight, but these should be restored by early tomorrow.
Eircom said it had about 10,000 faults on its network.
It said the areas worst-affected include Cork, Galway, Kerry, Limerick, Mayo, Tipperary and Wexford.
The River Lee overflowed its banks in Cork city last night.
There was also flooding throughout the county in areas including Bandon, Clonakilty, Cobh and Youghal.
Coastal communities in the south and east, and those living near swollen rivers, were today assessing the damage caused by severe storms.
Flooding was also reported in Kilkenny, Waterford and Arklow.
A motorist had a lucky escape at Garristown in Dublin after a tree fell on his car.
The man had to be cut from the car by the emergency services but he was not injured.
Call for more short-term efforts to prevent flooding
Traders and homeowners in Cork city and county say more has to be done in the short-term to ease flooding fears.
Cork Lord Mayor Catherine Clancy said a lot of damage had been caused but the city council issued 1,800 gel bags yesterday to prevent water getting into premises.
However, she said some properties hit last night were still in the process of drying out from flooding on Monday.
Speaking on RTÉ's Morning Ireland, Ms Clancy said plans for new flood defences in the city need to be expedited.
She said there was currently a projection from the Office of Public Works that draft plans for the work would be available in July 2014.
However, she said the city now needed an immediate programme, as it was at "red-alert" in relation to flooding.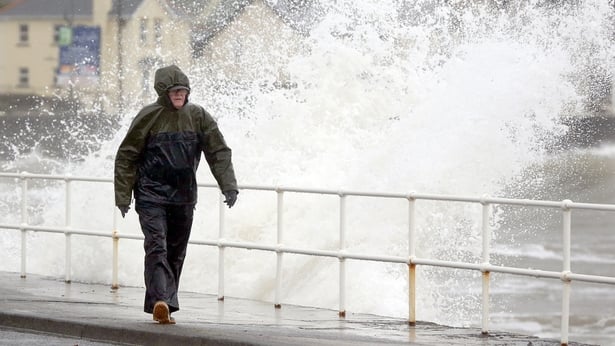 Flooding not categorised as a national emergency
A spokesperson for the National Coordinating Group on Severe Weather has said the current flooding is not being categorised as a national emergency.
Seán Hogan, National Director for Fire and Emergency Management with the group, said the situation was being managed locally and properly by the local authorities, working with gardaí and the Health Service Executive.
He said a situation became a national emergency at a stage where there was a need for additional support for the local authorities from a national level.
Mr Hogan said the co-ordination group met routinely and it was working at a national level to monitor and respond as necessary.