Several hundred businesses have been flooded in Cork city centre, while ESB Networks says 15,000 customers were without power tonight, mainly in the southwest of the country.
Flood waters covered all of Cork city's main streets tonight after the River Lee overflowed its banks.
The flooding has been described as the worst in the city since November 2009. 
Flood waters began to recede after the high tide passed.
Part of Grand Parade, Oliver Plunkett Street, the South Mall and St Patrick's Street were under up to 60cm of water an hour after high tide.
Youghal, Cobh, Bandon and Clonakilty experienced spot flooding, but locals said it was not as bad as they had feared.
ESB Networks says over 350 separate power outages were reported.
The worst-affected areas were Cork city, Fermoy, Co Cork, Clonmel and Cashel in Co Tipperary and parts of Co Wexford.
Power was earlier restored to a further 4,000 customers.
ESB Networks says crews will continue to work on faults as long as it is safe and practical to do so.
The southeast of the country escaped serious flooding tonight as winds abated slightly just as high tides happened in a number of towns and cities.
There was some flooding in the Marshmeadows area of New Ross, Co Wexford, but not as severe as yesterday morning.
Flood protection measures appear to have worked in Poleberry in Waterford city, and in coastal villages such as Dunmore East and Passage East.
Flood waters in Clonmel, Co Tipperary have receded, but the council remains on high alert.
In Wexford, water levels have not risen any more than feared and were tonight going down.
Gardaí earlier warned motorists nationwide to travel only if necessary as high winds and heavy rain led to hazardous driving conditions.
There are reports of fallen trees blocking roads around the country.
There have been no reports of injuries.
Meanwhile, a number of Irish Ferries sailings from Rosslare to Pembroke have been cancelled due to the bad weather.
The ferry due to depart tonight was cancelled, and tomorrow morning's sailing will not now go ahead.
Intending passengers are asked to check the company's website for updates.
Iarnród Éireann has said bus transfers are in operation between Waterford and Kilkenny due to flooding. Bus transfers were put in place between Limerick and Ennis.
Gardaí in the midlands reported some local flooding in many areas, but no major incidents after heavy rain and winds battered the region this evening.
Gardaí in Athlone reported flooding in the Ballymahon Road area and in the Clonown area around Golden Island.
A number of small trees have fallen in the Longford area, but no injuries have been reported.
Water levels in the River Shannon area south of Athlone are on the increase again.
They are now close to the highs first recorded three weeks ago.
Athlone Town Council has warned that if rain and wind continue into next week there will be flooding in low-lying areas of the town.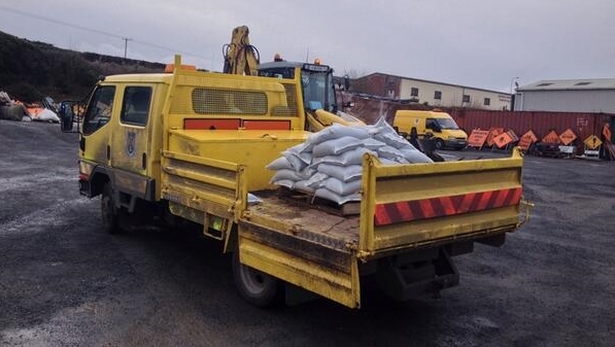 Sandbags are already in circulation in vulnerable areas such as Deerpark Road and Parnell Square in Athlone, with more being made available to householders who are worried about their property being flooded.

The council said there could be serious flooding before the weekend if heavy rain and strong winds continue.
Further weather warnings
Met Éireann has warned that another Atlantic storm depression is heading for Ireland. 
It has issued a status orange wind warning for Dublin, Louth, Wexford, Wicklow, Meath, Cork, Kerry and Waterford, with gusts of up to 115km/h forecast. 
A yellow wind warning has been issued for the rest of the country, with gusts of up to 100km/h expected and river flooding likely. 
The warnings are valid until 9am tomorrow. 
Up to 45mm of rain is forecast over a 36-hour period with heavy rain expected to spread from the southwest.
Gerald Fleming of Met Éireann said there will be no let up in the pattern of Atlantic weather systems bringing further heavy rain and high winds over the coming week.