It is estimated that the cost of flood damage in Limerick City could run into several million euro. 
A number of people were evacuated from their homes in parts of of the city after the River Shannon burst its banks at several locations.
Over 300 houses in the King John's Castle area were particularly badly affected.
No new flooding has been reported following this evening's high tide.
Limerick City and County Council continues to be on high alert but is not expecting any further deterioration of the current situation in the short term.
Clean-up operations are under way in many flood-hit areas after strong winds battered coastal regions yesterday.
Meanwhile, Met Éireann says a weather warning remains in place for counties in the south and south-east.
It had issued a status orange alert with winds of up to 70km/h forecast and gusts of up to 100km/h likely overnight.
Limerick remains at risk from further flooding at high tide until at least tomorrow.
The Dock Road and Corbally Road have both reopened after flood waters abated, but Park Road is still impassable.
Limerick County and City Manager Conn Murray said no-one in the city can recall flooding on this scale before.
He said preparations had been made and defences were shored up in those areas deemed most at risk, "but the volume of water was such that many of our defences were simply unable to cope".
Mr Murray said drinking water in the city is safe, but residents should destroy all food which has had contact with flood water and sterilise all utensils before using them.
He also urged parents not to allow their children play in flood waters.
Parts of Galway have also been badly hit with businesses in the city counting the cost of the extensive flood damage.
Worst affected areas include the promenade in Salthill - a section of which will remain closed until tomorrow.
However, high tide passed without incident this morning.
According to Galway City Council, all streets and roads are currently open , except the road down to Silver Strand. 
There were also no reports of any flood related problems in Cork city and county overnight.
ESB Networks has said around 500 customers remain without power as a result of yesterday's storms.
Most of the outages are in parts of counties Kerry, Clare and Limerick.
View: Gallery of spring storm images
The island of Inishbofin off Co Galway suffered significant damage, with locals reporting that it was the most severe storm, with highest waters, in living memory.
The North Beach was breached and a number of homes are in danger of being cut off.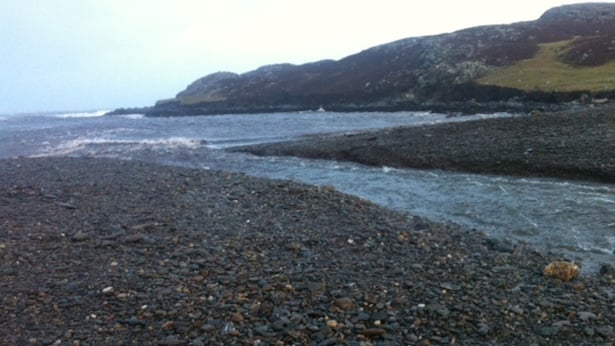 The pier and fish curing station of the village of Rusheen in the East End of the island, and its promenade wall, have been reduced to rubble.  
Met Éireann has said strong southwesterly winds in the north and northwest will ease during the day and there will be some bright or sunny spells mainly in the Munster, Connacht and west Ulster.
AA Roadwatch has warned of excess surface water on the M7 Dublin to Limerick Road from Birdhill to Roscrea and motorists should avoid the Coast Road in Killimer, Co Clare due to flooding.