Parts of the country are under water and a clean up is taking place after high tides and strong winds battered the country last night and today. 
Hundreds of people have been evacuated from their homes in Limerick city, because of severe flooding.
High tides combined with strong winds caused the River Shannon to burst its banks at several locations.
Officials say there will be a continuing high tide flood risk until at least Monday. 
Hundreds of people had to be evacuated from their homes in Island Field and St Mary's Park due to flooding.
ESB Networks have said that around 700 customers are without power as a result of the storms overnight and today.
Most of the outages are in the south west.
At least 9,000 customers were affected by the weather conditions.
High tide and storm force winds hit the west coast with extensive flooding in parts of Galway city and coastal areas this morning.
Worst affected areas include the promenade in Salthill, a section of which is closed until Monday, and the areas of Spanish Arch, Claddagh Quay and The Docks.
Emergency crews are assisting home owners and businesses in the worst affected areas.
Most roads in the city have reopened.
Galway City Council has a Flood Emergency Team in place with workers across all departments on call to provide assistance.
Floodgates and sandbags are stacked around homes and businesses in vulnerable areas.
Around 20 houses in the Kilshannig area near Castlegregory in west Kerry have been cut off after high seas washed rocks, boulders and other debris onto the only access road for the area.
Kilshannig is located at the end of Maharee Sandspit and is particularly vulnerable to coastal flooding and erosion.    
Council officials have urged people to be extremely vigilant on exposed coasts.
The main street of Cahirciveen was closed this morning after part of the roof of a Chinese Restaurant was blown off in high winds.
Islands off Galway badly hit in storms
Islands off the Galway coast have sustained more structural damage after this morning's high tides.
Resident on Inishbofin have said that the North Beach was breached and a 30-foot gouge puts homes at serious risk of isolation.  
The landmark pier and fish curing station of the village of Rusheen in the East End of the island, and its promenade wall, has been reduced to rubble.
The loss of the pier, a significant part of the bay's defences, puts the village seriously at risk. 
There are similar problems on Inis Mór, where roads have been washed away.
Island Co-op manager Cathy Ní Ghoill said damage from earlier this month had been worsened by the high tides.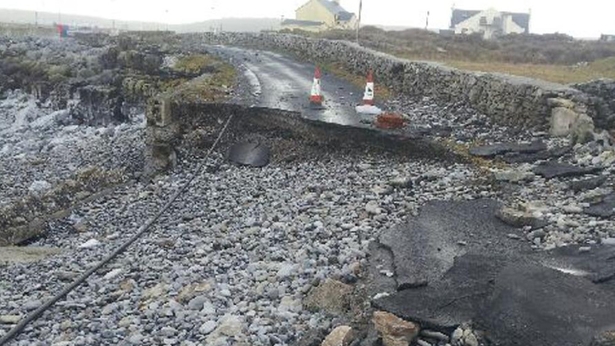 While temporary repairs were conducted on a road to the island's oil and recycling depot in recent weeks, powerful seas this morning reversed any improvements.
Ms Ní Ghoill said the cost of repair work had at least doubled after today and stressed the need for immediate action to secure exposed roads and structures. 
Parts of Tralee in Co Kerry were flooded including Princes Street, Strand Road and the area around the Brandon Hotel, but floodwaters have now abated.
Flooding has also been reported in Blennerville, Lohercannon and Ballylongford, while the road between Kenmare and Castletownbeare is impassable.
The Ladies' Beach in Ballybunion has been further stripped of sand and water has entered the building used by Ballybunion Sea and Cliff Rescue.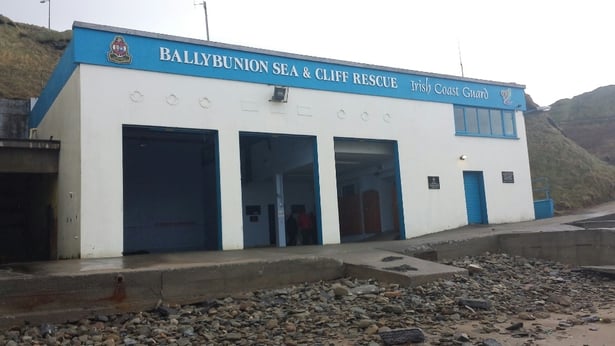 Sleepers which were used to protect the coastline from erosion at the Mens' Beach have been washed away.
In Cork city the tide has now turned and is on its way out, there has been no flooding in the city.
A tidal flood alert remains in place until Sunday
16 Aer Lingus flights scheduled for this morning have been cancelled due to high winds.
AA Roadwatch has warned of spot flooding and excess surface water on many roads and has urged drivers not to drive through water that