Clean up operations are under way across the country after stormy weather and high tides caused significant flooding.
The East Link toll bridge in Dublin was closed earlier today due to flooding but has since reopened.
The Coast Road from Main Street, Baldoyle, to Portmarnock was also flooded and impassable.
Victoria Quay and Wolfe Tone Quay in the city centre were both flooded along with the Estuary Road in Malahide.
The Strand Road in Sandymount reopened after high tide while Vico Road in Dalkey was closed because of fallen power lines.
In Co Louth, the Blackrock Road in Dundalk was impassable and Wellington Quay and North Quay in Drogheda were both flooded.
The River Shannon burst its banks at Condell Road in Limerick city and the road was closed.
There was also spot flooding in parts of Belmullet and Westport in Co Mayo and gardaí warned motorists to be aware of excess surface water on the Castlebar to Newport road.
A bridge near Rosmoney outside Westport was washed away and around 50 acres of land in the area were submerged.
High tides and strong winds caused flooding in parts of Salthill and Galway city this morning.
Click here for a gallery of images from around the country. Send your pictures to yourphotos@rte.ie or @rtenews
Galway docks and the area around the Spanish Arch were also flooded.
The waters have receded in Galway city and a clean-up operation is under way. Many streets that had been closed to traffic have now re-opened.
However, a number of businesses in the Flood Street area sustained water damage.
The pool and gym at the Leisureland complex were badly damaged and officials say the building will be closed to the public until at least Monday.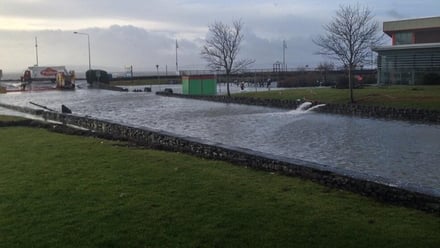 A wedding fair scheduled for Sunday at the complex has been postponed.
Cork City Council has issued a tidal flood alert for the morning tides on Saturday and Sunday.
Parts of Cork city were badly hit last night by rising waters from the River Lee and a number of homes had to be evacuated.
However, high tide passed this morning and this evening without major flooding.
There was some surface water on South Terrace, Fr Matthew Quay and Morrison's Island, but it has since receded.
A flight from Manchester to Cork Airport landed safely on its third attempt last night after the airport declared a full emergency.
The Aer Lingus Regional flight, operated by Aer Arann, touched down in the strong winds just before midnight. There were 50 people on board.
The storm also caused travel disruption with Irish Ferries, P&O Ferries and Stena Line cancelling a number of services today.
Aer Lingus said that due to adverse weather conditions affecting the northeast of the United States, in particular the Boston area, there may be disruption to flight schedules and ground transportation.
Passengers are asked to check with the companies' websites.
Serious damage in Lahinch
Extensive structural damage was caused to the promenade area of Lahinch in Co Clare and some businesses located at the town end of the promenade were flooded.
Clare County Council said the promenade will remain closed until further notice after the walkways and seawall were "seriously compromised".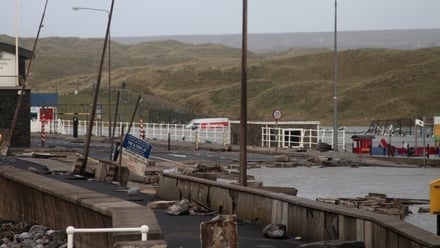 Local mobile home parks along with lands near the golf club were also flooded.
County council crews are working to clear flood water and debris on the Lahinch to Liscannor road and on the Kilrush to Kilimer road.
Mayor of Clare Joe Arkins said it was an "absolute disaster for the community" and that the local authority needed to repair the damage as quickly as possible.
ESB Networks has restored power to thousands of homes and businesses affected by the storms and high tides across the country.
RNLI operation stood down after hoax
A major rescue operation off Co Down was stood down this morning after a report that a man had entered the sea was declared a hoax.
Both Newcastle's RNLI's inshore and all-weather lifeboats were launched after the call was received that a man had got into difficulty while trying to rescue his dog.
Conditions were said to be very challenging with Force 7 winds and two metre swells.
RNLI Deputy Launching Authority Captain Joseph McClelland said the hoax call could have put people's lives at risk and "diverted necessary search and rescue assets away from other work".
Members of Kilkeel and Newcastle coastguard and two helicopters from the Irish Coast Guard and the PSNI were also on the scene.
Woman escapes from submerged car
A women had a lucky escape when she was washed into the sea at Ballylongford in Co Kerry last night.
The Limerick woman had taken a wrong turn onto a boreen leading to the sea.
When she realised her mistake, she tried to brake but the car slipped on seaweed into the sea.
As her car filled up with water, she rang her brother and he raised the alarm.
Ballybunion Sea and Cliff Rescue, the Shannon-based Irish Coast Guard helicopter and the Ballybunion Coast Guard unit responded to the alarm at 7.15pm.
The car was spotted in the sea by the helicopter and the woman was found close to the shore by members of Ballybunion Sea and Cliff Rescue.
She had climbed out of the submerged car and been washed ashore.
The woman was treated for shock and hypothermia at the scene and later taken to Kerry General Hospital.