Weather warnings are in place for high winds and flooding in Munster, Leinster, Connacht, Donegal, Monaghan and Cavan.
Met Éireann is forecasting gusts of up to 130km/h across the country and cautioning that higher than normal tides will combine to put Atlantic coasts under threat of flooding.
The Status Orange weather warning is in place until 9pm tomorrow.
Met Éireann said up to 30mm of rain was expected by this afternoon.
The Road Safety Authority is advising all road users to take extra care.
Local authorities in coastal counties are on alert to deal with weather-related incidents.
High tide passed without incident in Galway this evening.
However, the city council has issued an updated advisory in expectation of flooding in parts of Galway and Salthill early tomorrow morning.
A storm surge is also expected to impact on the Wellpark and Ballyloughane areas on the east side of the city.
Tonight, sandbags are being put in place as home and business owners are urged to take precautions.
Parts of the promenade in Salthill have already been closed in anticipation of excess water tomorrow and other roads will be closed as the need arises.
Elsewhere, there was some flooding in Cork city centre at high tide this evening, which occurred at 5.44pm, but it receded a short time later.
Affected areas included Father Mathew Quay, Wandesford and Cotter's Quays and a section of Oliver Plunkett Street.
In Dublin, sea water crossed the promenade wall at sections along Clontarf Road during high tide.
However, it was held back by defences and has not reached the adjoining main road.
Dublin City Council workers are in place with additional sandbags and pumps.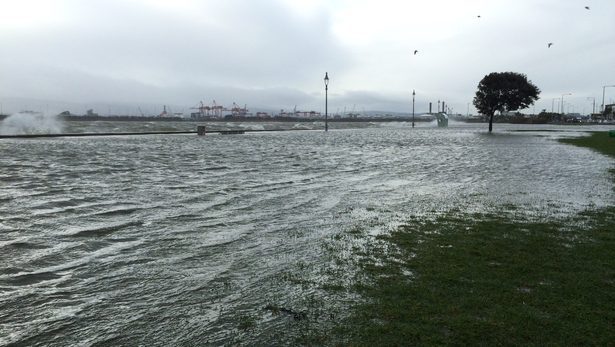 There was flooding on sections of the promenade near the wooden bridge at Dollymount.
The Coast Guard has strongly advised the public not to go out on exposed coasts, cliffs, piers, harbour walls, beaches, promenades or any other coastal areas during the inclement weather.
It said huge waves can be whipped up by high seas, posing hazards to anyone close to the shoreline.
Irish Coast Guard Manager Declan Geoghegan said: "Extreme care should be taken in exposed areas especially cliffs, promenades, slipways and all beach areas also photography in these weather conditions has become popular and people should not put themselves at risk for such activities or indeed any water related leisure activities."