The first president of independent Ukraine, Leonid Kravchuk, opened a debate in parliament by warning politicians that the country is on the brink of civil war.
Mr Kravchuk said: "The situation is, frankly, very dramatic. All the world acknowledges and Ukraine acknowledges that the state is on the brink of civil war.
"There are parallel authorities in the country and there is a de-facto uprising.
"When the power is taken over, which is a real fact, when the power is falling down and the constitutional authorities refuse to honour their responsibilities it becomes clear that this is the fall of the power. This is simply a revolution."
Ukraine has been gripped by mass unrest since President Viktor Yanukovych walked away from a trade deal with the EU last November.
Prime Minister Mykola Azarov resigned yesterday in an attempt to appease the protesters and the opposition.
His deputy has taken over as acting prime minister, but it is unclear when a new government will be formed.
Though the unrest began because of Mr Yanukovych's U-turn on policy towards Europe, it has since turned into a mass demonstration.
The demonstrations have been punctuated by violent clashes between radical protesters and police.
Several hundred people camp round-the-clock on Kiev's Independence Square and along an adjoining thoroughfare, while more radical activists confront police lines at Dynamo football stadium less than half a kilometre away.
Anti-Yanukovych activists have also stormed into municipal buildings in many other cities across the country of 46 million.
Hundreds of protesters in Kiev have occupied City Hall and the main agricultural ministry building.
The Ukrainian parliament has tonight adopted a law that would grant an amnesty to protesters arrested during the crisis, but the opposition refused to vote.
The majority Regions Party backed the law, with 232 deputies voting for and 11 against, after a rare closed-door meeting with President Yanukovych.
However, the opposition did not vote, as they were unhappy that the law requires that protesters vacate buildings they have occupied in Kiev before it takes effect.
A total of 173 MPs present in the parliament did not vote.
Meanwhile, Russian President Vladimir Putin has said Russia will wait until a new government was formed in Ukraine before it considers releasing the remainder of a crucial €10.9bn bailout package.

Yesterday, Mr Putin had promised after talks with senior European Union officials that Russia "will not" review the loan agreement, regardless of whether Ukraine's opposition comes to power.
Ukraine's interim prime minister said he expected Russia to disburse a further €1.46bn of aid "very soon".
Serhiy Arbuzov pledged to work to limit damage to the economy from more than two months of turmoil.
NATO Secretary General Anders Fogh Rasmussen criticised Russia for pressuring Ukraine not to sign the free-trade pact with the EU.
"An association pact with Ukraine would have been a major boost to Euro-Atlantic security, I truly regret that it could not be done," Mr Rasmussen told le Figaro daily.
"The reason is well-known: pressure that Russia exerts on Kiev."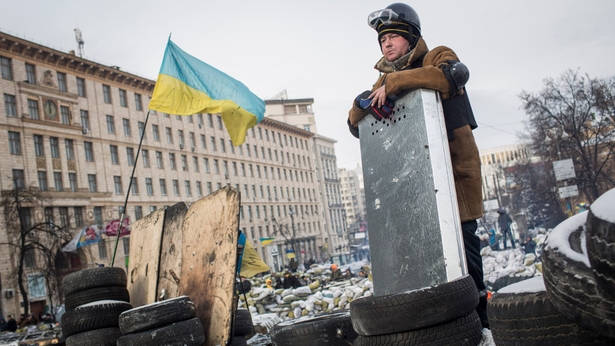 Mr Rasmussen also condemned police violence against the protesters and pressed Ukraine's leaders to assert their independence, urging closer ties with NATO and the EU.
Noting that cooperation between NATO and Russia had improved in some areas, he criticised Russia's role in eastern Europe.
"We have real differences and real issues," he said.
"It's obvious that Russia's attitude is clearly hostile to the (NATO) alliance opening to the east."
European Union Foreign Policy Chief Catherine Ashton has said that Ukrainians need to find a political solution.
She was speaking after meeting President Yanukovych and the political opposition in Kiev.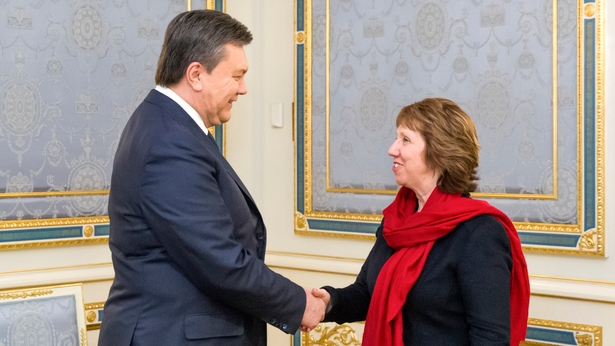 "The dialogue that has happened from time to time needs to become a real dialogue," Ms Ashton said.
"It seems to me that from looking, perhaps, from the outside, from the information we have, there is a real opportunity that must be grabbed right now to get a serious dialogue going between different parties, people, in order to try and address the concerns that people genuinely have about the future of the country and to bring people together,
"There is no question that the importance of finding a quick and, of course, peaceful way forward is on everyone's mind.
"I think, of course, for some people there is a great concern about the fear that they have of violence or intimidation and that's been a big factor in the discussions."