Ukrainian Prime Minister Mykola Azarov has resigned while politicians loyal to President Viktor Yanukovych overturned anti-protest laws they rammed through parliament 12 days ago.
The first real concessions by Mr Yanukovych since the crisis erupted two months ago brought cheers from several thousand demonstrators on Kiev's Independence Square.
But opposition leaders said they would continue to harness street power to wring even more gains from Mr Yanukovych.
"We have to change not only the government, but the rules of the game as well," declared boxer-turned-politician Vitaly Klitschko.
"We are sure the struggle will continue," he said.
The 66-year-old Mr Azarov tendered his resignation as parliament met for an emergency session to work out a deal it is hoped will satisfy the opposition.
It is also hoped the deal will end protests in the capital Kiev and in other cities in which six people have been killed.
Mr Yanukovych quickly accepted his resignation and that of his cabinet.
Mr Azarov's spokesman said first deputy prime minister, Serhiy Arbuzov, a former central bank chief, would step in as acting prime minister.
Other ministers will stay on in an acting role until a new cabinet had been formed.
Mr Azarov, a loyal lieutenant of Mr Yanukovych since the latter was elected to power in February 2010, said he was stepping down to help find a political compromise "for the sake of a peaceful settlement of the conflict".
But in reality he has been publicly humiliated by Mr Yanukovych's offer at the weekend to give his job to former economy minister Arseny Yatsenyuk, another opposition leader, in an effort to stem the rising protests against his rule.
The opposition has been calling consistently for the resignation of the Azarov government since the crisis started.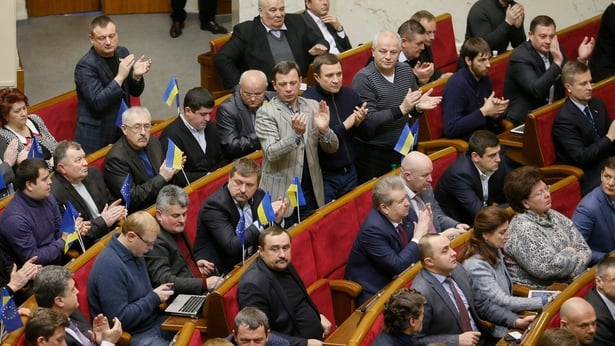 Parliament went into emergency session today with ministers loyal to Mr Yanukovych saying they would press for a state of emergency to be declared if the opposition leaders did not rein in protesters and end occupation of municipal and government buildings across the country.
But then Yanukovych loyalists, clearly under pressure from the president and his aides to make a U-turn, voted to repeal anti-protest legislation they had rammed through on 16 January.
It was these laws, which banned virtually all form of public protest, that sparked a violent turn on the street leading to open clashes between radical activists and police in which six people were killed.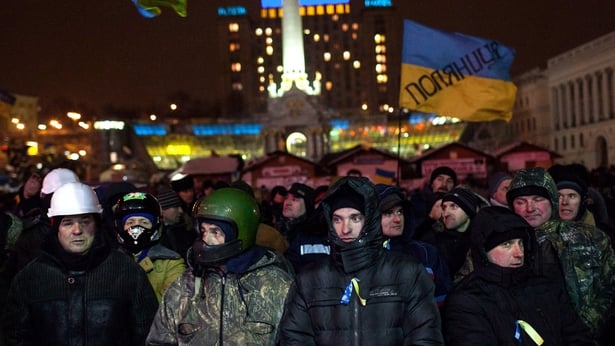 Opposition leaders sought to keep up the pressure on Mr Yanukovych, with Mr Yatsenyuk calling on him to swiftly sign the repeal of the laws into force.
Mr Klitschko said opposition politicians would now press for an amnesty for detained activists and a return to the 2004 constitution, which would greatly reduce the present powers of the president.
Russian President Vladimir Putin, whose government has extended a €11bn aid package of credits and cheaper gas to Ukraine, said his government would abide by its commitments to Ukraine, irrespective of whoever was in government.