Ukrainian President Viktor Yanukovych has requested an extraordinary session of parliament, saying the crisis needed "quick resolution", his office said.
Speaker Volodymyr Rybak said the parliament needed to discuss key demands of the opposition including the "resignation of the government" and controversial anti-protest laws adopted last week.
Ukraine's three leading opposition figures said tonight they were hopeful further violence in the country could be avoided after holding talks with President Yanukovych.
But they warned further consultations with their supporters were needed before they could announce that a deal had been concluded.
Opposition leader Oleh Tiahnybok told reporters: "The result of our talks still need some consultations with society.
"As soon as those consultations are complete we will inform you because these consultations will either go one way or the other."
Asked if the talks were positive Arseniy Yatseniuk said: "We had a mission to stop bloodshed and there is a pretty good chance to stop the bloodshed."
Former world heavyweight boxing champion Vitaly Klitschko said the talks were not easy.
"We have some agreement and let's see if the people accept that or not," he said.
The three then went off to address the protesters in Independence Square.
The opposition has said the president must agree to three key demands - the holding of snap presidential elections, the resignation of the government and the annulment of anti-protest laws passed last week - for a compromise to be reached.
Last night, Mr Klitschko said protesters will go "on the attack" if President Yanukovych does not offer concessions.
He said Mr Yanukovych could resolve the situation without bloodshed by calling early elections.
Protesters and police are locked in a tense stand-off at the site of deadly clashes that activists said left five dead.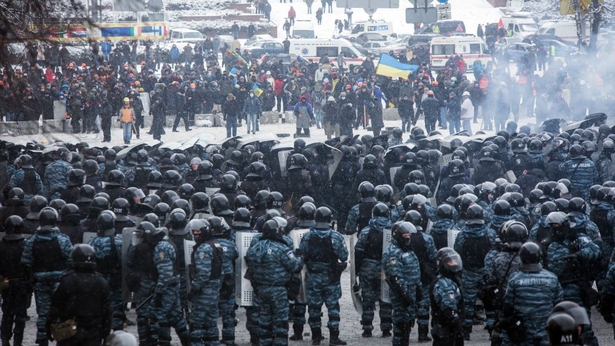 The demonstrators had overnight further fortified their barricades with sandbags filled with snow.
Biden urges peaceful resolution
US Vice President Joe Biden called Mr Yanukovych this evening to press for a peaceful resolution.
Before announcing the call, the White House put the blame for the violence squarely on government forces in Kiev, but did welcome news of talks between opposition leaders and Mr Yanukovych.
"The vice president urged President Yanukovych to take steps to end violence and to meaningfully address the legitimate concerns of peaceful protesters," the White House said.
"While emphasising that violence by any side is not acceptable, the vice president underscored that only the government of Ukraine can ensure a peaceful end to the crisis and further bloodshed would have consequences for Ukraine's relationship with the United States."
Meanwhile, Russia said it will not intervene in the anti-government protests in Ukraine and believes its leadership will find a way out.
President Vladimir Putin's spokesman Dmitry Peskov said: "We consider we do not have the right to intervene in any way in the internal affairs of our brother Ukraine.
"That's unacceptable and Russia has not done this and will not do it."
Mr Putin has yet to comment personally on the latest violent clashes in Kiev in which five activists have been killed, four of them reportedly with gunshots, and police deployed tear gas, stun grenades and rubber bullets.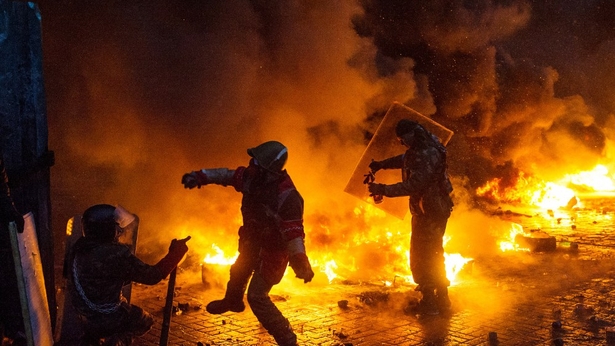 The protests broke out in November after President Yanukovych rejected a deal for closer integration with the European Union under pressure from Russia.
Mr Peskov said the Kremlin viewed events in Ukraine "with huge attention, with anxiety and sometimes with pain," but was confident President Yanukovych would resolve the situation.
Mr Peskov complained that "foreign ambassadors who work in Kiev are talking about what the Ukrainian authorities should do, from where it should withdraw its internal troops, from where it should withdraw police and so on".
"From outside they are telling them what to do. For us, this is an absolutely inconceivable situation. Of course we cannot approve this and instead it makes us feel outraged," he said.