A French magazine that printed a story about an alleged affair between President Francois Hollande and actress Julie Gayet said today it would remove the report from its website at her request.
"Julie Gayet's lawyer contacted us to request we remove from the website all mention of this relationship," Laurence Pieau, editor of Closer said.
She gave no specific reason for the order but hinted at privacy issues, adding the information would likely be taken off the site this evening.
Closer today carried a seven-page report on the 59-year-old president's alleged infidelity under the headline "Francois Hollande and Julie Gayet - the president's secret love".
The weekly tabloid's actions earned a rapid response from the president, who did not deny the claims, but said he was considering legal action.
Speaking in a personal capacity, Mr Hollande condemned the report as an "attack on the right to privacy," to which he "like every other citizen has a right".
The president, in a statement released to AFP news agency, said he was "looking into possible action, including legal action," against the weekly magazine.
Ms Pieau however said the magazine had so far had no contact with the French presidency.
Closer, echoing reports published on various websites in recent days, said Mr Hollande routinely drives through Paris on his scooter to spend the night with the 41-year-old.
"Around New Year's Day, a helmeted head of state joined the actress at her apartment, where he has got into the habit of spending the night," Closer wrote on its website.
Respected news weekly L'Express had last month reported that the presidential palace's security services were increasingly concerned by Mr Hollande's frequent "escapades".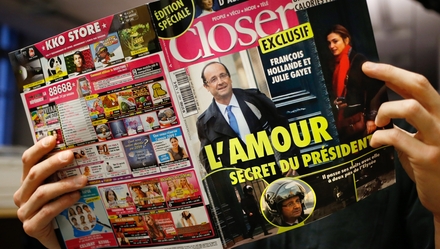 Closer said the pictures raised security concerns by showing that the head of state is accompanied by only one bodyguard when he travels halfway across Paris to Ms Gayet's flat.
The bodyguard "even brings the croissants", Closer said.
Mr Hollande lives with his partner Valerie Trierweiler, a journalist for whom he left fellow Socialist politician Segolene Royal, the mother of his four children.
Ms Gayet, who appeared in one of Mr Hollande's 2012 election commercials, filed a complaint in March over rumours of the affair, which she said were a breach of privacy.
Ms Gayet, a mother-of-two, is an established television and cinema character actress who has appeared in more than 50 films.
She had a leading part in "Quai d'Orsay", a 2013 satirical film centred on the French foreign ministry. Her filmography also includes the titles "Shall We Kiss?" and "My Best Friend".