The Government has promised to fast-track funding for clean-up operations as winter storms maintain their grip on the country. 
Thousands of homes and businesses were left without power, while the severe weather caused further structural damage.
Communities along the western seaboard endured another day of high winds and tidal surges.
A Met Éireann status yellow warning is in place for coastal counties of the south and west.
The alert means people may be significantly affected by widespread gales with gusts of up to 110km/h.
There was flooding in Cork city this morning as the River Lee burst its banks.
Cork Business Association President Ernest Cantillon said several members reported minor flooding but flood barriers proved effective.
Cork City Council's early warning text system has also proved effective.
In the county, there were reports of flooding in many areas, such as Clonakilty, Youghal and Skibbereen, but again there are no major reports of damage except the loss of several sea walls close to Tragumna outside Skibbereen.
ESB Networks has said most of the customers across the country without power today will have it restored by this evening.
However, a lightning strike in Castlebar, Co Mayo left between 30 and 40 houses without power and it is unlikely it will be restored tonight.
Flood waters have receded in Salthill in Galway after high tides and strong winds caused road closures earlier this morning.
Most of Salthill promenade is open to traffic after Galway City Council road crews cleared debris washed ashore this morning.
While there was no repeat of the flooding that hit the area on Friday, a storm surge on Galway Bay did cause flooding on several parts of the 2km road.
Galway city centre escaped the worst of the weather, with some minor flooding contained to an area around the Spanish Arch.
The council says the risk of flooding caused by high tides has now passed.
Elsewhere in Co Galway, the Clifden to Ballyconneely Road was closed for a time.
There was also some flooding on the Blacksod Road from Belmullet in Co Mayo and surface water on some routes around Westport.
Irish Ferries Swift sailings and Stena Line sailings from Rosslare to Fishguard were cancelled.
The Commissioners of Irish Lights said three of its facilities on the west coast sustained structural damage in recent days, but navigation aids from lighthouses were not affected.
Click here for more images
People are being advised not to go out on exposed coasts, cliffs, piers, harbour walls and promenades.
In Co Kerry, a caravan was ripped apart and slipway and coastal works badly damaged at Caherdaniel.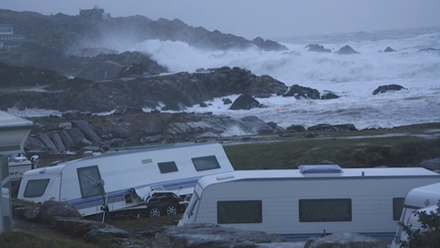 The owners of Wave Crest Caravan & Camping Park said they had never seen anything like the sea earlier today.
Up to eight privately-owned caravans on their site were damaged.
Meanwhile, there are about 11,800 Eircom customers without a service.
Elsewhere, police in Northern Ireland have issued flood warnings for parts of Belfast and the Ards peninsula.
Hayes to fast-track funds for repairs
The minister who oversees the Office of Public Works has said it is inevitable that additional money will have to be added to funds already available for local authorities to deal with storm damage.
Speaking on RTÉ's News At One, Brian Hayes said he will fast-track applications received from local authorities for restoration works and flood defences.
Mr Hayes said there is already a significant fund of €45 million available.
"We wait to see exactly the assessment that comes in from the local authorities," he said.
"It's inevitable in my view that additional funds will have to be made available given the scale of damage that has been caused.
"Irrespective of that additional money we already have funds there in 2014, which we will be extending right across the country."
Meanwhile, six families living at the end of Loop Head in Co Clare have been stranded after part of a regional road servicing the peninsula was washed away.
Local postmaster Patrick Gavin said a new island has been created at Kilcredaun by the storm.
He said the families had been almost completely stranded since last Thursday, but the storm overnight has washed away part of a second road and they were now cut off completely.
Mr Gavin said that food and fuel was proving more difficult to come by.