Officials say that all 52 passengers have been airlifted from a Russian ship trapped in Antarctica for nine days.
The passengers and crew of the Akademik Shokalskiy had spent Christmas and the New Year trapped in ice.
A helicopter from the Chinese icebreaker Snow Dragon transferred the passengers from the Akademik Shokalskiy to the Australian Antarctic supply ship, the Aurora Australis.
Chris Turney, the leader of the private expedition, said conditions had improved enough this morning to mount the rescue after days of blizzards, fog and shifting sea ice.
"We've made it to the Aurora Australis safe & sound," he said on Twitter.
The Russian ship left New Zealand on 28 November to commemorate the 100th anniversary of an Antarctic journey led by Australian explorer Douglas Mawson.
It became trapped on 24 December, 100 nautical miles east of French Antarctic station Dumont D'Urville and about 1,500 nautical miles south of Australia's southern island state of Tasmania.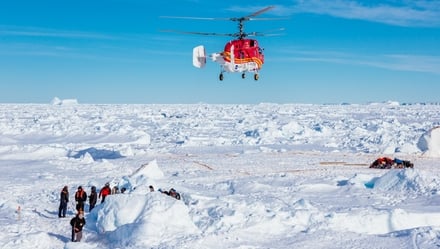 Everyone is believed to be in good condition and they were never in any great danger.
The Chinese ship got within sight of the Akademik Shokalskiy on Saturday, but turned back after failing to break through the ice, which was more than three metres thick in places.
The Aurora Australis and a French ship also tried to help but failed to reach the ship because of strong winds and heavy snow.