Severe weather has wreaked havoc in parts of Britain and France on one of the busiest travel and shopping days of the year, with hurricane-force winds and torrential rain reported.
Winds of up to 145km/h hit both sides of the Channel, killing at least three people, as heavy downpours caused rivers to flood, traffic bottlenecks, and rail, flight and ferry services to be cancelled.
Airports in the south of Britain were disrupted with some flights from Britain's busiest airport, Heathrow, cancelled or delayed.
The country's second busiest airport, Gatwick, said that one terminal had been hit by a major power outage.
British train operators also cancelled hundreds of services this morning, by which time the storm had abated, leaving hundreds of thousands of people stranded and unable to travel in and out of London.
Brittany and Normandy were among the regions worst hit in France, where 240,000 homes were deprived of electricity while in southern England, 100,000 homes were cut off from the power grid.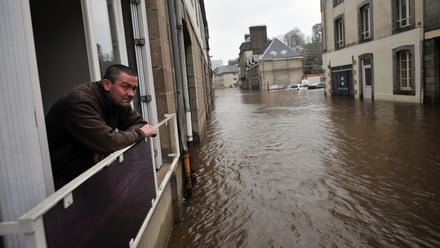 British police said a 48-year-old man drowned in the Rothay River near Ambleside, Cumbria, in northern England, after falling into the river trying to save his dog, which survived, while a woman's body was found in a river in north Wales.
In France, a teenager was killed and another seriously injured yesterday when a wall in a building site collapsed in Normandy.
Naval authorities said a Russian sailor was reported missing after being blown overboard a cargo ship off the coast of Brest.
Energy network groups in both countries said engineers were working to address the damage before the Christmas festivities start.
A spokesman for France's SNCF national rail service said there were numerous delays but that no rail lines had been put out of service by the storms so far.
Britain's Environment Agency said flooding was expected to affect much of the country with 250 flood alerts, 80 flood warnings and one severe flood warning in place.
Some towns in France's Brittany region faced severe flooding.