Government sources have insisted that the possibility of the EU's permanent bailout fund, the European Stability Mechanism, retroactively recapitalising Irish banks is still a work in progress.
In response to European Commission President José Manuel Barroso appearing to pour cold water on the idea at a summit of EU leaders in Brussels, sources stressed that the negotiating process is ongoing.
Last night, Mr Barroso said the process was "for the future" and not "retroactive".
However, the sources insist he was referring to a separate process relating to Europe's forthcoming banking union, elements of which were agreed by finance ministers this week and which also involve the ESM.
A spokesperson for Mr Barroso has told RTÉ News that he was not referring to Ireland's request for ESM support for pillar banks when he made his remarks at a news conference in Brussels.
The spokesperson insisted he was referring to elements of the forthcoming banking union, which were agreed by finance ministers this week.
Those elements deal with how bank failures will be funded in future and how decisions to wind up banks will be made.
The spokesperson said the European Commission had consistently supported Ireland during the bailout, in particular in terms of the request for lower interest rates on bailout loans, and on the extension of maturities of the loans.
The Government has been lobbying fellow eurozone countries for support from the ESM since early in the debt crisis.
In June 2012, eurozone leaders pledged to break the link between banks and sovereigns by allowing the ESM to "directly recapitalise" European banks in a way that does not place a burden on the sovereign, ie on taxpayers.
The Government has argued that the declaration of June 2012 carried an implicit promise that Ireland would be supported by the ESM, since the mechanisms currently in place in the eurozone were not available when Ireland poured taxpayers' money into Irish banks.
Sources point out that at a meeting of eurozone finance ministers on 20 June this year, a framework agreement was put in place that could facilitate the direct recapitalisation of banks by the ESM.
A maximum of €60bn out of the fund's total of €500bn could be made available for bank recapitalisation.
The framework agreement also specifically stated that "retroactive" recapitalisation could be a possibility "on a case-by-case basis", sources say.
Sources also point out that such a move could be done under Article 19 of the ESM treaty, and that therefore the ESM's charter would not have to be changed, although it would have to win the unanimous support of all 18 eurozone countries, including the approval of five eurozone parliaments.
Once technical details were worked out by eurozone officials on how the ESM might directly recapitalise banks, it would be up to eurozone finance ministers in the eurogroup to give the go ahead.
However, no direct recapitalisation can happen until the ECB's role in supervising Europe's banks begins in November 2014.
The Government would therefore have to wait until then before making a formal application for the ESM to provide a loan, or to take equity stakes in Irish pillar banks, such as Bank of Ireland, AIB and Permanent TSB.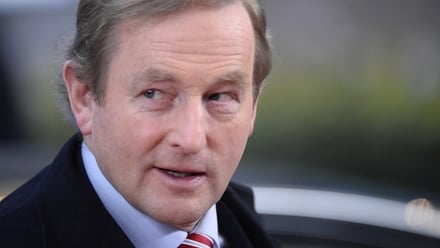 Taoiseach Enda Kenny this afternoon insisted there is "no row" between the Government and the European Commission over the retroactive recapitalisation of Irish banks.
Asked about Mr Barroso's comments, Mr Kenny said Mr Barroso told him this morning he had no difference of opinion over the issue.
The Taoiseach said the decision made by EU leaders on the possibility of the ESM assisting Irish banks remains in place.
Asked about EU sources who said the Government requested that Commissioner Olli Rehn not visit Dublin for a conference this month as Ireland exited its bailout, Mr Kenny said he did not phone him.
The Taoiseach maintained the Government wanted to ensure there was no unnecessary hype over the bailout.
ECB to supervise banks
On Wednesday, finance ministers from all 28 EU member states reached a tortuous deal on two of the key elements of the proposed banking union.
Once the ECB takes up its role as Europe's new banking supervisor, a mechanism will be in place to deal with both the winding up of failing banks and how that process should be funded.
On the funding side the burden will, from 2016-2025, initially fall on the banking sector and on national governments.
Banks will have to contribute to a fund that will be used in the event of a bank failing, and which will be divided into national "compartments".
Over the ten years, the contributions will gradually be mutualised into one overall fund of €55 billion.
Over the ten-year period, the ESM can be used to provide bridging finance with the understanding that such loans would have to be paid back.
By 2025 the fund, known as the Single Resolution Fund (SRF), will be augmented by a "common backstop".
That is taken to mean that at that point there would be a bigger, mutualised fund of European money available, although the details have been left vague.
Asked yesterday if this week's developments on banking union strengthened Ireland's position on getting a deal on debt, Mr Kenny said: "From Ireland's point of view, we have moved on significantly from where we were."
Since the June 2012 summit, senior eurozone figures, including German finance minister Wolf Schaeuble, have since cast doubt on whether the ESM could be used retroactively.
Barroso says euro was victim of Irish practices
Speaking last night, Mr Barroso also sharply criticised the idea that the euro had caused Ireland's problems.
Mr Barroso instead contended that the euro was the victim of irresponsible practices in Ireland's financial sector.
He said it would be wrong to give the impression that Europe has created a problem for Ireland and that therefore Europe now has to help.
It was the Irish banking sector that caused one of the biggest problems in the world, he said, and that responsibility at that time lay with Irish authorities.
Comments 'not open to misinterpretation'
Responding today to Mr Barroso's comments, Sinn Féin leader Gerry Adams said: "EU Commission President José Manuel Barroso now appears to be definitively ruling out retroactive recapitalisation. His words leave this Government badly exposed."
Mr Adams accused the Government of having "miserably failed to defend and promote the interests of Irish citizens".
Fianna Fáil finance spokesperson Michael McGrath described the comments as a betrayal of previous commitments that have been made by EU leaders that Ireland would be treated as a special case.
He said: "President Barroso's blunt comments about Ireland are not open to misinterpretation. He has essentially shut the door on any European Commission support for a deal on retroactive bank recapitalisation for Ireland.
"His statement flies in the face of the communiqué agreed by EU Leaders on 29 June 2012, which provided for the separation of banks and sovereigns and explicitly stated that the Irish case would be looked at individually."