Ukrainian President Viktor Yanukovych has backed a call for talks with the opposition to end weeks of protests in Kiev.
It comes as tension remains high on the streets of the capital as pro-Europe demonstrators prepare for police to break up their protest camps.
As riot police took up new positions in the capital, heavyweight boxing champion-turned-opposition politician Vitaly Klitschko called on the protesters to stand their ground.
He warned President Yanukovych that he would have blood on his hands if security forces tried to end the stand-off violently.
The president's switch in trade policy away from the European Union towards Russia on 21 November provoked the unrest.
Today, the presidential website said Mr Yanukovych supported a proposal for round-table talks involving the authorities and the opposition as a possible "platform for mutual understanding".
No date was given for when the reconciliation talks could be held.
It was not clear either what the united opposition's reaction to Mr Yanukovych's proposal would be.
But it was the first sign that the president might be ready to listen to opposition demands for the resignation of his government and early elections.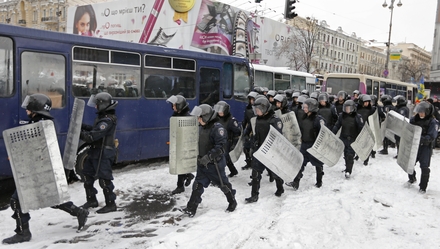 Despite his words, tension rose sharply on the streets after riot police units moved to take up their positions at potential flashpoints.
Demonstrators, responding to calls from opposition leaders, threw up new blocks in streets blanketed by snow after a heavy fall overnight to seal off their main protest camp on Kiev's Independence Square.
"The opposition must stay here and do everything to stop the police from breaking up a peaceful demonstration," Mr Klitschko told Reuters.
"We call on people to stand their ground, and peacefully, without using force or aggression, to defend their right to live in a free country," said Mr Klitschko, who is increasingly seen as a national leader-in-waiting in recent weeks.
"We are expecting the break-up by police of peaceful demonstrators. If blood is spilled during this dispersing [of protesters], this blood will be on the hands of the person who ordered it ... Yanukovych," Mr Klitschko said.
The protesters have been inflamed by a police crackdown on 30 November.
US deeply concerned about violence
US Vice President Joe Biden expressed "deep concern" about the potential for violence in Ukraine during a phone call with President Yanukovych.
The White House said Mr Biden urged dialogue with opposition leaders to calm the situation.
"He noted that violence has no place in a democratic society and is incompatible with our strategic relationship," the White House said in a statement about Mr Biden's call.
"The vice president reaffirmed the strong support of the United States for Ukraine's European aspirations and welcomed President Yanukovych's commitment to maintaining this path."
European Commissioner José Manuel Barroso, who spoke to Mr Yanukovych by phone yesterday, led western calls today for authorities not to react violently.
"Those young people in the streets of Ukraine in freezing temperatures are writing the new narrative for Europe," he said in Milan.
"I've asked him [Mr Yanukovych] to show restraint in the face of these recent developments, not to use force against people who are demonstrating peacefully, to respect fully their freedom."
EU foreign policy chief Catherine Ashton expects to meet Mr Yanukovych and opposition leaders when she visits Kiev tomorrow and Wednesday.