Ukrainian opposition leaders have told journalists in Kiev that they did not order protesters to pull down and destroy a statue of Russian communist revolutionary Vladimir Lenin.
Crowds toppled the statue in the Ukrainian capital earlier today.
They attacked it with hammers in the latest mass protests against President Viktor Yanukovych and his plans for closer ties with Russia.
The statue's felling - a symbolic rejection of Russia's power - came after opposition leaders told hundreds of thousands of demonstrators to keep up pressure on Mr Yanukovych to sack his government.
Demonstrators are furious with the Yanukovych government for its decision to ditch a landmark pact with the European Union in favour of a trade deal with Russia.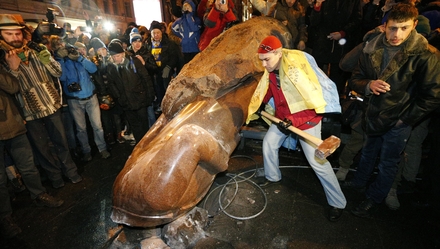 Meanwhile, Ukraine's opposition leaders have said their sources had evidence of plans by President Yanukovych to put martial law into place.
Hundreds of thousands of anti-government protesters gathered in the central Independence Square, calling for his resignation.
The imposition of martial law is alleged to be part of the deal between President Vladimir Putin and President Yanukovych as a pretext in order to get financial support and economic support and political support for Mr Yanukovych.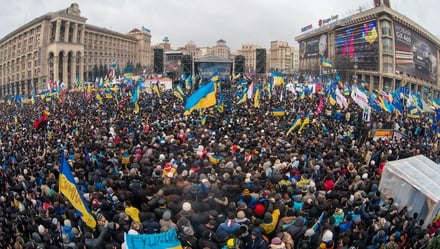 Arseniy Yatsenyuk, the head of the so-called Motherland opposition party, called on the president to allow protesters to demonstrate peacefully.
He said: "We will fight for our freedoms and we ask President Yanukovych not to make any unconstitutional steps."
The opposition accuses Mr Yanukovych, who met the Russian president last week, of preparing to take Ukraine into a Moscow-led customs union, which they see as an attempt to recreate the Soviet Union.
Both governments denied that Mr Putin and Mr Yanukovych had discussed the customs union in their talks last Friday.
They met in the Russian Black Sea resort of Sochi, but further bilateral talks are planned for 17 December.
It is widely believed the two leaders have struck a bargain whereby Ukraine obtains cheaper Russian gas and possibly credits in exchange for backing away from the EU.