Thai Prime Minister Yingluck Shinawatra has said the military was neutral in the current political crisis and she would "open every door" to pursue talks with protesters who are trying to topple her government.
In a televised address, she said police would not use force against the protesters on the streets of Bangkok.
The military staged a coup to topple her brother Thaksin Shinawatra when he was prime minister in 2006.
Protesters have taken to the streets to renew their fight to topple the prime minister, prompting riot police to fire tear gas and stun grenades for a second day outside her fortified office compound.
A hospital official in Bangkok said two protesters had been shot and wounded in the city.
The protesters had set yesterday as "Victory Day" to oust the government, but failed to achieve their goal of seizing Government House or any other state agencies in the capital.
The violence is the latest dramatic turn in a conflict pitting Bangkok's urban middle class and royalist elite against the mostly poor, rural supporters of the prime minister and her brother.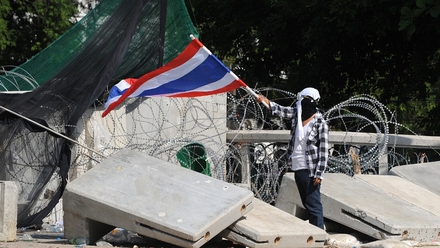 Reuters reporters saw a crowd of around 2,000 gathering near barricades erected by the authorities to stop them approaching Government House.
The demonstrators managed to dismantle some on Chaimaruchet Bridge, a main intersection, on Sunday and they were preparing to take down more.
Protest leader Suthep Thaugsuban said he met Ms Yingluck late last night, but insisted there were no negotiations to end the worst political crisis since bloody unrest in 2010.
"I told Yingluck that if police put down their weapons, we will welcome them as they are also Thai," he told supporters later.
"I told Yingluck that this will be our only meeting and we will not meet again until the people win."
The meeting, he said, was arranged by the military, a powerful institution that has publicly taken sides against Mr Thaksin-allied governments in previous political crises, but which has expressed neutrality in the current conflict.
More than 90 people were killed in 2010 when troops crushed protests by Mr Thaksin's supporters.
Financial markets hit by political turmoil
The impact of the unrest has been felt on Thai financial markets, which were weak relative to other markets in Asia, and the baht currency slid slightly against the US dollar.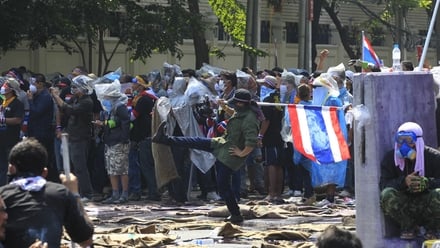 The baht has weakened 3% since early November and the benchmark stock index has fallen 5.8% in the past month.
Bank of Thailand was intervening heavily to stabilise the currency today, traders said, as it has been in the past few weeks.
The cost of insuring financial exposure to Thailand via credit default swaps has also crept up in recent weeks. But currency analysts said a lot of the current political uncertainty and risk was already priced in.
Any real capital exodus would begin only when the political situation risked becoming a debilitating factor weighing on tourism, exports and therefore the economy, they said.
Ms Yingluck, Thailand's first female prime minister, had called for talks to end the protests, which have been joined by the opposition Democrats, Thailand's oldest political party.
The Democrats have not won an election in more than two decades and have lost every national vote for the past 13 years to Mr Thaksin or his allies.
Mr Suthep, 64, was a deputy prime minister in the Democrat-led government that lost power to Ms Yingluck in a general election in 2011.
Mr Suthep has set a deadline tomorrow for Ms Yingluck, 46, to step aside and repeated his call for civil servants to go on strike today.
"Stop working for the Thaksin regime and come out and protest," he said.
It was unclear how many had stayed away from work. The government has urged people in Bangkok, a city of 10 million, to stay indoors from 10pm to 5am, and traffic appeared lighter than normal during the rush hour.
Protesters went to state television stations yesterday and got them to agree to broadcast Mr Suthep's speeches live.
Some big shopping malls in Bangkok closed as a precaution yesterday but reopened today
However, several major universities announced they would close today, citing the safety of students.
Three people died at the weekend, including a student and a "red shirt" government supporter.