Liam Adams, who was convicted on ten counts of sexually abusing his daughter, Áine Dahlstrom, has been sentenced to 16 years in prison.
Liam Adams, 58, of Bernagh Drive in west Belfast, the brother of Sinn Féin president Gerry Adams, was found guilty by a jury on 1 October after a three-week trial.
The offences, including three of rape and three of gross indecency, were carried out between March 1977 and 1983 when Ms Dahlstrom was between four and nine years old.
He had denied all the charges throughout the trial.
An earlier trial collapsed last April for legal reasons.
Judge Corinne Philpott QC handed down the sentence, which included a further two years on probation, at Belfast Crown Court.
As Ms Dahlstrom watched from the public gallery, Judge Philpott told the court that Adams had committed the "greatest breach of trust imaginable".
She said: "The evidence has established in the view of this court that he used this child for his own sexual gratification, whenever he had the opportunity when her mother was not present in the house."
Ms Dahlstrom, 40, waived her right to anonymity. She and her mother Sally gave evidence for the prosecution during the trial.
Adams has two daughters from a second marriage and they gave evidence for the defence.
The former youth worker will also be placed on the sex offenders register and will be barred from working with children.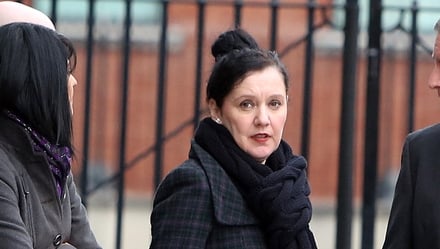 After the sentence was passed, Ms Dahlstrom, in a statement released through her solicitor, expressed her "absolute relief that this nightmare seems at last to be coming to an end".
"This has put herself and her family and friends under the most enormous strain," the statement added.
"She welcomes the jury's findings of guilt, the sentence as imposed by the learned judge and has asked us to emphasise that all she ever sought was an acknowledgement of the many wrongs done against her.
"It is still much too little, too late."
Questions asked of Republican movement
Fianna Fáil leader Micheál Martin has said the Republican movement has questions to answer about how it dealt with complaints of child abuse.
He said like the Catholic Church, the Republican movement saw the institution as more important than individual victims.
Mr Martin said he cannot elaborate on some of these cases as they are before the authorities.
He said he was making a general point that "there was an attempt made to deal with other cases of abuse internally in the Republican movement".
On the social media website Twitter Sinn Féin President Gerry Adams wrote: "FF Leader Michael Martin [sic] totally out off order. He diminishes himself, his office and the practice of politics. New low."
Mr Adams' tweet was deleted and shortly after he wrote: "Michéal [sic] Martin completely out off [sic] order. A new low."
Sinn Féin Deputy Leader Mary Lou McDonald said the remarks were "disgraceful and totally untrue".
Ms McDonald said: "There is no comparison between the approaches by Gerry Adams in this case and that of the Catholic Church in dealing with abuse allegations.
"The Church hierarchy set out to silence victims and deny them justice.
"Gerry Adams did the exact opposite. He acted in good faith to support the victim."
Responding to claims that Fianna Fáil had been notified of other cases of abuse Ms McDonald said: "The question needs to be asked of Deputy Martin as to when he received this information and has he passed it on to gardaí?"