There has been little support for proposals by Northern Ireland's Attorney General to end prosecutions for Troubles-related killings before the 1998 Good Friday Agreement.
Victims' groups and politicians have criticised the suggestions.
Taoiseach Enda Kenny and British Prime Minister David Cameron both distanced themselves from the proposals.
Any move to end criminal prosecutions would require new legislation.
Attorney General John Larkin said he believes there are "very good tools" for investigating the activities of the state but nothing comparable in relation to paramilitaries.
Mr Larkin said that the investigation of crimes from the Troubles is unfairly weighted in favour of paramilitaries.
The development came as US diplomat Richard Haass intensifies negotiations with Northern Ireland's political parties on a number of contentious issues, including how to address the past.
Mr Larkin said: "If there was going to be a prosecution, and more particularly a successful prosecution, it would in all likelihood have taken place before now."
The move would mean no prosecution of soldiers involved in Bloody Sunday or of paramilitaries involved in crimes such as the Enniskillen bombing.
There would be no investigations of alleged collusion involving the RUC and British army and no prosecutions for the Dublin-Monaghan bombings.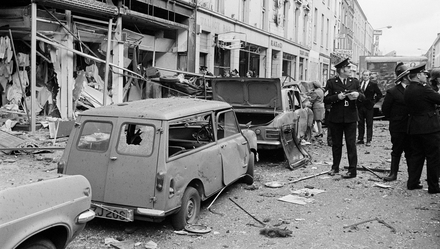 Mr Larkin said: "With the passage of time the prospects of convictions grow less and less.
"And there are three additional elements here which militate very strongly against the success of any prosecutions."
He said part of the weapons decommissioning deal was that no forensic evidence was gathered when guns were being put beyond use.
He said no forensic evidence can be gathered if information is provided that allows the recovery of the remains of The Disappeared.
Mr Larkin also said that sentencing legislation means anyone convicted of crimes carried out before the Good Friday Agreement will serve no more than two years in prison.
He added: "We have already ... built in a logic which leads to the kind of proposal that I am putting out today.
"The time has probably come to consider very seriously putting a line placed at Good Friday 1998 with respect to Troubles-related offences."
Mr Larkin said the hurt of victims is enormous and will not be assuaged by this.
But he said: "At the same time, individual families should be facilitated in their access to documents and archives that the state holds, so that they and historians and journalists who are interested in these issues can find out more than may be possible at present.
"I think that's an important part of that. I'm not in favour of any particular institution ... but that families individually be assisted through the opening up of archives and records to a possibly greater extent than is currently possible."
He said the Troubles were not confined to the jurisdiction of Northern Ireland and that the legislation that would be required would be preferable to be Westminster legislation rather than Assembly legislation as it would deal with the entirety of the UK.
If there was consensus around his suggestion, he added that there could be matching legislation in Dáil Éireann as well.
The Taoiseach said the Government will wait for recommendations by Dr Haass on Northern Ireland before a Dáil debate on any amnesty for crimes committed before 1998.
In response to a question from Sinn Féin leader Gerry Adams, Mr Kenny said debate before Dr Haass makes his conclusions may be interpreted as influencing him.
He said he would be happy to have a debate in the Dáil when the conclusions are complete.
Mr Adams said narratives needed to be laid side-by-side and recognition of the totality of those narratives was required.
Mr Cameron insisted the British government had no plans to legislate on any form of amnesty.
"The words of the Northern Ireland attorney general are very much his own words," he told MPs during Prime Minister's Question Time at Westminster.
Former police ombudsman Baroness Nuala O'Loan unreservedly condemned Mr Larkin's suggestions and called on Mr Cameron and Northern Ireland's First and Deputy First Ministers to repudiate them.
She said to abandon prosecutions, inquests or inquiries into killings that took place before the Good Friday Agreement would constitute a wholesale violation of the UK's legal obligations under domestic and international law.
However, PSNI Chief Constable Matt Baggott said: "We welcome the debate into how we deal with the past and will study carefully what the Attorney General has said." 
SDLP justice spokesperson Alban Maginness expressed concern for what he described as a "dramatic policy change" on the issue of prosecutions related to the Troubles.
Mr Maginness said such a move would amount to a blanket amnesty.
He also said Mr Larkin's intervention is ill-timed given the context of the talks with Dr Haass.
The DUP's Jeffrey Donaldson also criticised the suggestions and said Mr Larkin had acted unilaterally and had not consulted the Stormont executive about his proposals.
However, former Northern Ireland secretary of state Peter Hain described Mr Larkin's proposals as "common sense".
Mr Hain is the only politician so far who is supportive of Mr Larkin's views.
Margaret Urwin, secretary for the group Justice for the Forgotten, said Mr Larkin's suggestion is a betrayal of victims.
Ms Urwin said she could not see any merit in his suggestions and she thought it was an effort to cover up the crime of collusion.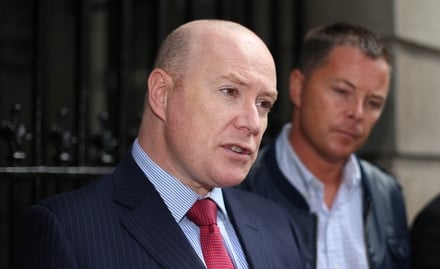 The son of murdered Portlaoise Prison Officer Brian Stack expressed his shock and dismay at the proposals, which he said were "unacceptable to victims".
Austin Stack met with former IRA leaders earlier this year and received an admission of responsibility for his father's murder.
He said the next steps in the peace process should be a "victim-centred Reconciliation Commission based on restorative justice".
Mr Stack said he was challenging the Irish and British governments and the current Haass talks to "include victims as a matter of urgency".
Michael Finucane, whose father Pat was murdered by loyalist parmilitaries with the assistance of security forces, has said the position of Mr Larkin, has been compromised quite seriously.  
Mr Finucane told RTÉ's Six One that the office of Attorney General should not be involved in political debate and that Mr Larkin had made a serious mistake.
Mr Finucane said the comments that Mr Larkin had made concerning legal issues in relation to prosecutions are correct and that prosecutions do become more difficult with the passage of time.
However, he believed Mr Larkin's suggestion that there should be a line drawn under any form of investigation or inquirey, to be quite wrong not only on a legal basis but also in terms of what might be offered to a victim's family who have been seeking answers to important questions over many years.
The RTÉ archive is currently exhibiting the major events of 1969 in Northern Ireland.