Desperation gripped Philippine islands devastated by Typhoon Haiyan as looting turned deadly and survivors panicked over shortages of food, water and medicine.
Five days after one of the strongest storms ever recorded tore through cities and towns in the central Philippines, anger and frustration boiled over as essential supplies dwindled.
Controversy also emerged over the death toll.
President Benigno Aquino said local officials had overstated the loss of life, saying it was closer to 2,000 or 2,500 than the 10,000 previously estimated.
His comments, however, drew scepticism from some aid workers.
Some areas appeared to teeter near anarchy amid widespread looting of shops and warehouses for food, water and supplies.
Eight people were crushed to death when looters raided rice stockpiles in a government warehouse in the town of Alangalang, causing a wall to collapse, local authorities said.
Other looters still managed to cart away 33,000 bags of rice.
Warehouses owned by food and drinks company Universal Robina Corp and drug company United Laboratories were ransacked in the Palo in Leyte, along with a rice mill in Jaro
Tacloban city administrator Tecson John Lim said 90% of the coastal city of 220,000 people had been destroyed, with only 20% of residents receiving aid.
Houses were now being looted because warehouses were empty, he said.
"The looting is not criminality. It is self-preservation," he said.
Some survivors in Tacloban dug up water pipes in theird esperate need for water.
Residents also complained that the aid - 3kg of rice and 1 litre of water per household a day - was not enough.
The government has been overwhelmed by the force of the typhoon, which destroyed large swathes of Leyte province where local officials have said they feared 10,000 people died, many drowning in a tsunami-like surge of seawater.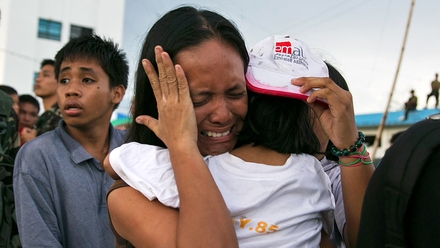 Mr Aquino, who has been on the defensive over his handling of the disaster, said the government was still gathering information from various storm-struck areas and the death toll may rise.
"Ten thousand, I think, is too much," Mr Aquino told CNN in an interview. "There was emotional drama involved with that particular estimate."
Official confirmed deaths stood at 2,275, with only 84 missing, a figure aid workers consider off the mark.
"At this time it is definitely not 10,000," Cabinet Secretary Rene Almendras told a news conference.
"There has been a body count based on the dead lying in the streets but we can't be accurate because there is still, some people say, there are people buried in certain areas."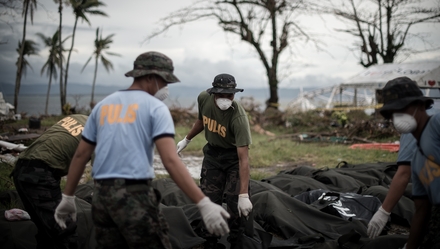 The preliminary number of missing, according to the Red Cross, is 22,000.
Google, which has set up websites to help people share and look for information about missing persons during catastrophes, currently lists some 65,500 people as missing from the typhoon.
The Person Finder website allows anyone to list a person missing and to search the database for names.
But Google staff warned against reading too much into the data, pointing out that a similar website set up after the Japanese tsunami in 2011 listed more than 600,000 names, far higher than the final death toll of nearly 20,000.
More the 670,000 people have been displaced by the storm and nearly 12% of the population directly affected, the United Nations said.
The World Health Organisation said teams from Belgium, Japan, Israel and Norway had arrived in the Philippines to se tup field hospitals.
The nuclear-powered aircraft carrier USS George Washington will arrive later this week, carrying about 5,000 sailors and more than 80 aircraft.
It has been joined by four other US Navy ships.
The US has also provided eight C-130 cargo planes ford elivering aid.
Rescuers have reached some previously cut off regions, such as Guiuan, a city of 40,000 people that was spared the storm surge that washed over Tacloban.
The typhoon also levelled Basey, a seaside town in Samar province about 10km across a bay from Tacloban. 
Foreign medical teams arrive
More than 100 tonnes of Irish emergency aid - including tents, blankets and tarpaulins - will arrive in the Philippines today. 
The airlift is valued at just over €500,000.  
The supplies are in addition to the emergency funding of €1m towards the relief effort announced by Tánaiste and Minister for Foreign Affairs and Trade Eamon Gilmore on Sunday.
Meanwhile, Minister of State Joe Costello has said the Government is co-coordinating a rapid response corps to help aid efforts in the Philippines.
Mr Costello said the personnel are ready to fly out when needed.
He said the first priority was to make emergency humanitarian supplies available for victims of the disaster and that supplies should begin to arrive from Dubai today.
They will be distributed by UN personnel who are already in the Philippines.
UN officials said getting food, medicine and clean water to the disaster zone were the priorities, along with sanitation and shelter.
Unprecedented disaster
More the 670,000 people have been displaced by the storm and many have no access to food, water or medicine, the United Nations said.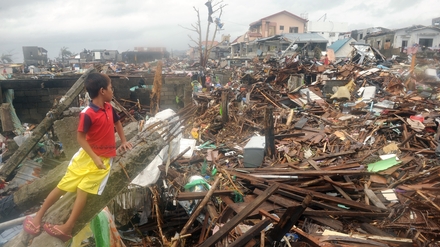 Natasha Reyes, emergency coordinator in the Philippines at Médecins Sans Frontiers, described the devastation as unprecedented for the archipelago.
UN aid chief Valerie Amos, who is in the Philippines, called the scale of destruction "shocking".
Medical workers are treating the injured at evacuation centres in Tacloban for lacerations and other wounds. But many complain of a lack of food and poor hygiene.
For a list of Irish charities providing aid relief click here