The United Nations has said the scale of the humanitarian disaster caused by Typhoon Haiyan in the Philippines will require a huge international response.
At least ten million people are affected and about 660,000 people have been displaced.
The UN said many survivors have no access to food, water or medicine.
UN Secretary-General Ban Ki-moon said many thousands had been killed and television images from the Philippines were heartbreaking.
He called for the relief effort to be expanded urgently in the days ahead.
Meanwhile, the death toll from the typhoon is likely closer to 2,000 or 2,500, not the previously reported figure of 10,000, President Benigno Aquino told CNN.
"The figure right now I have is about 2,000, but this might still get higher," he said.
"10,000, I think, is too much," he told CNN. "There was emotional drama involved with that particular estimate." 
Philippine officials have been overwhelmed by the scale of Super Typhoon Haiyan, one of the strongest on record, which tore a path through islands in the central Philippines on Friday.
Rescue workers are still trying to reach towns and villages that have been cut off, which could reveal the full extent of the loss of life and devastation from the disaster.
US aircraft carrier USS George Washington has set sail for the Philippines from Hong Kong while four other US Navy ships also set sail for the disaster zone.
Britain is also sending a navy warship with equipment to make drinking water from seawater and a military transport aircraft.
The HMS Daring left Singapore and is expected to arrive in two or three days.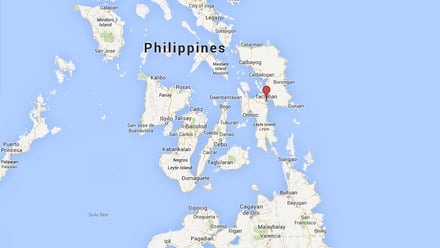 Officials in Tacloban, which bore the brunt of the storm, have said the death toll could be 10,000 in their city.
There is grave concern for regions outside Tacloban yet to be reached.
 "I think what worries us the most is that there are so many areas where we have no information from, and when we have this silence, it usually means the damage is even worse," said Joseph Curry, of the organisation Catholic Relief Services in Manila.
Director of Operations at the UN Office for the Coordination of Humanitarian Affairs John Ging said "many places are strewn with dead bodies" that need to be buried quickly to prevent the outbreak of a public health disaster.
"We're sadly expecting the worst as we get more and more access," said Mr Ging at the UN in New York.
President Aquino declared a state of national calamity and deployed hundreds of soldiers in Tacloban to quell looting.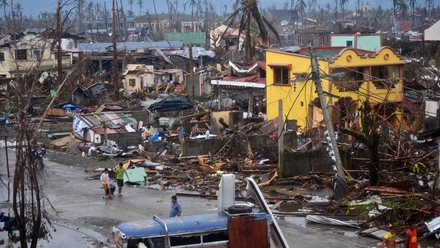 Tacloban's administration appeared to be in disarray as city and hospital workers focused on saving their own families and securing food.
"Basically, the only branch of government that is working here is the military," Philippine Army Captain Ruben Guinol told Reuters in Tacloban.
"That is not good. We are not supposed to take over government."
Interior Secretary Manuel Roxas said Tacloban's government was nearly wiped out by the storm.
Many officials are dead, missing or too overcome with grief to work.
Of the city's 293 policemen, only 20 have shown up for duty, he said.
Emergency fund for relief effort
Tánaiste and Minister for Foreign Affairs Eamon Gilmore announced yesterday that the Government was sending €1m in emergency funds towards the relief effort.
As for further funds being pledged, Mr Gilmore has today said the Government will keep the situation monitored on a day-to-day basis.  
He said Ireland was one of the first countries to respond to the crisis and as well as providing money through various NGOs it is also providing tents, blankets and cooking equipment.  
He also said personnel from the Rapid Response Corps are ready to go to the region when requested.
President Michael D Higgins described the situation as a dreadful tragedy.
He made his comments during a meeting with the Honourary Consul to the Philippines Mark Congdon at Áras an Uachtaráin.
Mr Higgins said it will be a great challenge to get aid to those areas, which are inaccessible at the moment, but was pleased with the rapid response of the Government and NGOs to the situation.
The President said everyone's thoughts, prayers and concerns should be with the Filipino people in Ireland and abroad.