Dazed survivors begged for help and scavenged for food, water and medicine after the super typhoon Haiyan killed an estimated 10,000 people in the central Philippines.
President Benigno Aquino declared a state of national calamity and deployed hundreds of soldiers in the coastal city of Tacloban to quell looting.
He said the government was deploying relief and assistance efforts on Samar and Leyte provinces, which acted as "funnels for the storm surges".
The declaration of a state of national calamity should help quicken rescue, relief and rehabilitation efforts.
The huge scale of death and destruction from Friday's storm became clearer as reports emerged of thousands of people missing.
Typhoon Haiyan, known locally as Yolanda, was one of the most powerful storms ever recorded.
It levelled Basey, a seaside town in Samar province about 10km  across a bay from Tacloban in Leyte province, where at least 10,000 people were killed, according to officials.
About 2,000 people were missing in Basey, said the governor of Samar province.
Relief supplies are pouring into Tacloban.
              
Tacloban city administrator Tecson Juan Lim says the death toll in this city alone "could go up to 10,000."
              
At least a dozen US and Philippines military cargo planes arrived today, with the Philippine air force saying it had flown in about 60,000kg of relief supplies since Saturday.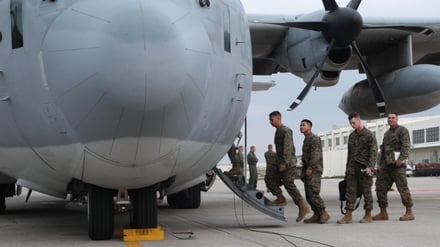 But the demand is huge and the supplies are not reaching those who need it most.
Aid trucks from the airport struggle to enter the city because of the stream of people and vehicles leaving it.
On motorbikes, trucks or by foot, people clog the road to the airport, clutching scarves to their faces to blot out the dustand stench of bodies.
              
Hundreds have already left on cargo planes to the capital, Manila, or the second-biggest city of Cebu, with many more sleeping rough overnight at the wrecked airport in the hope of boarding flights in the coming days.
Some people are making shelters from what the water has left of their broken homes. Others, unable to find any flat ground amid the ruins, sleep on sodden mattresses on their roofs. Around 5,000 people sheltered in a stadium.
Philippine Secretary to the Cabinet Rene Almendras said: "The situation is bad, the devastation has been significant. In some cases the devastation has been total."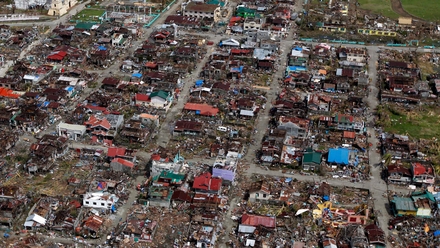 The United Nations said officials in Tacloban, which bore the brunt of the storm on Friday, had reported one mass grave of 300-500 bodies.
More than 600,000 people were displaced by the storm across the country and some have no access to food, water, or medicine, the UN said.
Flattened by surging waves and monster winds up to 378km/h, Tacloban, 580km southeast of Manila, was relying almost entirely for supplies and evacuation on just three military transport planes flying from nearby Cebu city.
Dozens of residents clamoured for help at the airport gates.
Haiyan is estimated to have destroyed about 70 to 80% of structures in its path as it tore into the coastal provinces of Leyte and Samar.
The damage to the coconut and rice-growing region was expected to amount to over €50m, Citi Research said in a report, with "massive losses" for private property.
Most of the damage and deaths were caused by huge waves that inundated towns and swept away coastal villages in scenes that officials likened to the 2004 Indian Ocean tsunami.
International aid agencies said relief resources in the Philippines were stretched thin after a 7.2 magnitude quake in central Bohol province last month and displacement caused by a conflict with Muslim rebels in southern Zamboanga province.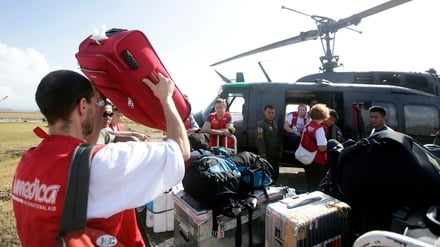 Operations were further hampered because roads, airports and bridges had been destroyed or were covered in wreckage.
Threatening to add to the crisis in the impoverished area, a tropical depression carrying heavy rain was forecast to arrive in the region as early as tomorrow.
Mr Aquino, facing one of the biggest challenges of his three-year rule, deployed 300 soldiers and police to restore order in Tacloban after looters rampaged through several stores.
However, looting has abated in many areas due to a combination of increased police and military presence and because there is very little left to loot.
Three days after the typhoon made landfall, residents of Tacloban told terrifying accounts of being swept away by a wall of water, revealing a city that had been hopelessly unprepared for a storm of Haiyan's almost unprecedented power.
Most of the damage and deaths were caused by waves that inundated towns, washed ships ashore and swept away villages in scenes reminiscent of the 2004 Indian Ocean tsunami.
The Italian bishops conference pledged €3m inemergency aid, adding to $150,000 (€111,000) given by Pope Francis and €100,000 by Catholic charity Caritas.
Yesterday, the pontiff led thousands in a silent prayer outside St Peter's Basilica for the victims.
Tacloban's administration appeared to be in disarray as city and hospital workers focused on saving their own families and securing food.
Operations were further hampered because roads, airports and bridges had been destroyed or were covered in wreckage.
Concern among Irish residents
The Government has announced €1m emergency funding for the relief effort.
An information link has been set up on the website of the Philippine Honorary Consulate in Ireland for those concerned about friends and family.
It will allow people register a tracking system with the Red Cross in the Philippines.
Speaking on RTÉ's Morning Ireland, Honorary Consul Mark Christopher Congdon said the country has been devastated following the disaster.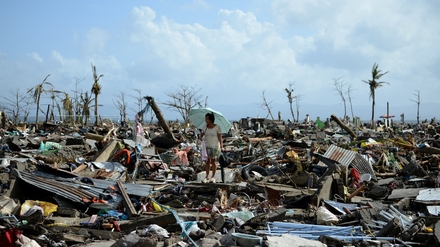 Mr Congdon said 10% of the population were affected by the typhoon which is roughly 10 million people.
"I have put a link to relevant information where people can register a tracking system which is with the Red Cross in the Philippines so they can register names and addresses of people they're looking to contact.
"Hopefully that will bring a successful conclusion for a lot of people."
He has called for donations to agencies offering aid to those affected.
"It's just devastation. Any funding would be gratefully received."
GOAL has confirmed that it is sending its emergency response team to the region around Tacloban.
It is expected the team will focus initially on distributing non-food items like shelter, water, sanitation and hygiene items.
Archbishop Diarmuid Martin has said there will be collections for the relief efforts in the Philippines and Syria at masses next weekend.
He said bishops had already planned the collection for Syria before Haiyan struck, and the decision was made to denote all money collected evenly to the relief efforts for both countries.
Typhoon Haiyan makes landfall in Vietnam 
Thirteen people were killed and dozens hurt during heavy winds and storms in Vietnam as Haiyan approached the coast, state media reported, even though it had weakened substantially after hitting the Philippines.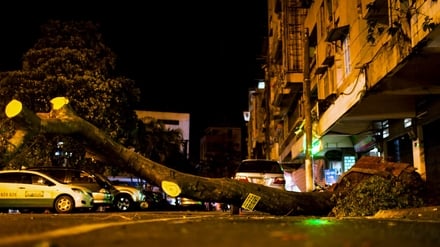 Heavy rains and 117km/h winds swept through Vietnam's well-known tourist attraction Halong Bay in Haiphong city and nearby areas after shifting its direction to the north.
600,000 people have been evacuated from the regions most at risk. 
Heavy rain and flooding is expected in the capital, Hanoi.